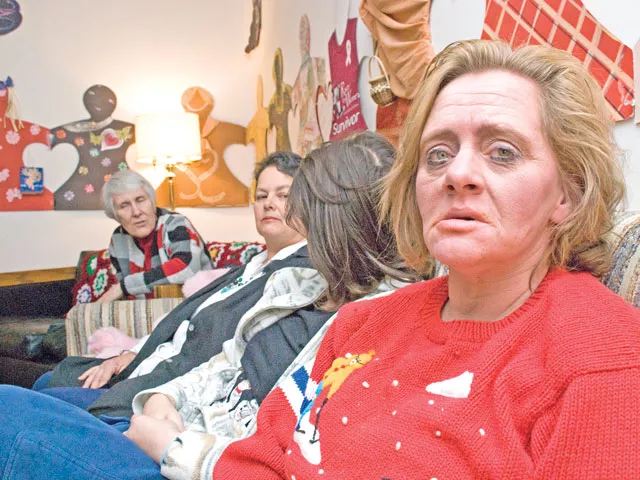 When she begins her story, Deborah Gibson tells it in such a way that makes it seem like it isn't her own. She's stone-faced. Detached. She recalls the time last spring when she realized she couldn't pay the rent on her north-side home anymore. Her son couldn't help her. She was out of work and out of options. She knew homelessness was in her future.
"I respected my landlord, and I didn't want to put him in the position to evict me. So I asked him for one month's time," she says.
And that's when it hits her: This is her story — the story of how she ended up living on the streets of Spokane, alone. The 56-year-old woman shakes from the force of her tears. She's covering her face, apologizing. "It was traumatic — I thought I was past this."
Last May, Gibson got lucky. She landed a single, subsidized room in a downtown apartment building. It was a roof over her head, but she still felt she had a lot of issues she wanted to work through. Her caseworker suggested she stop by Women's Hearth, a daytime drop-in center for homeless women. She hesitated — but when she did finally go in July, she was shocked by what she found.
"I had visualized a room with a coffee pot and maybe a shower and a few books and women coming in and out," she says. "I walked in here and found warmth and acceptance. The Women's Hearth has meant everything to me."
The Hearth functioned for years as the Women's Drop-In Center: a safe place for homeless women established by Transitions, a local nonprofit dedicated to helping women and children in need.
The program was recognized in 2004 by Senator Patty Murray, who helped pave the way for the Drop-In Center to move to a new, bigger space on West Second Avenue. In its new space, it became Women's Hearth.
Since the move, Mary Rathert, a Catholic sister and director of the facility, says they see around 300 women come through the Hearth each month. Many are familiar faces. She says there's a place for every woman here.
"I think that one of the highlights here is honoring every person's experience and every person's way of finding meaning in life," she says.
The Hearth is more than a place for women to get warm, eat and shower. Rathert says the program focuses on allowing women to heal through creativity and ownership. Workshops are offered daily — allowing women to explore writing, painting, sculpting and knitting, among other things.
And the women who come often respect this space and treat it as their own.
Today it's impossible to tell staff from clients. They are all working together to bedazzle the entire space in Christmas trees, sparkling decorations and twinkle-lights. Hot cocoa steeps in a crockpot on a counter, bowls of tiny marshmallows off to the side. Christmas music wafts from the speaker system as they fi nish hanging the last of the decorations.
"Pam," who has asked to not be identified, has been coming here for just over two months. After losing her job because of longtime health issues, she became homeless. She turned to Women's Hearth for answers.
"I'd heard from some women that there was someplace warm to go with a positive outlook for ladies," she says. "I never dreamed I would find someplace like the Hearth where I could go and use a telephone and a bathroom — a place where I could sit down and not be told to move on. It was the total opposite of that.
"I didn't feel like I had to worry that someone was going to push me away or hold me back. It's all equal — not just equal, it's bountiful."
HOW YOU CAN HELP
It takes a lot of hands and hearts to make Women's Hearth tick, director Mary Rathert says. Most everything that happens at the Hearth — from meals to writing workshops, sewing circles to the computer skills classes — happens because of volunteers. Women's Hearth always needs volunteers with talents that they are willing to share with their clients. If you're interested in teaching a class at the Hearth, or just volunteering in general at any of Transitions' facilities for women and children, check out the "Get Involved" tab at www.help4women. org.
This holiday season, the Hearth tries to have gifts for anyone who comes in the door. With temperatures dropping, Rathert says they'd like to give out new hats, scarves, socks and gloves to each client this year. She says they can also use donations of toiletries — especially toothbrushes, toothpaste, deodorant, razors and large bottles of shampoo and lotion.
All clients who come to Women's Hearth can get a hot meal and hot shower — and Rathert says that takes a lot of towels. With around 100 women coming through the Hearth each day, those towels wear out fast. Donations of new bath and dishtowels are gladly accepted. Clients are also allowed to make phone calls — and donations of phone cards can help cover long distance calls.
Rathert says fundraising is a key focus for Transitions in the tough economy. Cash donations are always welcome and can be made on Transitions' Website.

Donations can be dropped off at Transitions' main office, located at 1002 N. Superior St., Monday through Friday from 8 am-noon and 1-5 pm. Visit www. help4women.org or call 328-6702.