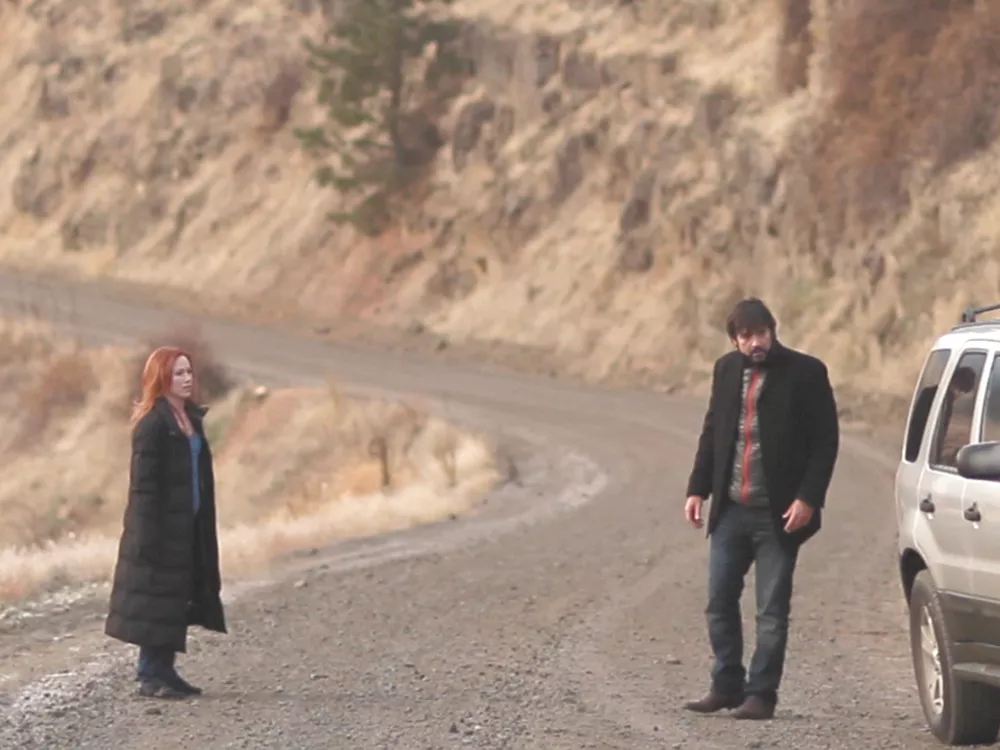 Almost a year to the day after she began shooting her first feature film, Serena Belsby is sitting in a downtown Spokane coffee shop with the film's editor, Jason McKee. The movie still isn't officially done, despite the fact that it premieres in just 10 days.
There are still a few things to fine tune before the first audience takes in the movie, but Belsby isn't too worried. It's crunch time, but with a small budget, a short window during which to shoot and other challenges along the way, this writer/director is hardly ready to worry.
"It's a five-figure film, but it doesn't look like a five-figure film," says Belsby of The Merry Graingers, the dramatic comedy shot west of Spokane last winter and debuting on Monday night at the Bing Crosby Theater.
"When you don't have money, you get creative," she says.
Part of that creativity included shooting the film on her family's ranch on the Palouse in just 15 days. In fact, a third of the film was shot in just two of those days — which is lightning speed for feature film production.
But the result of the efforts of Belsby and her crew is a scenic and heartwarming film that dives into the issue of family (both the good and the bad). Set on the Palouse and featuring several local actors, in addition to others from as far away as Cuba, The Merry Graingers tells the story of a dysfunctional family made up of divergent personalities who end up spending time together on a ranch. They herd and hunt buffalo, tend to the ranch and get in bar fights, while the viewer realizes that maybe, just maybe, their own family isn't alone in its craziness.
Although Belsby grew up in Southern California, went to college in Texas and lived in New York for much of her adulthood, she has always had a connection to this region. Not only was she born here, Belsby also returned to the family ranch every summer until she was 16.
In 2009 when Belsby's father fell ill (he's since recovered), Belsby came back to live in Spokane for the first time in her adult life, taking in the beauty from her childhood summers, an inspiration that made its way into the movie.
Filmmaking wasn't Belsby's initial venture upon landing in town. First, she opened a hot dog restaurant called Wild Dawgs — yes, the one with the provocative logo — but eventually sold that and devoted much of her time to The Merry Graingers.
"Making movies is a lot more fun than making hot dogs," she quips.
Belsby isn't new to the film industry, though. She was a stage actor in New York when the first screenplay she'd ever written was selected as the winner of the Cannes Film Festival's Hartley-Merril Screenwriting Award in 2000. This opened doors to photo ops alongside Raquel Welch and trips to the Sundance Film Festival.
As far as the future, Belsby wants to continue with the momentum from this film, hoping — along with McKee — to finally put her now decade-old award-winning script into production.
But now, she's focused on The Merry Graingers, a film inspired by a family reunion at the ranch, organized by a cousin who was suffering from cancer. The family gathered even without the cousin, whose condition had deteriorated and who would later die. The family, however, continued on with the reunions as a tradition.
"His death was sad, but there are gifts that come out of death," she says.
For Belsby, the story is personal, but not quite biographical.
"Every family is dysfunctional. I don't have siblings, I was never married, never had kids, but I hope people will come away and realize something about a rift in their own family. Maybe they'll pick up the phone and there'll be some healing," she says.
The Merry Graingers Premiere • Mon, Dec. 10, at 7 pm • $13 • Bing Crosby Theater • 901 W. Sprague Ave. • bingcrosbytheater.com