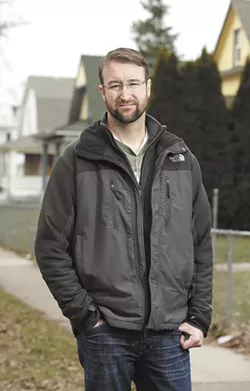 On a block sandwiched between busy Ash and Maple streets, Keith Kelley explains his plans to keep a part of the West Central neighborhood's history and culture from being torn down and discarded.
Kelley, a neighborhood activist recognized for his work with local disadvantaged youth, walks along a row of houses, pointing out their Victorian- and Craftsman-style architecture, and how some of these 13 homes on the block have been there since the late 19th and early 20th centuries, when Spokane's first neighborhoods took root. Since then, the city has grown, and the houses have changed ownership.
The most recent change of ownership has raised concerns that these links to Spokane's history will be demolished. Sarff Investments, the newest owner of the block, announced last fall that it plans to clear the houses to make way for a car wash. Larry Sarff, co-owner of Sarff Investments, says he'd rather not demolish the houses. Instead, he's offering them to anyone willing to lift them up from their foundations and haul them to a vacant lot. Kelley sees an opportunity, and has entered into an agreement with Sarff to essentially find new homes for the houses.
"My hope with this project is we can save as many of these homes as possible and provide affordable living options in the neighborhood," says Kelley, who is reaching out to nonprofits, churches, developers or anyone willing to provide a new location (ideally in West Central) for these houses. Kelley says preserving the houses will help with the city's goal of creating denser development. The houses, he says, would fit with the neighborhood, "rather than putting up some Cracker Jack box that doesn't reflect the historical heritage of West Central."
Kelley and other West Central residents worry about the loss of housing in the neighborhood, which includes one of the largest historic districts in the state. There's more than just houses at stake, says Kelley. There's also a culture and a community that have grown up around the built environment of West Central.
But there are hurdles to saving the houses threatened with demolition. The city's zoning code wasn't written to anticipate a situation where a block of homes would need to be quickly lifted from their foundations and moved elsewhere. Those potentially taking the deal might be turned off by the costs of moving the houses, which could run higher than $100,000, as well as the varying degrees of rehabilitation each will require. There's also limited time to do it all.
"At some point I'll have to tear them down," says Sarff. "About the middle of May is as far as I can stretch it."
Much of West Central began as Nettleton's Addition, a "streetcar suburb" that was developed in the early 1900s to accommodate Spokane's growth and was listed on National Register of Historic Places in 2006. The neighborhood is characterized by older homes featuring large front porches that face the street; West Central residents say they foster relationships between neighbors and build community in an age when our social networks increasingly exist online.
"One thing that I think is really special about West Central is we have front-porch culture here," says Kelley. He says that many new housing developments often have giant garages with front doors tucked behind them. "There's no design aspect for those houses that promotes community and community living, whereas these homes [in West Central] are the type of homes where you park your car on the street and you walk up to your front porch and see your neighbor, and maybe talk to them a little bit."
The West Central Neighborhood Action Plan, a planning document used by the city to identify its priorities, lists the preservation of historic housing as a key concern. Neighborhood activist Kelly Cruz says that West Central has been "taking it on the chin, seeing low-income and historical housing disappear."
City officials are interested in preserving the houses slated for demolition, but there are some challenges.
"These properties obviously fit into this environment," says Megan Duvall, historic preservation officer for the city and Spokane County, of the houses on the block slated for redevelopment. Duvall says that some of the houses would likely qualify for the city's historic register because of their architectural significance. "So finding lots that serve these properties would be a real boon to the neighborhood."
However, the city's land-use code could present problems in getting them moved to vacant lots in West Central or elsewhere. Specifically, the city requires "setbacks," or space between a building and its property line for firefighting, privacy, parking and to provide a general sense of cohesiveness to a neighborhood.
Lisa Key, the city's planning director, says she's working with Kelley to move the houses. Finding lots that meet the setback requirement might be a challenge, she says, because these houses are so large.
Key says the intent of the setback requirements target new development, and the code may allow the houses to be placed in vacant lots in West Central because they fit in so well with the neighborhood. She says there may be a way forward in the code: "Frankly, the biggest obstacle is [Kelley's] on a limited timeline."
One idea that Kelley has floated is having the West Central Community Center take the houses. The East Central Community Center has developed low-income housing. Kelley, a member of the West Central Community Center's board of directors, says that housing services are part of the center's charter (although it has never actually offered them). So far, this idea has hit snags. There's a lot just north of the center, but it's zoned for single-family, meaning only one house could be placed there, making the idea impractical from a cost perspective.
If no other nonprofits decide to take the houses, Kelley would be happy if a for-profit developer took them, even if they don't end up in West Central. Recently, he found a property owner to relocate one of the houses, a green ranch-style that differs slightly from the others, to a lot near Gonzaga University.
"I've identified 44 lots in just West Central, and I've reached out to all the property owners, saying if you have ambition to redevelop your lot. this is a good opportunity to do so," says Kelley, who says that taking one of these houses would be cost-effective and environmentally friendly.
Mike Brakel, chair of the the West Central Neighborhood Council, says he supports preserving the housing, but notes that "We're going to need some people with deep pockets to help out with this."
At this point, Kelley isn't sure what the answer is, but is open to suggestions.
"My main goal is to find a solution for these homes," he says. "It's in everyone's best interest if the homes are taken care of." ♦