Spokane is already acquainted with the sweet creations of Batch Bakeshop. Owner and baker Mika Maloney started her business in 2011 selling baked goods wholesale, catering weddings and keeping a weekly presence at the South Perry Thursday Market.
She's been working out of a commercial kitchen, but outgrew the space and decided she needed her own space with a storefront so she could try out new recipes and get immediate reactions.
After a successful $15,000 Kickstarter campaign to help her make the transition, Maloney opened Batch's new bakery in an early 1900s building in the West Central neighborhood last month. It has inside seating as well as a patio that can be reserved for parties, but the biggest plus for Maloney is the large kitchen space that enables her to keep up with increasing wedding requests.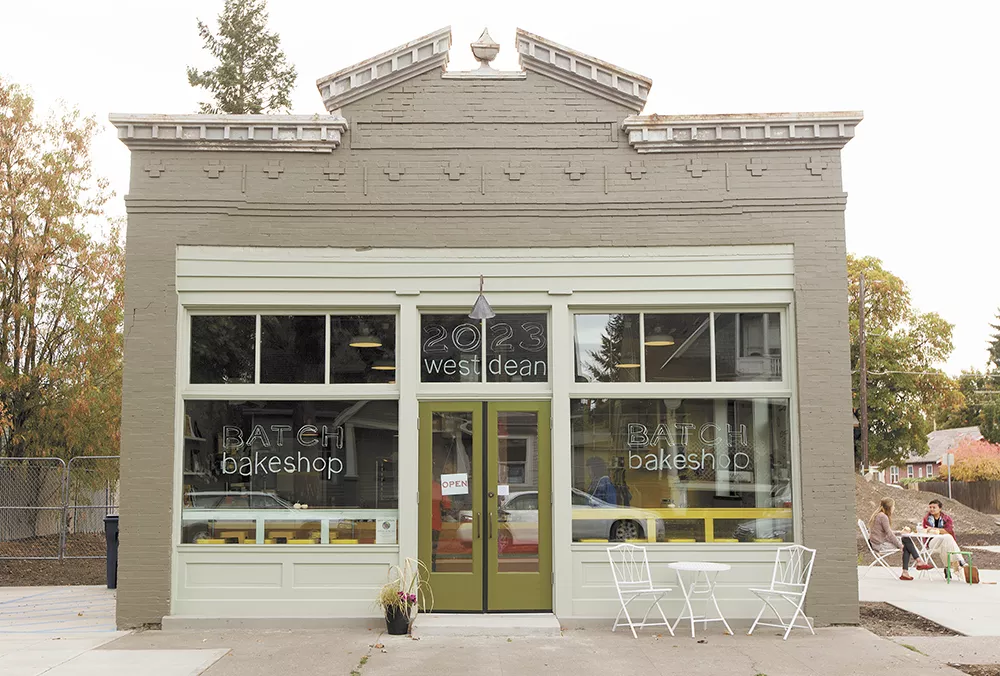 This year, Batch catered about 18 weddings and already has begun booking for next summer. The bakery also fills orders for birthdays, baby showers, work meetings and other parties.
If you're trying to picture Maloney's decorating style, it's not the fondant-full, cartoon cakes you see on TV shows like Ace of Cakes. She tends toward a simple, modern style that can range from a rustic look to glamour.
"[My] focus is on the food more than anything else," she says. "We use real ingredients, seasonal stuff and fresh flavors."
In the storefront you'll find tons of desserts made with seasonal fruit Maloney gets from the farmers market, including apples, pears, pumpkins, plums and cranberries. There's a constant rotation of muffins, scones, cookies, bars and cakes, and savory items in the afternoons such as pitas, biscuits, dinner rolls and big pretzels, as well as coffee roasted by Indaba and tea for sipping.
You can also still find Batch treats at the South Perry market, West Central Marketplace, Atticus, Cannon Coffee and Cone, Indaba and Santé. As the holidays approach, Maloney says Batch's Facebook page will soon announce when they'll begin taking orders for Thanksgiving pies and Christmas fruitcakes.
Maloney estimates that in about a month, Flora — a yogurt company that also ran a successful Kickstarter campaign — will join the bakery, pasteurizing yogurt in the back and selling it by the jar up front. ♦
Batch Bakeshop • 2023 W. Dean • Open Tue-Fri, 7 am-4 pm • batch-bakeshop.com • 413-3759