F
ilmmakers and distributors may be finding new ways
to get their movies in front of your eyeballs, but what's missing in the midst of this pandemic is the communal nature of actually
going
to the movies.
For those cinephiles who miss the experience of watching movies with other people, consider Spokane Public Library's upcoming virtual film club. On Thursday, April 30, at 7 pm, you can get together with fellow local movie lovers to watch the 2017 period piece
The Bookshop
, starring Emily Mortimer as a widowed woman who opens the titular business in a seaside town and finds the buttoned-up residents don't care for
her inventory of "controversial" literature.
The PG-rated film is currently
available through Kanopy
, a streaming service that's free for any library card holder.
Register for the club meeting
here
, and you will be sent directions on how to participate.
And even if you can't visit cinemas, you can still support them. We've
written before
about local arthouses throwing their hats into the digital rental ring, and the Magic Lantern has made several more documentaries and foreign films available to stream online. E-tickets range from $10-$13 and allow you to access a film for several days, and half the proceeds go directly to the theater.
See the
Magic Lantern's website
for a full list of available films, and click on the linked titles below to be redirected to their individual rental pages.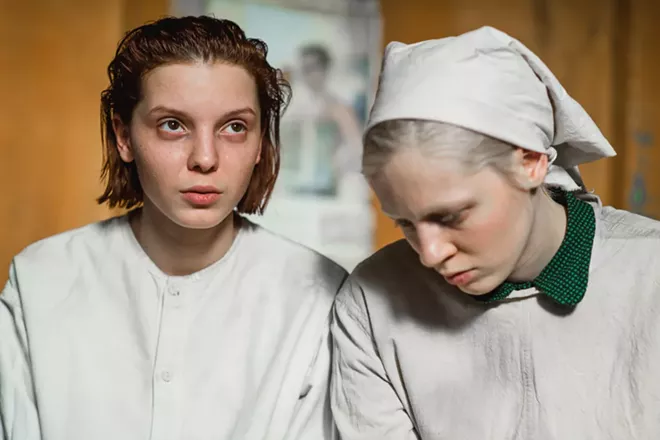 Bacurau
In this genre-bending Brazilian movie, the residents of a rural village begin to question their own reality when strange visitors disturb their peace. Unpredictable, bloody and politically pointed.
Beanpole
A big winner at last year's Cannes Film Festival, Kantemir Balagov's harrowing WWII-era drama focuses on two women, scarred from combat, living and working in a veterans hospital.
The Booksellers
The world of New York's rare book collectors is explored in this charming documentary, a must-see for anyone who swoons at worn bindings and dog-eared pages.
Corpus Christi
A recent Oscar nominee for Best International Film, a darkly comic morality tale about a young troublemaker who drops out of seminary school and poses as a minister in a small Polish town. (This is also available to rent
through the Panida in Sandpoint
.)
A Thousand Pieces of Gold

Originally released in 1990 and presented here in a digitally restored format, Nancy Kelly's revisionist western follows a Chinese child bride who ends up in an Idaho mining town during the Gold Rush.
Vitalina Varela

Portuguese director Pedro Costa merges narrative and nonfiction in unexpected ways, dramatizing the true story of a West African woman who follows her husband to Lisbon, only to discover he has died.
A White, White Day
An appropriate title for this mystery set in remote Iceland, where a retired police chief becomes obsessed with a local man who he's convinced was his dead wife's lover.
The Wild Goose Lake

Here's a slice of modern-day film noir from China, the sordid and stylish tale of a mobster who goes on the run after killing a cop and stumbles into romance and intrigue.
Zombi Child

Colonialist commentary mixes with coming-of-age drama in the latest from acclaimed director Bertrand Bonello, an allegory about a wealthy Parisian family and a zombified Haitian slave.