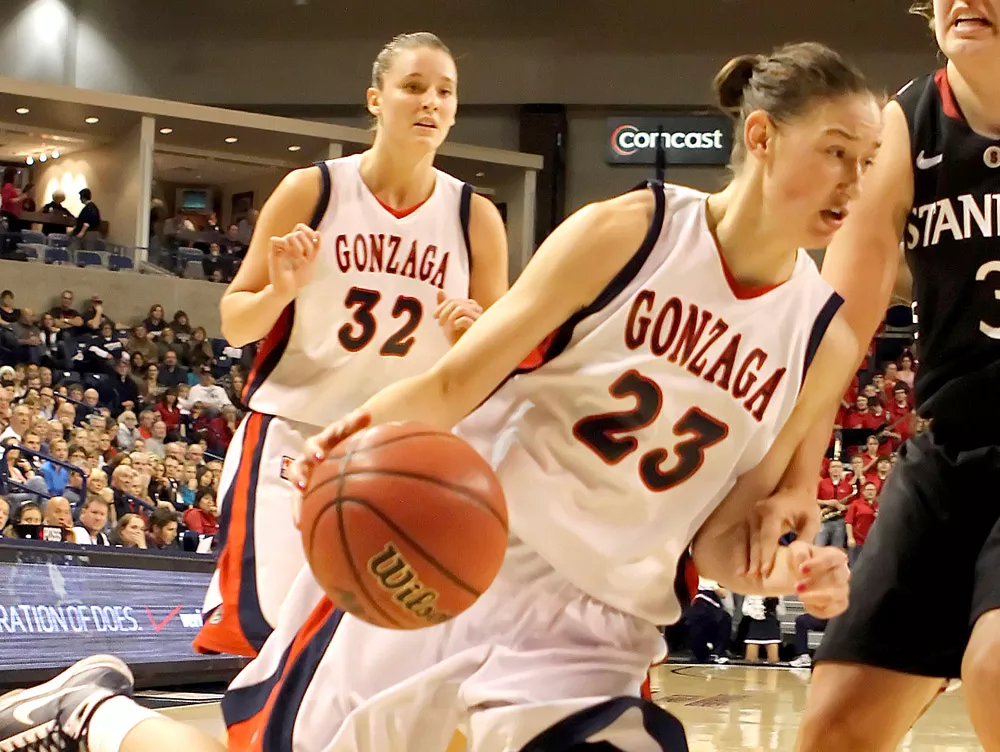 GONZAGA WOMEN
WHAT: NCAA tournament
GAME: First round, Spokane Region
WHEN: Saturday, 1 pm
WHERE: McCarthey Athletic Center, Spokane
TV/RADIO: ESPN2, KGA 1510
GONZAGA: No. 11 seed, 28-4, West Coast Conference regular-season and tournament champion
IOWA: No. 6 seed, 22-8, tied for third in Big East Conference, Big East tournament quarterfinals
NOTABLE: The 20th-ranked Bulldogs are riding a 18-game winning streak, but 16 of those wins came against a weak WCC. Gonzaga and Iowa have quality offenses. GU point guard Courtney Vandersloot and Iowa guard Kachine Alexander are key players.


Katelan Redmon is an outstanding basketball player — but her career with Gonzaga started comically.
Redmon, after deciding to leave the University of Washington three years ago, called head coach Kelly Graves, casually asking: Did he kinda-sorta-maybe want to add one of the greatest players in Greater Spokane League history to the GU team?
"I asked if, you know, if he'd want me still," Redmon recalls. "He was like, 'Yeah.'"
Yeah, indeed. Last year, in her first season at Gonzaga after sitting out a year due to NCAA transfer rules, Redmon played a prominent role in leading the Bulldogs to a school-record 29 wins and their first Sweet 16 finish in the NCAA tournament.
This season, she's been even better, and so has her team. The Bulldogs are 27-4 and carry an 18-game winning streak into the NCAA tournament. And Redmon has played a huge role in that.
"She's just tremendous," Graves says.
"She's incredible to play with," point guard Courtney Vandersloot says. "She definitely makes me better."
That's high praise considering that Vandersloot is one of the premier players in the women's game. Redmon might not be in her teammate's class, but the lanky 6-foot-1 wing joined Vandersloot on the All-West Coast Conference team this year after being named WCC Newcomer of the Year last season.
"She's a perfect fit for how we play," Graves says. "Long athlete, plays on a wing, runs the floor, very skilled."
"She's one of those players that can score at any part of the floor," Vandersloot says. "That's really special. That's something, it's hard to come by."
Graves recruited Redmon heavily out of Spokane's Lewis and Clark High School, but she ultimately opted for Washington.
"Originally, I thought it was the right place for me," Redmon explains. "I thought it'd be a good fit, basketball-wise, school-wise. Once I got there, it wasn't the right fit."
Translation: Tia Jackson replaced June Daugherty as coach after Redmon signed her national letter of intent with the Huskies. Jackson drove away a number of Daugherty recruits with her gruff manner. Despite starting every game as a freshman and leading Washington in scoring with 11.8 points per game, Redmon transferred to Gonzaga.
Daugherty wound up at Washington State after being let go by the Huskies, but Redmon says she preferred to play for the perpetually successful Bulldogs instead of the perpetually rebuilding Cougars.
Redmon was GU's top reserve player last season, averaging 11.1 points per game. She bumped her average up to 17.3 as a starter this season — that's second in the entire WCC behind her teammate, Vandersloot.
A two-time honorable mention All-American in high school, Redmon led her high school to state championships as a junior and senior. Graves says Redmon "definitely" has a future in pro basketball. Redmon is majoring in physical education with an eye on a career as a personal trainer after her playing days come to an end.
For now, she just hopes Gonzaga's season doesn't come to an end any time soon. Redmon can't wait to see how Gonzaga's notoriously loud and lively fans react when the Bulldogs play in the NCAA tournament at home for the first time.
"I think it's going to be crazy," she said. "We sold out our last home game just for Senior Night, so I think playing in that tournament, I'm hoping we sell out all those games and have a great home crowd there.
"They always bring so much energy for us. I think it's an intimidation factor for a lot of teams."