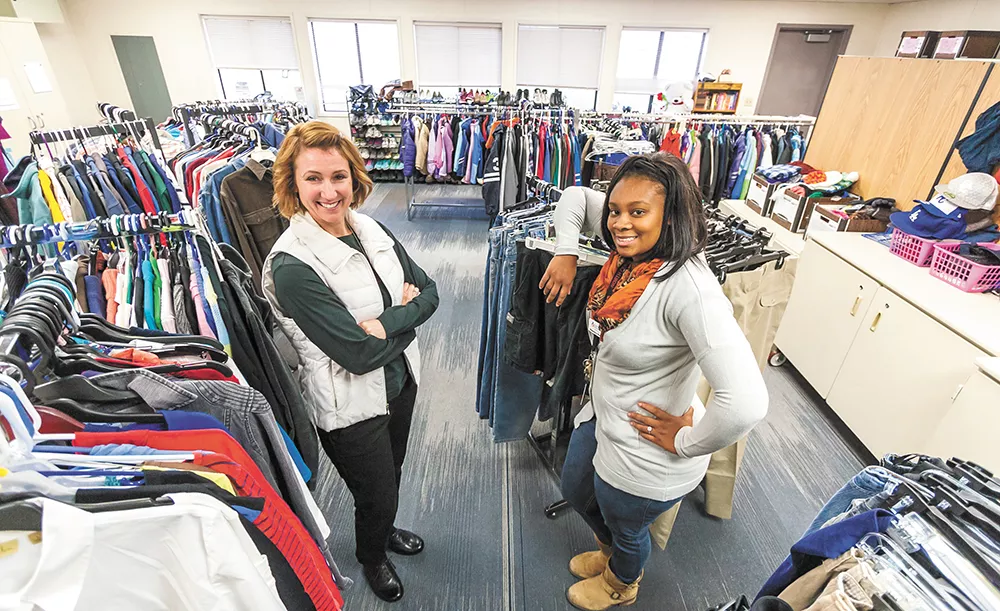 It's hard for a teacher to get a student to care about multiplying fractions, or the causes of the French and Indian War, or the themes of The Scarlet Letter. It's even harder when there are other worries occupying their minds, concerns that easily crowd out homework and tests and worksheets.
Consider the 14-year-old student who was abandoned by her mother in their apartment, says North Central assistant principal Wendy Bromley. When the landlord came to evict her, they called Child Protective Services, she says, but CPS just gave the girl the address to Crosswalk, a teen homeless shelter.
"Here's a girl that's basically abandoned," Bromley says. "A 14-year-old girl is going to walk through the streets through downtown Spokane?"
As of this month, 59 students at North Central are considered homeless. That's just a sample of a broader crisis.
In past years, Priority Spokane, an alliance of community organizations, had succeeded in its goal of reducing the number of high school dropouts. But this fall, the organization set its sights on a problem far thornier, but more fundamental: student homelessness.
Four percent of the students — 2,896 — in Spokane County were homeless last year, according to a recent Eastern Washington University study. The number was a third higher than the state average, and in the past five years, it had climbed 60 percent.
Ryan Oelrich, executive director of Priority Spokane, says homeless students name more serious worries than grades and tests when surveyed: "Where am I going to sleep tonight? What if other students find out I'm homeless?" Oelrich says. "What am I going to eat?"
Sarah Miller, who works with homeless students as Spokane Public Schools' liaison for the federal McKinney-Vento Act, ticks off additional worries for homeless students.
"Where do I do my homework? And where do I do my learning? Do I have access to the online systems that teachers provide for support? Do I have access even to a table to bring my paper and pen?" she says. "Am I going to have to share a bed with my brother and sister?"
Why are more students homeless?
For Priority Spokane, the numbers were shocking. With the recession receding, the group expected to see student homelessness decreasing. After all, many of the other economic indicators for Spokane County were encouraging. Median household income has increased. The unemployment rate has tumbled. But other seemingly positive economic factors have been working against low-income families.
"Housing prices have gone up," Oelrich says. "The new housing that is being built is not affordable housing."
Many of these homeless families, he explains, actually do have jobs. But the paychecks aren't enough to pay for rent. In some cases, a criminal record, an eviction history, or a bad credit score makes the less expensive options unavailable.
For some, being a homeless student means weathering the cold. "We have a fair number of kids who literally sleep in cars and under bridges," says Chuck Teegarden, executive director of Communities in Schools, an organization that connects students with social services. "They're just living hand to mouth, basically."
Priority Spokane relies on a broader definition of homelessness. The McKinney-Vento Act considers any student who lacks "a fixed, regular, and adequate nighttime residence" as homeless.
In the majority of cases of student homelessness in Spokane, one family is doubled up with another family under one roof.
"We ran into a situation where children are sleeping in tents in their grandparents' backyard because there's no room in the house for them," says Teegarden.
Oelrich says some skeptics have dismissed the concern over student homelessness, because the majority of students considered homeless still technically have a roof over their heads. But doubling up in a single house still produces the sort of chaos and trauma that can wreak havoc on a student's ability to learn. And doubling up, Oelrich argues, often means a family is on the precipice of losing their shelter entirely. It's the last stop before the streets.
Beyond the economy, there's another possible factor for the increase: Spokane Public Schools, at least, has become better at figuring out which students are homeless.
"The child may or may not disclose that they're homeless," says Teegarden. "They'll tell you they need stuff, but they'll not say that they're homeless."
After all, there's a stigma to being homeless. Students fear that if they're identified as homeless, they'll be tossed into the machinery of the child welfare system. Families have the same fear.
"Families aren't the squeaky wheel," says Oelrich. "Families are many times staying quiet. They're not making a lot of noise, because they're worried about CPS. They're worried about their kids being taken away."
In the past few years, as the district fought to improve its graduation rates, it introduced an early-warning system for students at risk at dropping out. It honed in on data points like attendance records and grades. And as administrators examined the specific circumstances — why they weren't showing up for class; why they weren't passing geometry — they discovered the depths of students' struggles.
When a new student arrives at Spokane Public Schools, they're asked specifically about their housing situation. Community truancy boards ask similar questions. When the Salvation Army takes in a homeless family, it pushes them to call the school district to let them know about their child's living situation.
"Come to us any way you can," Miller says. "We really want to keep your kids stable in school."
What can Spokane County do about it?
Priority Spokane's report outlines two methods to address student homelessness: First, the report says, the community should expand its analysis wider to identify more families teetering on the edge of homelessness. Then it should rush to stabilize them while they still have housing. It's a lot simpler — and less expensive — to prevent an eviction than to find a new home for a family after an eviction.
Second, the report says, the community needs to channel local resources to meet homeless students' academic and mental health needs. Some of that is already happening.
"We have a food pantry here on site," says Bromley at North Central. "We have a clothing bank on site. For families, we're able to continue to assist to get them connected to shelters."
Tutors from Whitworth and Gonzaga universities, trained in working with students suffering from trauma, provide additional academic assistance. Some students with particular challenges get customized "student success plans." While homelessness is a hurdle for students, it's not an impassable one.
"We have kids that not only graduate from high school, but manage to go on to college," Teegarden says. He recalls a homeless Rogers High School student who had to do his homework with a flashlight for four years, yet went to college — on a scholarship — at Whitworth.
In many ways, teachers are the ultimate social workers, teaching grit and perseverance alongside math and English. They see children day after day, establishing personal relationships that can pay off with trust.
"You might come from a really bad situation. What is your future life going to look like?" Bromley says, paraphrasing teachers' messages to homeless kids. "Education is the key to that."
As Communities in Schools connects homeless students to local resources, the organization monitors the results: Are their grades improving? Are they going to school?
"The community is pulling together right now," says Teegarden. "[But] the number of families and children that are in need of assistance is growing faster than the resources that are out there."
The community needs jobs, he says. It needs reliable, full-time, high-paying jobs. Yet trying to address the root of the problem is difficult, because the immediate needs are so daunting.
"Your creative insights sometimes get overwhelmed by the fact that there's a bunch of hungry kids," says Teegarden. ♦