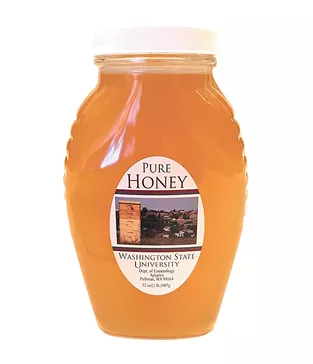 By now you've heard: Honey bees are in trouble! Extensive research is underway at Washington State University to unravel why bees are struggling worldwide and to help prop up existing bee populations. And while the scientific results aren't all in, one immediate, and delicious, result is.
That's because the WSU entomology department's research bee colonies were busy all summer doing what any other bees would do — making honey, about 4,000 pounds of it, says assistant research professor Brandon Hopkins. The honey crop is now for sale, just in time for gift giving, with proceeds helping to continue the honeybee research. "Sales help support technicians, fuel for the trucks to drive around and care for the bees. It supports all of the research we do," Hopkins says.
Interestingly, the Palouse, with all its wheat fields, is "not the greatest place for honey," Hopkins says, but it is perfect for research because the research bees are more isolated from other bees. "If we were commercial beekeepers we would have long been out of business," says Walter "Steve" Sheppard, entomology department chair. "We manage the bee hives for research and for honey bee breeding. [Honey] is almost a byproduct, although we are pretty excited when the season comes."
Find WSU Entomology Department Honey at Ferdinand's Ice Cream Shoppe on the WSU campus, or order online, $8.15 for a 1 pound jar, at the WSU Entomology store store.entomology.cahnrs.wsu.edu/honey