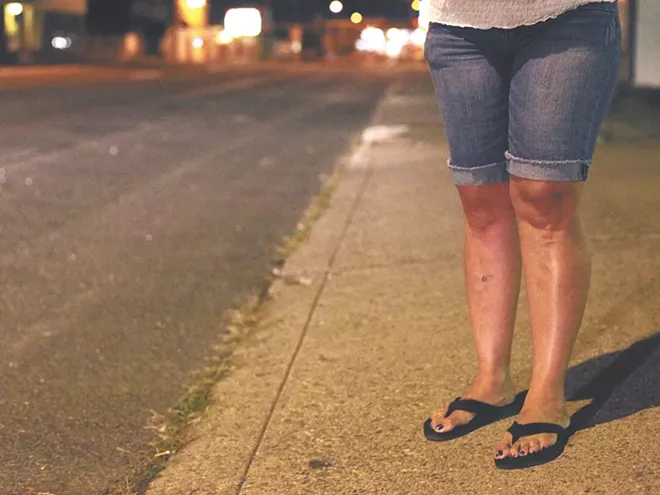 MAYOR CONDON, BRIDGE DEFENDER
For years, civic gadfly George McGrath has been referring to the planned $9.5 million University District pedestrian bridge by the derogatory name "Bridge to Hookerville" — a reference to EAST SPRAGUE's reputation for prostitution.
So it was no surprise that McGrath, in a bright orange "DRAIN THE SWAMP" shirt, showed up at the city council vote to approve Garco Construction as the contractor. Even though the bridge would be largely funded by state and federal money, McGrath objected to the price tag.
"This is a flagrant waste of taxpayer money!" McGrath said, arguing that the bridge would be useless for drivers and would be unused during the winter.
Typically, McGrath's comments are ignored. But this time, he got a response from the mayor himself, who had made a rare council meeting appearance at the council president's request.
"Look at this area with the need to grow the University District," Mayor David Condon said, stressing the power of economic development. "It now has a pharmacy school with some 600 students. We'll have two medical schools."
Condon, addressing McGrath by his first name, argued that the bridge will be crucial even for car commuters — students will be able to park on the other side of the railroad tracks. He noted that the bridge would be maintained by WSU, and that the design would make it much easier to plow during the winter.
The contract was approved 6-1. (DANIEL WALTERS)
(NOT) MAKING THE GRADE
While Washington performs well in overall K-12 achievement compared to other states, it's dead last when it comes to narrowing the ACHIEVEMENT GAP between poor and wealthy students, according to an annual survey.
Washington ranks 50th for this category, says a Quality Counts report by Education Week Research Center. Only the District of Columbia saw the achievement gap grow by a wider margin from 2003 until 2015.
The report, released last week, measured the achievement gap by scoring the proficiency of fourth- and eighth-grade students who took National Assessment of Educational Progress reading and math tests. Washington ranks seventh overall for proficiency in 2015, seven points above the national average. The state ranks 13th overall in K-12 achievement, which takes into account test scores and graduation rates.
The analysis gave letter grades to each state based on achievement, school finance and what Education Week calls "Chance for Success." With those measures combined, the state earned the same letter grade as the rest of the nation, a C.
The school finance analysis is timely, as the state legislature tries to figure out how to fully fund education as mandated by the 2012 McCleary decision during this year's session. According to Education Week, Washington is 31st when it comes to school spending patterns, and 10th in what the researchers consider "equity measures." Idaho, in the same report, ranked 48th out of 50 states. It earned an F on the school finance portion. (WILSON CRISCIONE)