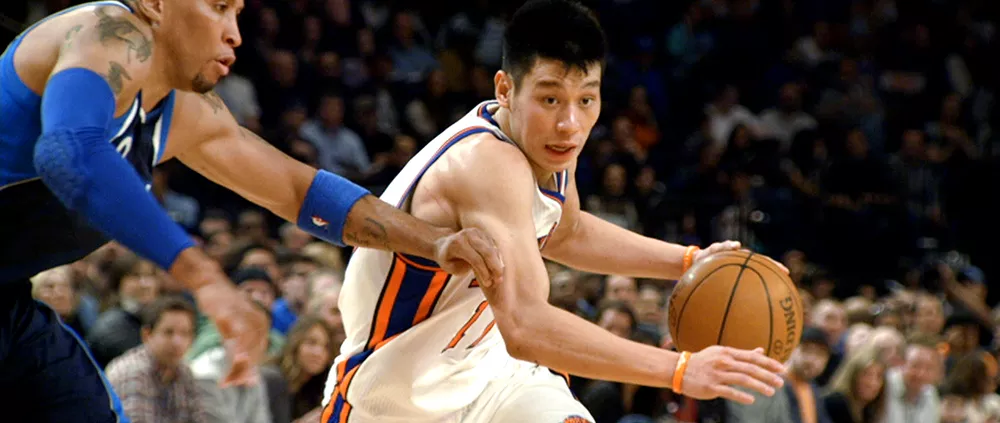 February of 2012 was one of the best months to be a professional basketball fan. A little-known point guard who'd already been cut by two other teams in that strike-shortened season marched onto the floor of Madison Square Garden and proceeded to thrill a nation of sports fans. Jeremy Lin dropped 89 points in his first three games as a Knicks starter. He hit a couple of game-winning shots. He became, in the span of less than two weeks, the most famous athlete in America.
They called the fervor over this Chinese-American guard "Linsanity," and now there's a documentary reminding us of a remarkable moment in basketball, which was already fading from the collective quick-to-forget memory of sports fans. Director Evan Leong's Linsanity is far from a perfect sports documentary, but the dissection we see of Lin's first few weeks ripping it up for the Knicks makes it well worth sitting through. There's some clunky narration from Daniel Dae Kim (from Lost and Hawaii Five-0) and Lin himself speaks mostly in cringe-worthily awkward clichés that would derail most documentaries that don't have an amazing story at their root.
Like most worthwhile sports movies, this is about an underdog. No college wanted Lin — an all-state high schooler in California —because he was Asian, as everyone interviewed in the film, Lin included, tells us. But then Lin tells us that was God's way of telling him to go to Harvard. Not to say that God makes people racist to achieve His goals, but that logic is nevertheless odd, and just one instance when a mention of Lin's religious devotion, however admirable, slows the narrative of this gripping documentary.
The racial element, however, is unavoidably the crux of the Jeremy Lin story. When you watch the clips of him lighting it up in high school, then torching the Ivy League — while racial slurs are yelled at him — and then realize he was passed over by both big colleges and ignored in the NBA draft, you're no longer wondering if it was because he's Asian. It's a sad truth.
Then the narrative flips. We hear commentators argue that the madness over his success for those two months in New York was because he was Asian, not in spite of that fact. It's a fascinating paradox, and one that we're forced to ponder. But no matter where you come down on it, this is a hell of a basketball story. ♦