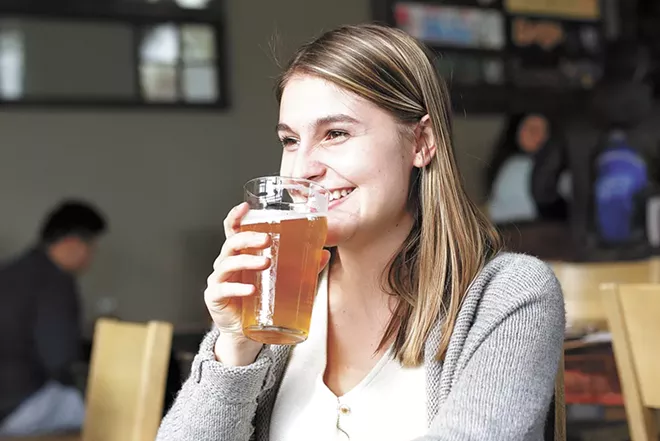 Now, with nearly 70 breweries scattered throughout the Inland Northwest, there are more local beer options than ever before. We've taken a dive through this year's Drink Local offerings to pick some of our favorites and have thrown in some potentially phenomenal pairings — just like wine, the right beer can easily enhance your meal.
If you're like most beer drinkers in 2020, you're probably looking for the menus with a hazy IPA option. At BEVERLY'S in Coeur d'Alene, order the Post Falls Brewing Rex Kwon Do Hazy IPA. These citrus-forward IPAs also pair very well with most fish dishes, like the potato-crusted Idaho ruby red trout Beverly's is offering for a second course. Another delightful juicy option would be the Trickster's Brewing J-Box IPA being served at 315 CUISINE.
If classic styles are more your speed, we'd recommend heading to DOWNRIVER GRILL and ordering the Perry Street Brewing Czech Pilsner ($6). This traditional Bohemian lager is best served next to lighter foods. Ordering it with a caesar salad would be a great way to start your evening. For a darker lager, head to FLEUR DE SEL in Post Falls for Wallace Brewing's 1910 Black Lager ($3). Local favorite NO-LI BREWHOUSE also makes several appearances on menus this year, including at Twigs Bistro & Martini Bar's four area locations, which are all featuring its special, exclusive Twigs Ale.
We've also scouted some of the more adventurous beer offerings. POST STREET ALE HOUSE is serving the Davenport Peanut Brittle Porter from Waddell's Brewing. This might be a heavier sounding drink, but luckily for you, local beer is an option at Post Street for your third course. At GANDER AND RYEGRASS, a new restaurant in downtown Spokane's Liberty Building, you can order the Hidden Mother Brewery's smoked red ale. This malty beer with a light smoke finish will pair nicely with most dishes, but if you're looking for even more smoke, odds are it will go great next to the smoky steak with potato and carrot.