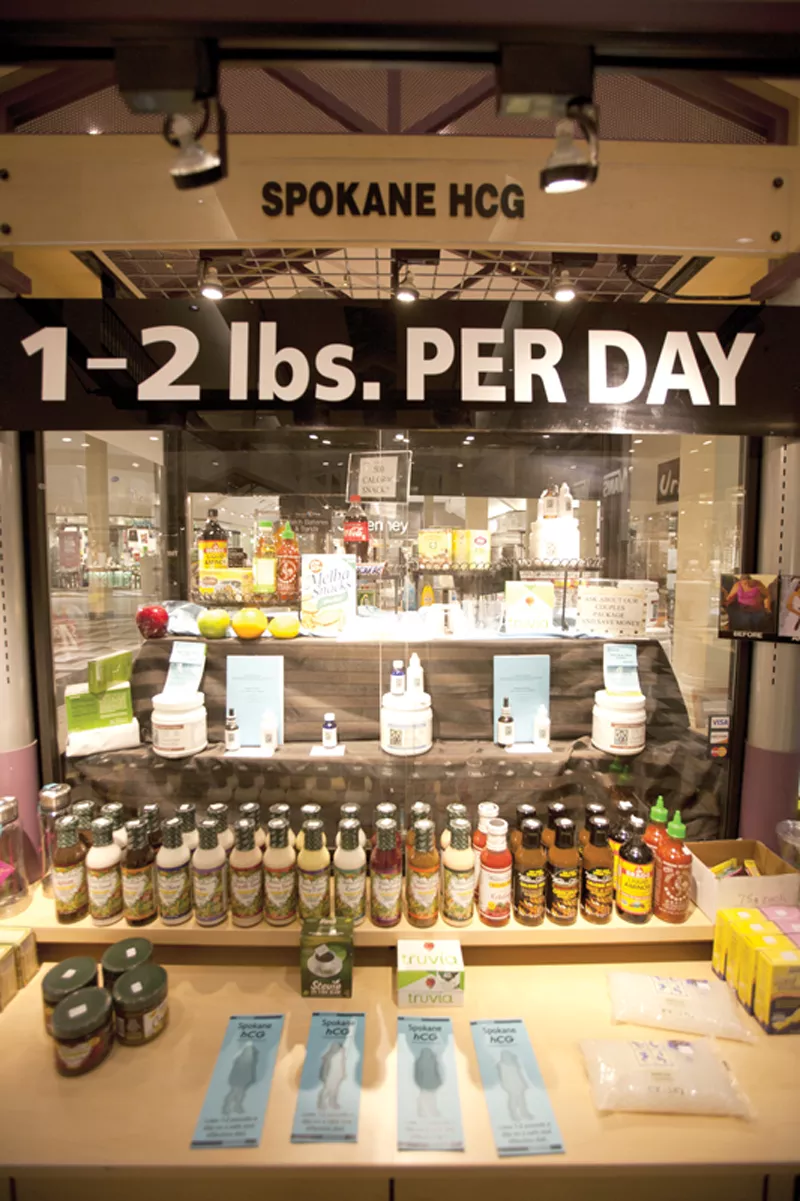 Megan Frederick is trying to lose weight, but you wouldn't be able to tell if you asked her about her meals. "Chicken, steak, whitefish, shrimp, crab, lobster, fruits and vegetables, coffee, tea, water," recounts Frederick, a 28-year-old Spokane bank employee.
Here's the difference: Despite that cornucopia of food, Frederick strives never to eat more than 750 calories in a day. And though she's not pregnant, she puts one or two drops of a pregnancy hormone on her tongue daily.
That hormone is called human chorionic gonadotropin, or hCG. Normally the hormone is produced during the first trimester of pregnancy. Now it's being used as a weight-loss product that, when combined with an ultra-low calorie diet (typically only 500 calories daily), can lead to rapid and significant drops in poundage.
The Food and Drug Administration disputes the claims for hCG.
"Since the mid-1970s, FDA has required labeling of hCG to state that hCG has not been demonstrated to be effective adjunctive therapy in the treatment of obesity," says Shelly Burgess, a spokeswoman for the FDA. "Numerous clinical trials have shown hCG to be ineffectual in producing weight loss."
Burgess adds that the FDA considers homeopathic supplements advertising hCG as unregulated and illegal.
Regardless, Frederick says it worked for her. While she had tried going to the gym and changing her diet, she ultimately sought out hCG because those methods just weren't cutting it.
"I wanted to see results quicker," Frederick says. "I'm lazy and I just want to lose weight, and I don't want to do anything to do it."
The hardest part, she says, was giving up her favorite drinks. While you can drink coffee or tea on the diet, Frederick says she is a fan of soda and energy drinks, which, under the tenets of the diet, are not allowed.
Up at NorthTown Mall, Kim Campbell has started a business selling hCG, and business is good. "We actually had a kiosk at Spokane Valley Mall, but I found that trying to man two kiosks was becoming very labor intensive. But, yeah, we do all right," says Campbell, owner of Spokane HCG, one of a number of businesses in town that sell the hormone. Not only is the hormone profitable, it also brings repeat customers. "When people lose 30 pound in six weeks, they're going to come in and talk to us."
Campbell is not a doctor, and her business operates sort of like a nutrition shop. Many of her sales are from people walking by who drop in for a free consultation. If they're interested, they hand over $100 for a six-week course or $70 for a three-week course. She also sells food that fits with the diet.
"People typically are coming in who are heavy. They don't have any energy because they aren't eating right," Campbell says, "Most people notice a big difference, some people notice nothing."
Kim Larson, a dietitian in Snohomish, Wash., says the diet is much simpler than it sounds. HCG doesn't do anything, she says; it's just a placebo that allows people to accept going on a low-calorie diet.
"The weight loss comes from consuming 500 calories a day," Larson says. "It has really nothing to do with the hCG."
The reason a person can tolerate eating so little is because a dieter's body releases chemicals to suppress the appetite when it thinks it's starving. The downside is that the body will then begin breaking down muscle for energy.
What's more, the hCG diet doesn't teach people how to keep the weight off. Larson says that many people gain their weight right back once they start eating a more normal amount of calories.
"The idea that you can be on 500 calories for a long period of time, or that you can possibly maintain that," she says, "is just plain absurd."