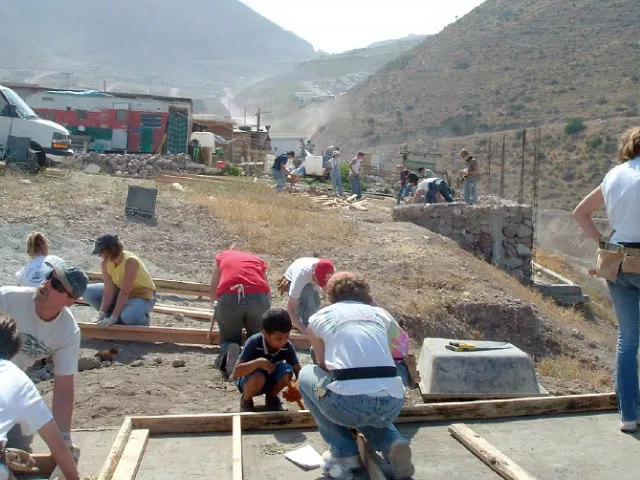 Julie Hoerner, director of emergency services for Kootenai Medical Center in Coeur d'Alene, is a bit shy about being interviewed. After all, hers isn't one of those dramatic tales of removing land-mine shrapnel in a war-torn country overseas. Instead of poor Rwandans, she helped treat middle-class American kids. Instead of curing malaria, she helped combat dehydration.
But while her experience — aiding church kids on a mission trip — was a common one, it was also a defining one.
When her son, a freshman in high school, went on a mission with the Community Presbyterian Church in Post Falls, she went along as a mission nurse. The plan was to go the northern part of El Florido, just south of the border, and help build houses.
Stricken by deep poverty, the people of El Florida depend on even these incredibly simple houses, free of electricity or complicated plumbing, Hoerner says. For the first time, they had doors that could lock. For the first time, they had windows that could shut.
Hoerner's job was simple: Keep the mission team members healthy. It wasn't always easy. One team member lost the tip of a finger. Others received chemical burns, a common consequence of handling wet concrete powder.
But mostly she dealt with the usual challenges of hot, summer work: dehydration, splinters and sunburns.
"I must have said a hundred times, are you drinking your water?" Hoerner says. "Did wear your sunscreen?"
Every day, a truck bearing water came from the United States. That was the only water the team could safely drink. They didn't have available electricity, so they used no power tools. And they had to get back to their lodging by 6 pm, before the criminal elements began emerging for the night. But despite the challenges, in Hoerner's two short trips, the team built 18 houses.
Naturally, it's easy to argue that the money spent to travel to Mexico could instead have been sent directly to workers in Mexico to build houses. It may have even been cheaper. But Hoerner says the experience runs beyond cash flow.
"I think the sweat piece of it is that it's so much more meaningful than pulling out your checkbook and writing a check," Hoerner says.
Building houses helped the new homeowners, yes. But Hoerner says it also helped the builders, by giving them a lens into what extreme poverty looks like.
"We're so protected here. I firmly believe that every child, before they become an adult, should go experience life in a different country," Hoerner says. "It was such high poverty, trash everywhere. It's just not like anything you have ever seen in our country."
The experience transformed her son, too.
"I watched him change from a child to a young man in the course of a week," Hoerner says.
And it transformed her.
"I came back a changed person," Hoerner says. "It helped me to realize you don't always need the latest thing to be successful. Personally, my son and I both came back and simplified our lives a little bit… We were a little bit more frugal…"
"I would love to go back," Hoerner adds, though she hasn't been to Mexico recently. The trips that she went on have been suspended for the last few years. For many American churches, Mexico — wracked by gang violence — has become a far less attractive mission trip location.
But Hoerner sees opportunity where she is, right at Kootenai Medical Center, in regular old Coeur d'Alene, Idaho.
"I don't have to go to Mexico to be on a mission," Hoerner says. "This is a mission here, too."