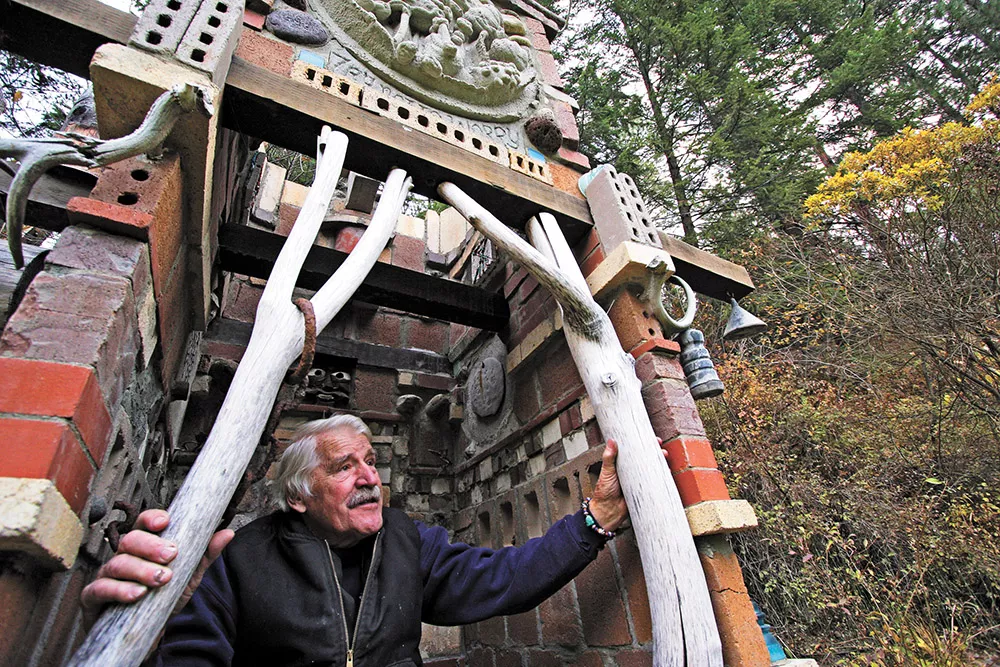 Harold Balazs is crazy. If "crazy" means hanging onto a childlike sense of wonder, if it means allowing curiosity to triumph over deadening habit, then crazy is what Harold Balazs is.
Drive down a twisty dirt road well off the Newport Highway and suddenly you cross a little bridge over an idyllic stream — two Balazs-style rock towers guard the entrance — and you emerge into a glade surrounded by towering trees. There's the house, with the workshop across the way and the yard strewn with chunks of Balazs' trademark curlicue sculptures, the bric-a-brac of an artist who's still generating ideas at age 80: an aesthetic amusement park. Sculpture Land. Harold Balazs' Amazing Artopia!
Balazs sticks out his catcher's mitt of a hand in welcome, then leads you into his workshop, where he's brushing colored glass powder off a Mylar stencil. The kiln nearby looks flat and unimposing, but "1,400 degrees" gets my attention. Several brightly colored abstract pieces catch the eye. Balazs leans over, flips through them the way file clerks flip through stacks of folders. To me, these abstract patterns — carefully prepared and then fired into permanence — constitute art. To Balazs, they're just "my stuff."
"My career has been kind of convoluted," he says as he works. "I can't see where I left off one thing and got into another ... I'm kind of eclectic. Whatever interests me, I just go with it.
"I don't understand these artists who choose just one medium and stay with it. Steve Adams [referring to the Spokane glass artist] — he's a good friend of mine, but sometimes I wonder if he's just simple."
Balazs is eclectic in his conversation too. In an hour-long chat — mostly unprompted by questions as he putters around — he fires off allusions to his wide-ranging experience and reading, one after another: John Kenneth Galbraith, Buddhist monks, Ken Follett, that guy who wrote Three Cups of Tea [Greg Mortenson]: "He packed up and went to Pakistan, climbed K2 [but failed], then went back there and built schools."
Or Edward Gorey: "He always had titles like 'The Young Lady Lost in the Swamp of Despair While Wearing the Galoshes of Despondency.' I like that. So that's what I call this thing ..." at which point Balazs goes to sit inside a kind of sculpted grotto that he's made, rattling off its Gorey-style title and explaining that wisdom is conferred on anyone who sits within it, "though I haven't yet worked out the problem of retention."
He laughs, then emerges and starts rambling about Benoit Mandelbrot and fractal geometry, then compares his little curlicues to "grace notes": "Do you listen to Tom Waits? He's a master at that. He'll just throw in [whistles a four-note phrase], just like that."
He explains a detail in another sculpture out in his yard — a pipe with what looks like a fishtail emerging out of it — with references to Henri Magritte and the walking sticks of tribal elders "in the Horn of Africa." He tells an off-color joke about the Caves of Lescaux. He drops references to Louis Armstrong and Dave Brubeck, to Diane Arbus and Richard Avedon, to Darth Vader.
Balazs is playful but learned — crazy, but only if your perspective's limited.
"People have this view of artists as shamans — they want to believe that artists have a lot of awbie-goobie power," he says. "But that's the last thing I want."
He just wants people to buy his stuff. At his crammed-full show at Tinman (opening Friday), he's going to stack his paintings "frame to frame, floor to ceiling — I'd like to stack 'em two deep, so somebody has to buy the painting in front before anybody gets to see the one behind. I want to fill it with so much stuff that they'll only be able to let in two or three people at a time ... and we won't let 'em out until they buy something," he says, then lets loose with one of those barrel-chested Harold Balazs guffaws.
They're items to be sold so he can finance the making of more stuff, so the childlike impulse to stay creative can be maintained. He doesn't do 9-to-5 propriety or worry what the other guy thinks. Harold Balazs isn't crazy at all. ♦
---
BALAZS AT 80
"Prolific" is a word that well describes artist Harold Balazs well. He is fluent in a wide range of art mediums — casting, enameling, painting, drawing, carving, assemblage — and is best known as a master craftsman, a maker of objects.
"I make stuff because it's better than not making stuff," he says.
His "stuff" ranges from the early enamel jewelry that marked his post-graduate (from Washington State University), 1950s-era entry into the art scene to large-scale sculptures and architectural collaborations. He has become part of our Northwest cultural consciousness, transforming public spaces across the country: the large-scale enamels in Seattle's King Dome (now housed at the County Administration building), textured concrete wall sculptures incorporated into the Unitarian Church of Spokane, and more recently, the Centennial Fountain in Riverfront Park.
Indoors, Balazs' work has graced the walls of numerous galleries, including the Art Spirit Gallery in Coeur d'Alene and the Tinman Gallery, which is presenting an exhibition of Balazs' work opening this Friday. More than 200 works will pack Tinman's cozy Garland-area location. Featured will be Balazs' trademark enamel-on-copper paintings and mixed-media sculpture, as well as numerous drawings, and silkscreens.
"Instead of widely spaced works which are beautifully lit and isolated," explains gallery owner Sue Bradley, "the show will have as much wall space as possible covered in tiers of paintings and sculptures. We will, in fact, probably have to suspend some pieces from the ceiling."
Two new series of works will be featured as well. Inspired by pieces from his last Tinman exhibition, Balazs will be showing limited-edition bronze figures, many with moving parts, such as "Homage to Magritte" and "Ship of Chaos," which were both cast at Cire-Perdue in Hayden Lake. Also included is a 40-panel series of vibrant 8-inch-square acrylic paintings with titles like "Rube Goldberg's Garden" and "Some of the Parts." Both are classic Balazs: meditations on shape, color and motif with a twinkled eye towards humor-bordering-on-playfulness.
"The purpose of art is to create wonder," Balazs is often quoted as saying, including in a 2001 Smithsonian Institution documentary series featuring him as a "Living Treasure." The series featured Northwesterners who have devoted a lifetime to the arts. Balazs, who turned 80 recently, truly fits the bill. With no signs of slowing, and with a major retrospectives planned for 2010 at both the Northwest Museum of Arts and Culture and at WSU, Harold Balazs remains an inspiration to us all.
— CARRIE SCOZZARO
An exhibition of paintings and sculptures by Harold Balazs at Tinman Gallery, 811 W. Garland Ave., from Friday through Nov. 28. Artist reception: Friday, Nov. 7, from 5-9 pm. Free. Gallery hours: Mon-Sat 10 am-6 pm. Visit www.tinmanartworks.com or call 325-1500.