Perhaps it started with a trip to Hollywood Video in the the '90s.
A young, Disney Princess-loving girl from Coeur d'Alene discovered the consuming and entrancing 16-bit world of Final Fantasy III in the rental store. Inside the game's case was a guide book filled with mystifying illustrations by Japanese artist Yoshitaka Amano.
"I remember seeing those and it just blew my mind. I was 8 years old and not ready for that," says Alli White, now living in the rural space between Post Falls and Rathdrum. "The first time I ever saw anything like it, just that feeling of seeing Amano's artwork and that feeling of seeing Final Fantasy III's opening scene — it was like nothing I had ever seen, ever."
Though her influences are many, White, now 29 and an illustrator herself, counts this particular trip to Hollywood Video as a defining moment in her life and career. From that moment stemmed an obsessive and unabashed relationship with anime throughout her adolescence, an unsuccessful stint in art school and, ultimately, a lucrative career as a freelance artist who goes by the name Skirtzzz.
"Sailor Moon, Pokemon, Digimon, Yugioh happened. I didn't like anything unless it was anime," she says of her years as a "filthy weeaboo," a slang term for someone who obsesses over Japanese art and culture. "In school, if we were reading something, I had to turn it into anime to enjoy it."
Things are different now though. She's grown up a bit, and while nerd culture has gone mainstream (almost exhaustingly so), White has remained enthusiastic about her art, especially when it translates into revenue. She'll be showcasing her work at this weekend's Lilac City Comicon.
While her peers in "the industry," as she calls it, have relied on major gigs, both short term and long term, White has managed to find work almost exclusively as a freelance illustrator, working primarily on individual commissions for average, everyday people. Many of them are portraits, character designs and costume sketches, she says.
"Now that [Dungeons & Dragons] is bigger — probably bigger than it's ever been — I get a lot of D&D characters," White says.
Clients create stories and backgrounds for these characters and ask her to draw them up for a visual representation when they play. A full-body portrait costs about $120, she says. Demand for these things is high, she says, and it only seems like it's getting higher.
Her art style is a sort of cross between her love of Disney and her love of anime. If you can imagine Ariel from The Little Mermaid dressed as a raver crossed with an episode of Tenchi Muyo!, you're probably on the right track. Her clients give her an idea and some parameters and say "do whatever you want. I just want your thing," she says.
Though somewhat unconventional, she's found an appreciation for filling her calendar with these individual commissions over the last couple years.
Not that long ago, she didn't know if she could survive as an illustrator, and she didn't know if the field was still profitable. She watched as her friends and peers who graduated art school struggled to find work or moved to California to pursue jobs with Cartoon Network, Nickelodeon or Disney.
"When you see everyone else working in the industry, you think that they are just on top of the world," she says.
Things came together for her after she applied for a Nickelodeon gig for Hey Arnold! The Jungle Movie (released last year). The company hired her for some character concepts for a Nick Jr. show instead, but the company's communication was subpar, the requirements were too rigid and the payments were sometimes late.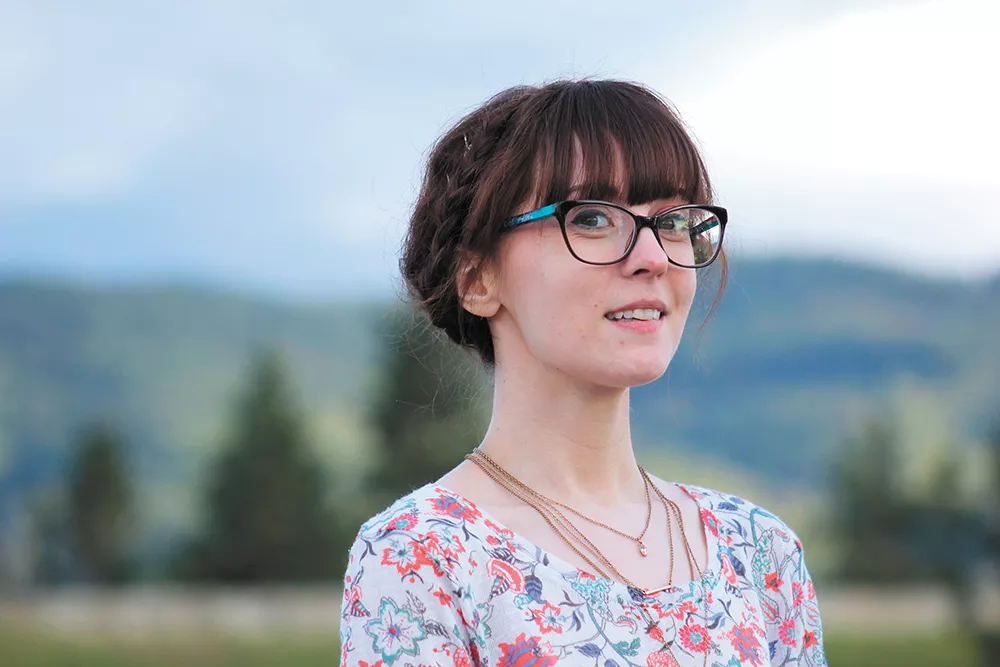 "At the end of the day, the universe answered my pressing question of 'What am I supposed to be doing with my life and should I be doing industry?' The answer was 'Absolutely not,'" White says. "I get paid better and have better communication with fetishists who like feet online. And they pay real good."
Her freelance work allows her to stick close to home, too, which she much prefers over city life.
"I've never appreciated living in the middle of nowhere until now. All the depression, all the drama all the trying to figure out what to do with myself for years... It's weird to be back home and appreciate it," she says. "This place is quaint as hell. I live for this nice cozy existence." ♦

Get more of Skirtzzz on her Instagram page or on her website.
Lilac City Comicon • Sat, June 2 from 10 am-6 pm and Sun, June 3 from 10 am-4 pm • $5/ages 5-12, $10-$15/adults (13+); $20/weekend pass; $30/VIP • Spokane Convention Center • 334 W. Spokane Falls Blvd. • lilaccitycomicon.webs.com