Fat Daddio's cake pans are used in bakeries and kitchens around the world.
The Spokane-based company supplies celebrity bakers like television cake wizards Buddy Valastro (Cake Boss) and Duff Goldman (Ace of Cakes). Fat Daddio's pans also line shelves and oven racks at many local bake shops: Sweet Frostings, Celebrations Bakery, MiFlavour, Boots Bakery, Twenty-Seventh Heaven and Just American Desserts.
Competitors on baking shows (Nailed It and Sugar Rush on Netflix) and students at culinary schools around the U.S. use its products while mastering the art of pastries and confections.
Countless home bakers use Fat Daddio's bakeware, too, to whip up birthday cakes, cupcakes, loaves of bread, batches of cookies and more.
Founded in Spokane in 2006, Fat Daddio's has since made a name for itself in the world of sweet treats as a maker of sturdy, reliable, professional-grade bakeware and cake decorating supplies.
When the company launched, however, cable television-famous bakers and cake-decorating shows weren't trending like they are today, says Fat Daddio's co-founder and Vice President Greg Skipper.
"It was all about cooking. The reality was that cooking was sexy and trendy," Skipper recalls. "But funny things happened. Baking became celebrity-driven and became the thing to do. When we started up, our customer base was shifting quickly. Commercial bakers were still there, but there was this growing interest in your average homemaker or aspiring artist to have the same tools and equipment that commercial guys had."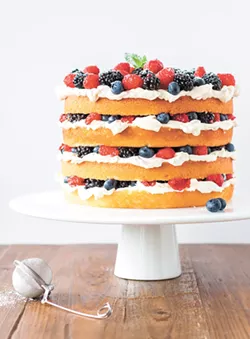 Skipper's family had long been in the business — since 1968 — of making aluminum bakeware, but as a private label manufacturer, meaning other brands' names were imprinted on the pans. The family business moved to Spokane in 1995 and was sold in 2002. Then Skipper met Fat Daddio's co-founder and President Craig Kuehl, who has a background in banking and finance. A few years later, the duo partnered up on a venture they decided would focus both on making and marketing its own line of baking products. Fat Daddio's was born.
Today, the Spokane company's products are sold all over the globe, to commercial bakeries and home pastry chefs alike in 61 countries.
"That's what has surprised us the most about our business — a very Western style of baking and cake decorating has now spread to all corners of the Earth," Skipper notes.
Locally, Fat Daddio's products are available at the Kitchen Engine in downtown Spokane and Carolyn's Cake & Candy Supplies on North Division. For nonlocal customers, Fat Daddio's line is also sold by Amazon.
"Now that we are within the baking circles; we have overcome the 'Who are you?' type of question," Skipper continues. "We're known and recognized as a leader in the industry."
What makes Fat Daddio's cookie sheets and cake pans special?
Several traits, actually, but it all starts with anodized aluminum.
"It looks like an innocuous cake pan here," Skipper says, pointing to a large, 3-inch-deep cake pan on a countertop inside Fat Daddio's headquarters in Spokane's University District. "But there is a lot of engineering and science behind it."
To increase uniform heating, durability and nonstick properties, Fat Daddio's aluminum pans are all anodized.
An electrochemical process, Skipper explains, anodization seals the metal's surface and not only prevents sugar, fat and other ingredients from seeping into tiny pores in the aluminum, but also makes it nonreactive to acidic foods. Fruit and other acidic ingredients are known to react with and even become discolored by hot aluminum. Non-anodized aluminum bakeware can trap flavors of whatever was last baked on it and also stains easily and permanently.
An anodized surface, on the other hand, doesn't require nonstick coatings that can deteriorate and chip off into food over time.
"Craig always called [anodizing] the 'secret sauce,'" Skipper notes.
Local bakery owners who use the company's pans, including Lydia Cowles at Twenty-Seventh Heaven and Ella Piskun at MiFlavour, say they prefer Fat Daddio's pans over other brands.
"They clean up well and are durable for commercial baking usage," Cowles says. "I also like that their pans have very straight sides and sharp corners which creates ideal edges for cake decorating."
"We have pans from different brands but Fat Daddio's pans are the only ones that are still perfectly intact and not warped," Piskun says.
In addition to the anodized surface, Fat Daddio's manufacturing process — its products aren't made in Spokane, but at factories around the world — ensures its pans are of uniform thickness on all sides. This translates to uniform heating, making whatever's inside rise and cook evenly. In a commercial bakery that's baking hundreds of cakes a week or month, this consistency is key.
Both Piskun and Cowles agree.
"Bakers and decorators need that confidence," notes Fat Daddio's Creative Director Scott Jones.
This commitment to consistency is also why Fat Daddio's hasn't divided its products into separate lines for commercial and consumer sales. The cake pans sold at brick-and-mortar and online retailers to home cooks are the same pans being used by celebrity bakers and all scales of commercial bakeries that buy Fat Daddio's products wholesale.
To this point, Skipper and Jones add that it's also why Fat Daddio's has changed nothing, really, in the brand's manufacturing processes since the beginning.
Even as cake-decorating trends shift, from focuses on fondant-loaded, sculpted cakes to softer buttercream embellishments, Fat Daddio's doesn't alter its internal processes beyond adjusting output of products that are selling well or waning in favor. Its small springform cheesecake pans, for example, have become increasingly popular for making cakes inside pressure cookers. The trend of small "smash" cakes for babies' first birthdays, as well as individually portioned mini cakes replacing massive sheet cakes, has also boosted sales of Fat Daddio's smallest pan sizes.
In another response to cake-decorating trends, the company introduced its own line of royal icing mixes and fondant, both of which have been well received by cake decorators of all levels. MiFlavour's Piskun says Fat Daddio's is the only fondant she uses, since it doesn't dry out or crack as easily as other brands, and also tastes good.
"If that pan is on an assembly line and a Cheesecake Factory or cake company is making 2,000 cakes a day, and they're coming out perfect every time, that is the best story we can tell — consistency," Jones says. "We've just kept with that and did nothing different. That is the story to share." ♦
Find Fat Daddio's online at fatdaddios.com; on Instagram: @fatdaddios