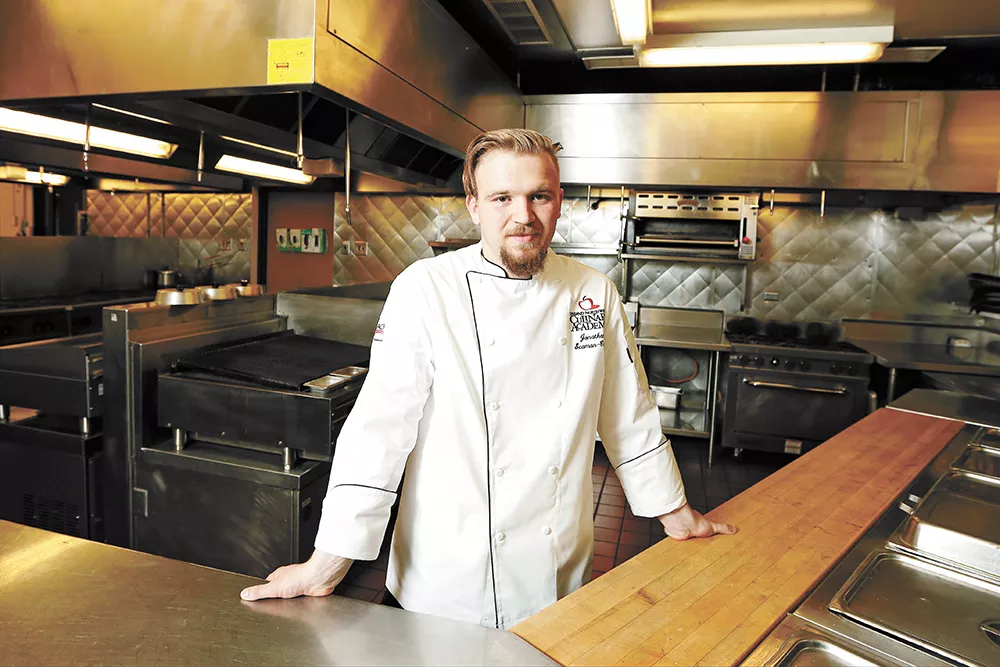 If you never ask, you'll never know.
That's the outlook Jonathan Seaman-Cwik, a student of Spokane Community College's Inland Northwest Culinary Academy (INCA), had when he applied for a post-graduate internship at one of the world's most esteemed restaurants: Noma, in Copenhagen, Denmark.
He flies out in mid-July to spend 15 weeks at the restaurant on a team of 30 culinary arts interns from around the world.
Noma, helmed by groundbreaking chef René Redzepi, is a two-star Michelin restaurant that's been named Best Restaurant in the World four times by Restaurant magazine. It first opened in 2003, but closed briefly in 2017 to relocate, reopening in February 2018. Noma is widely known for its creative re-envisioning of Nordic cuisine, highlighting hyperlocal, in-season and foraged ingredients on its daily 20-course tasting menus. New York Times food critic Pete Wells has described Noma as "rule-defying."
Seaman-Cwik, a 20-year-old Spokane native, defied routine in his own way when he applied earlier this year for internships at several of the best restaurants in the U.S. and the world, including Eleven Madison Park and Blue Hill in New York City, Alinea in Chicago, Canlis in Seattle and, of course, Noma.
"Noma I've been following since pretty much when they opened, and they are just, on a whole, different than anyone else. I thought I might as well just apply there," he says.
He emailed his application on a Monday, and was accepted by Friday.
When Seaman-Cwik told his classmates, instructors and his dad, Russell Seaman, executive chef at Dockside in Coeur d'Alene, some initially thought it might be a joke.
"I was flabbergasted. I couldn't believe it," says Curtis Smith, a chef-instructor at INCA. "When someone says 'I got an internship at the best restaurant in the world,' it doesn't compute. It's just amazing, and we're so proud of him. This will open up all kinds of doors."
Seaman-Cwik isn't the only 2019 graduate of the two-year culinary degree program to land an unprecedented opportunity immediately upon graduating. Luke Stintzi, who finished his degree earlier this year, went straight to an internship-turned-job at molecular gastronomy visionary and chef Grant Achatz's Next in Chicago, which won a James Beard Award for Best New Restaurant, among dozens of accolades.
To the knowledge of 16-year INCA instructor Julie Litzenberger, Stintzi and Seaman-Cwik are the only two students who've pursued and been offered post-grad opportunities at restaurants of such renown.
"I wish more students would do it," Litzenberger says. "That's not to say some of the students don't go work for great places eventually, but to go [immediately] from graduation day — Luke literally, right after his last final, got on a plane and moved to Chicago."
"I think these celebrity [chefs] and well-known chefs are looking for passionate students," she continues. "This industry is starving for that kind of passion."
Though it's offered through a community college, the Inland Northwest Culinary Academy isn't as small-town as some may think. It's certainly budget friendly for students, who pay around $4,000 a year for full-time enrollment.
The Academy is accredited by the American Culinary Federation, which sets the educational standards in place at all accredited culinary schools, no matter how well-known or costly to attend, explains Litzenberger.
"It's how we deliver that sets us apart. We care about these students so much, and their success," she reflects. "The delivery of it is what makes all the difference. You can go to almost any restaurant in Spokane and find one of our grads there."
The reality of getting to spend about four months in Noma's kitchen is still sinking in for Seaman-Cwik. He doesn't yet have a plane ticket or housing lined up because he's waiting for his work visa to be approved. Graduation is June 14; he'll leave less than a month later.
When he and the other interns arrive, they'll be sorted into an "A" group and a "B" group to delineate skill level, with top talent in the former group.
"I don't really care what team I'm on," Seaman-Cwik says, laughing. "As long as you're there. Only 30 people in the whole world will get to work there" as interns.
Noma's summer cohort arrive in the midst of vegetable season, taking advantage of the bounty of plants grown in on-site greenhouses or foraged from natural areas around the restaurant.
"In this season, we will be exploring the plant kingdom and everything that is edible; cooking with what we can find underground, above ground, near the water and in the trees," Noma's website reads.
Game and forest season — the only time meat is on Noma's menu — begins in mid-October, which means the culinary interns get a quick glance at the period highlighting ingredients such as leg of moose, reindeer tongue, wild duck, berries, nuts and mushrooms.
The third season each year is seafood, from January to June.
"I hope to learn lots about foraging and fermentation, and then also how their kitchen runs," Seaman-Cwik says. "Also, René leads the foraging expeditions and you go almost every day. I thought I wasn't going to even get to talk to him."
As the young chef dives deep into a discussion on food and cooking — sharing a recent experiment making black limes, his affinity for blood sausage and sweetbreads, and a recommended recipe for gratinated leeks — his zeal for culinary exploration exemplifies why he was chosen to work and learn in Noma's kitchens.
It also sets an ambitious precedent for the future he's about to set out on, one he hopes takes him to kitchens around the world and eventually to found his own restaurant.
Until this first of many culinary adventures begins, however, Seaman-Cwik is finishing up class at INCA, and working in his dad's kitchen, Dockside, as a cook.
"In your head, don't assume you can't do it. That was one of the biggest things I learned from this," he reflects. "It's OK to fail, and it's OK to have no idea what you're doing. Sometimes you just go through the open door in front of you." ♦