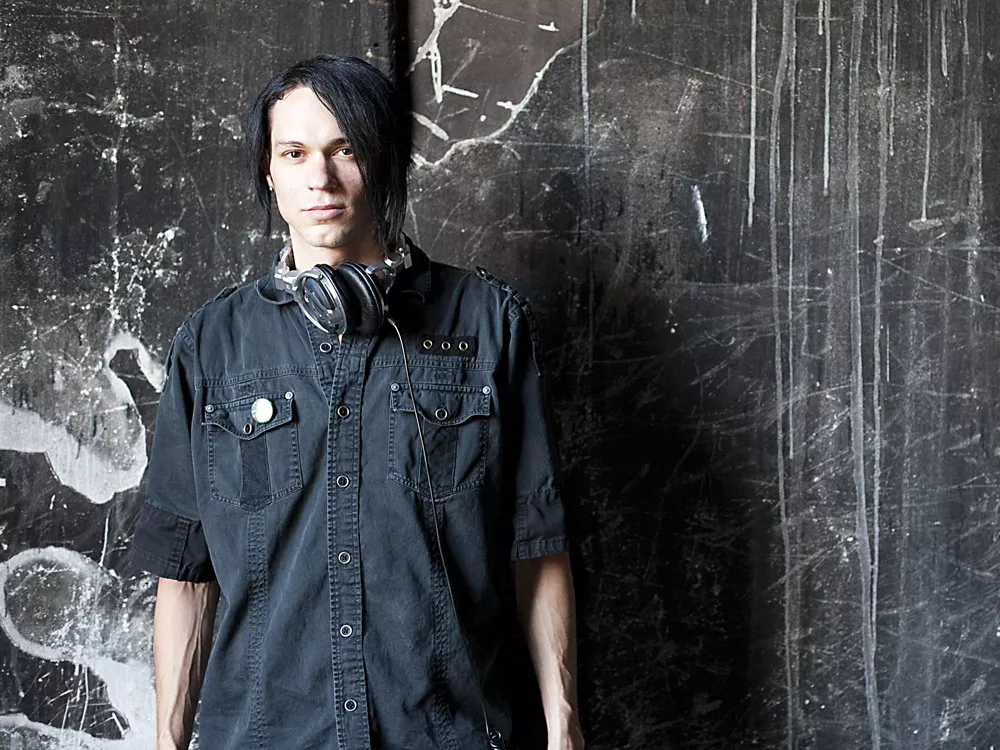 On a recent, particularly dark Tuesday night, two battered-looking hick zombies, covered in blood are making out in the alley adjacent to the Hop, the punk rock venue just north of the Monroe Street Bridge.
Inside, the place is swarming with different variations of that couple — gothic zombies, sexy zombies, zombies in pretty dresses. In the bar upstairs, candy eyeballs litter the tables. The majority of the living dead, though, have gathered downstairs on the dance floor, illuminated by glowsticks and flickering televisions playing zombie movies.
Reigning over the mass, onstage, a man in seven-inch platform boots, who goes by "Yoda Pimp" here, remixes the Cranberries' "Zombie" over a dark, bass-heavy beat. Before he exits, he takes his laptop and raises it over his shaved head, which is painted white save for a horizontal stripe over his eyes, and a vertical one down the center of his face.
He holds the laptop there for a moment, eyes panning the crowd, and then brings it crashing over his head once, twice. The zombies cheer as the laptop falls into more and more pieces with each blow.


Drew March is responsible for turning this particular Tuesday night over to the living dead. The 31-year-old is a tech support guy, an industrial DJ named Das 00ntz, a booker, the frontman of his band Graver Zeit, and commanding officer of his dark electro empire, 20XX, by night.
March is new to town, having moved to Spokane only last February from central California to care for his 10-year-old sister after the passing of their step-father. His younger brother, Tony, made the same move four months prior. Frustrated by the lack of a gothic community, Tony started a Facebook page called "The Spokane Gothic/ Industrial Community." And with it, goth and industrial fans started emerging. The March brothers began to set their sights higher — beyond community. They wanted some music.
As a kid, Drew March became involved with the goth scene in the Sacramento area. Today, wearing a black-and-white-camo trucker hat with his DJ name, "Das 00ntz" embroidered on the front, he breaks into a smile as he remembers being a kid and going to his first show. March was hooked on the music and the vibe — a community that had formed around darkness.
"OK, you're not evil, but you live in an evil society. And technology, machines, smoke, violence is all just raining down upon you," he says. "That was my whole basis for everything."
He began getting more involved and working in industrial clubs. It wasn't long before he started DJing, taking on the Das 00ntz stage name.
"I've always had this fantastical belief, that's not totally serious, that if you follow the path of oontz," says March as he demonstrates the glottal club beat sounds oontz-oontz-oontz in the back of his throat, "it will lead to great things."
Where it led was to the invention of Echo Bass, March's production company, and the advent of his "club," 20XX — an event he calls a "grave," combining "goth" and "rave" culture. Every other Tuesday at the Hop, March, along with his brother and friends, Gianna and Alena Morill (who he calls the "Graver Sisters"), transform the venue into the scene of his choosing — zombie, dark nightmare, slick criminal.
Musically, March says the events aren't just unique to Spokane.
"There's nothing like this in most of the country," says March. "This is pretty cutting-edge for playing half-rave music, half-industrial music and not being afraid to go into Lady Gaga or dubstep or hardcore EDM from Germany, Japan, and bringing in locals and bringing in acts from all over."
In the handful of months he's been here, March has managed to build enough of a presence to bring industrial bands from as far away as Germany to Spokane.
"I knew zero people," he says. "I did this all through Facebook."
Starting off with only 30 or so people, the event has now grown to host nearly 100 — like on the zombie night. Each time, March says, they add a dozen more people.
Attendees range from teenagers to moms with their kids. There aren't many drinkers here, and he says the kids aren't doing drugs. March says the graver scene gives goths of all ages an outlet and a community.
"You don't have to be depressed, you don't have to be sad," says March. "This whole idea that goths cut themselves or whatever, that's out the window."
20XX presents Syndika: Zero, Mechanismus DJ Crew, Trauma Dom, DJ Juno Inferna, and Abysmal Hope • Friday, Oct. 14 at 7 pm • All-Ages • The Hop! • $5-$7 • 368-4077