Maybe you've got an amazing recipe for salsa that friends rave about. Maybe it's pickled asparagus from your garden people clamor for. Perhaps the gluten-free brownies you've been baking at home and selling at farmers markets have caught the attention of a local store.
Do your thing, slap a label on it and wait for the money to roll in, right? Nope. Poor sanitation, improperly canned food, cross-contaminated allergens and other kitchen mishaps are all potential health hazards, meaning any scale of commercial food production is regulated according to what you're making and where you plan to sell it.
In Idaho, for example, Rachel Gaona and her husband Ruben originally worked from home to create lavish custom cakes for their business, Spoonful of Sugar n'Spice. This was permissible because their cakes fall under Idaho's sparsely regulated cottage foods law, which allows for items like non-refrigerated cakes to be made from home and sold directly to Idaho consumers, such as farmers markets or internet sales.
Adding Ruben's tamales to their lineup, however, meant the couple needed a commercial kitchen because meat products aren't covered under that Idaho law. The Gaonas had two options: Get their place certified as a commercial kitchen, or find a licensed facility they could use. For ease of process, they chose the latter.
Enter Kitchen Spokane, which actually operates three regional locations, in Spokane, Kootenai County and, this fall, Bonner County.
"Finding affordable commercial space by the hour is hard," says Rachel Gaona, who signed on this summer with Kitchen Spokane's new Coeur d'Alene branch in the Silver Lake Mall. The commercial kitchen, says Gaona, was a huge time saver, coming equipped with larger mixers, stoves, more prep space and a storage option.
"Once we had the space nailed down, we were able to look into permits," she says, to commercially prepare and sell their special tamale recipe of pork, chicken, queso fresco cheese blend, sharp cheddar and Monterey Jack varieties, all of which include hatch chilies.
Kitchen CdA, as it's called, is one of two currently operating locations for the nonprofit commercial kitchen venture launched in 2014 by Spokane entrepreneur and former events promoter Jayme Cozzetto. He likens the facility to a gym rental: Pay for what you need, where you need it. Storage, for example, costs $3 per day for dry, refrigerated or frozen goods, or $5 daily for all three. Kitchen rental is $15 per hour, with a four-hour minimum per usage for customers on a six-month contract.Anyone can rent from the company, says Cozzetto, who describes how a large family once cooked their entire Thanksgiving meal at the facility, which offers an open drop-in rate of $22/hour with no minimum commitment.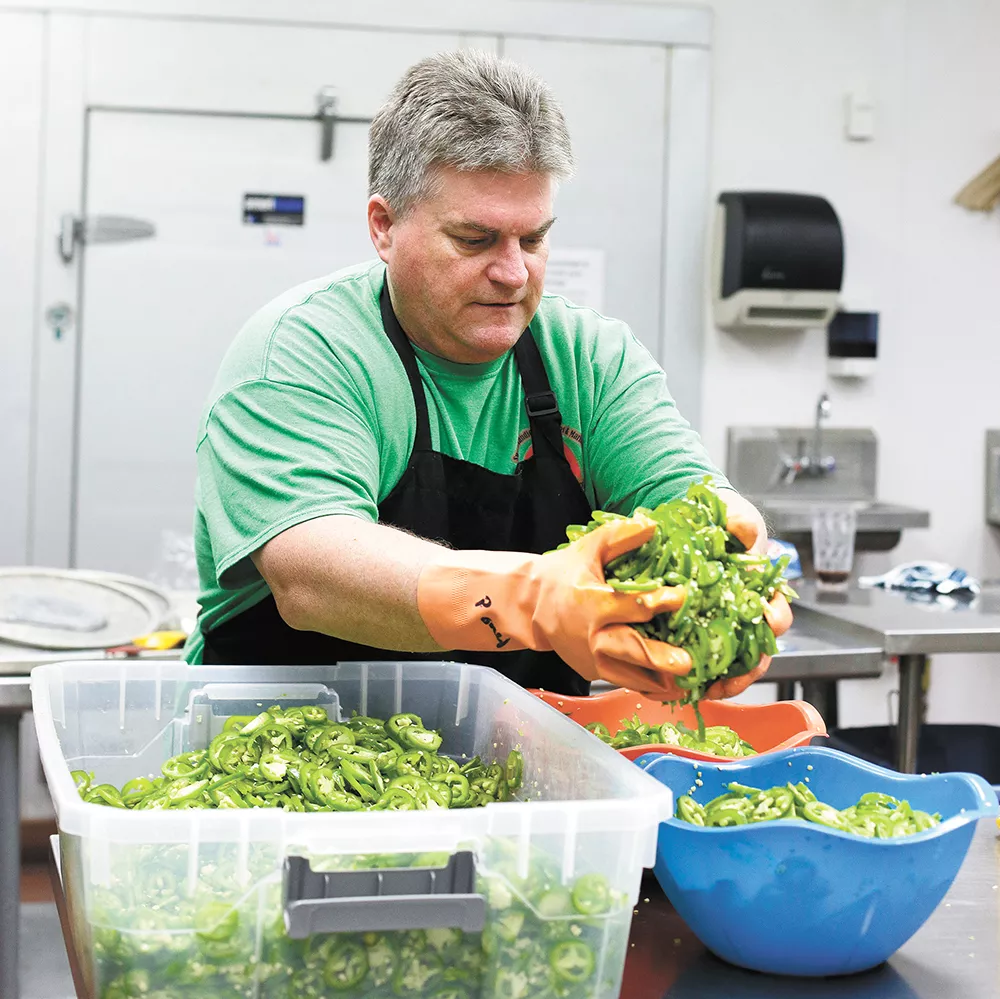 Cozzetto is now opening a third location inside Sandpoint's Bonner Mall this fall. The entrepreneur sees malls as an ideal fit for commercial kitchens because of existing infrastructure like security, maintenance and ease of access. He's also currently consulting with a group in Moscow, the Palouse-Clearwater Food Coalition, that's trying to fund a commercial space at the Latah County Fairgrounds which would be available to a variety of users.

Commercial kitchens are actually not scarce across the Inland Northwest; schools, churches, community centers and, of course, restaurants and hotels must have them. What's scarce is such venues' availability to others, especially at an affordable rate. Paired with the complexity of navigating food industry regulations, the need can be a real inhibitor for new food-related businesses.
Had the Gaonas wanted to do business in Washington, for example, they'd have dealt with considerably more paperwork and fees. In Washington, a cottage food operations permit is $230 for a company with annual sales under $25,000, and is specific to so-called low-risk foods: jams, some non-refrigerated baked goods, vinegars, dried foods mixes and most candies.
But permitting is not an easy process for cottage industries, nor the next level up, which applies to commercial processing; the latter comes via a cheaper license and allows limitless food handling, including low-acid and pickled foods.
Commercial processing is the route Bob Emmons and Gail Brock took to make and sell their candied jalapenos. The couple started B&G Sweet Heat Peppers at their Spokane home in 2011, then went commercial in 2015. They now sell to Eggers Meats, Sonnenberg's Market & Deli, and DeLeon Foods, as well as select grocery stores, farmers markets and local events.
Getting a space in their home certified as a food warehouse for storage of completed product was fairly painless, says Bob Emmons, yet the couple decided to use Kitchen Spokane's commercial kitchen space in Spokane Valley for production, which simplified their permitting process so they could focus on their own expertise: pickling peppers.
"I don't consider myself a stupid person," notes Emmons, a mortgage broker who bristled at the bureaucracy of working with so many agencies to do what he saw as a simple food handling process. The U.S. Food and Drug Administration, which handles Washington's food processing plant license process, for example, rejected his application over a discrepancy in measuring their food labels, which had nothing to do with safely handling food.
For Heather Kratt, Kitchen Spokane is a contingency only. Her soon-to-be-completed food truck has plenty of space for her new business, Sausage Slinger, yet having access to a commercial kitchen gives her a fallback facility — if she needs more room, if there's an issue with the truck — and also helped expedite permitting, which she's pursuing in both Washington and Idaho.
Washington, she says, has stricter standards for food trucks, which is a good thing.
"The people building my trailer in southern Idaho always build to Washington specs because they are more strict, and it ensures that I can pass inspection in any state," she says.
But the permitting process for food trucks, which is overseen by local health districts, has been challenging. Washington wants her to dump her gray water at Kitchen Spokane, which is not feasible, and rejected her application because she didn't specifically list how she'd wash her potatoes.
"Being rejected is just inherently negative, and at least Idaho was good enough to give me the benefit of the doubt and assume that I know that potatoes grow in dirt and should be washed before cooking."
Having opened commercial kitchens in both states now, Kitchen Spokane owner Cozzetto knows better than most that each state takes a markedly different tack to food-based business requirements. Helping other startups navigate these complexities is a major driving force behind his venture.
"We help food entrepreneurs jumpstart their business without the financial risk," he says. ♦
Find more about Kitchen Spokane's services and locations at kitchenspokane.org.