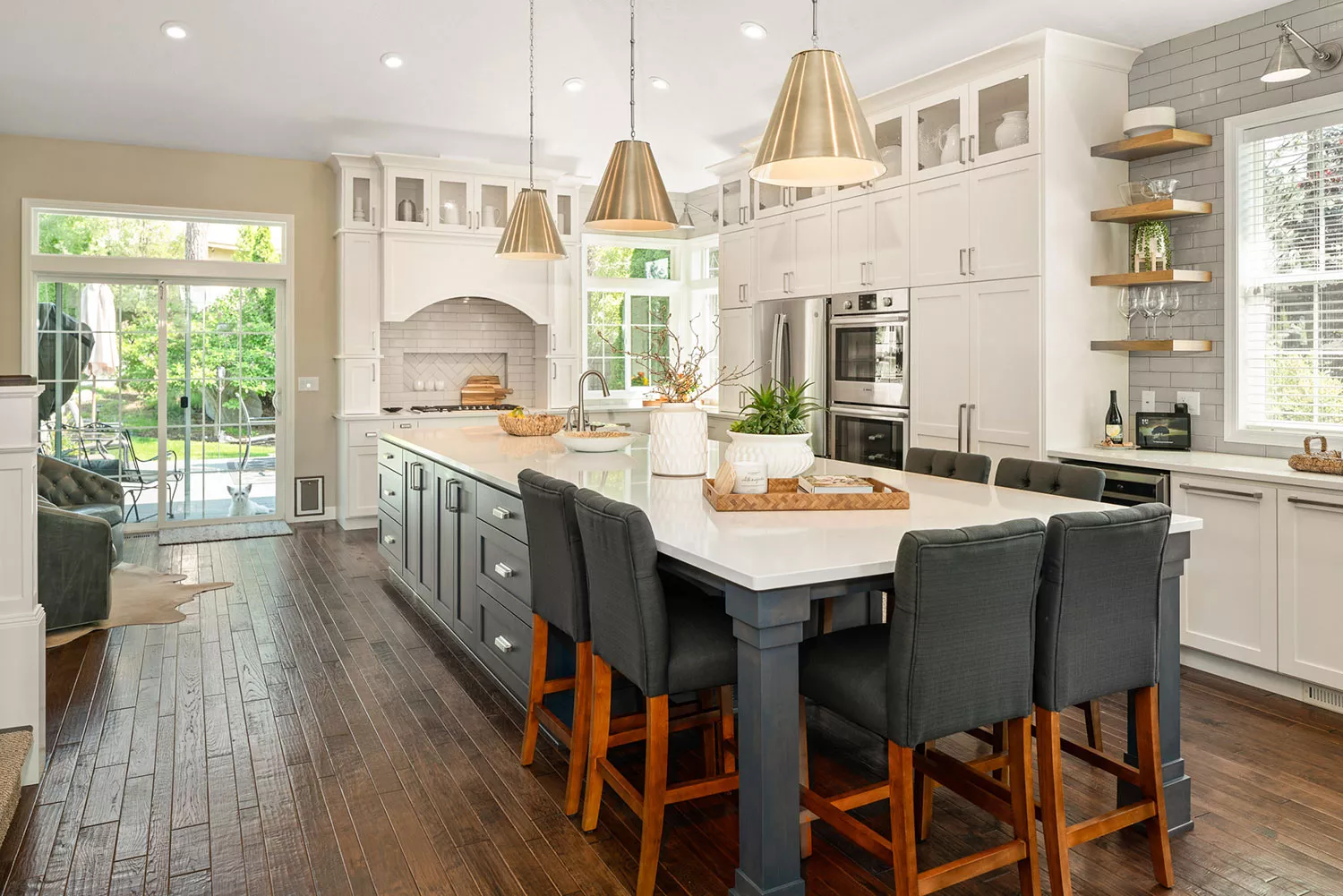 The thing about that quirky entryway or too-cramped kitchen is this: It's not going to magically get better, regardless of some fresh paint or other superficial improvements. And the more time spent indoors — especially lately — the more motivated you might be to seriously think about remodeling.
But where to start? How long will the project take? Will you have to move out? What projects offer the best opportunity for you to recoup your investment when it comes time to sell?
Planning and Prep
"When screening our potential clients, we ask them what are some of the things that are most important to them," says Todd Kubicek, who started Spokane-based Integrity Remodeling with his wife Krista. For example, is the priority the timeframe to complete the project or the budget, incorporating specific materials, or something else?
Timing, for example, is dependent on many factors, Kubicek says. High-end kitchens typically take around three months, bathrooms from two to three months, and a historic home remodel can be anywhere from nine months to a year. That makes planning for the season — some things require warmer weather — and sourcing materials a critical part of the process, especially with anything custom-ordered.
Kubicek describes the complex dance of scheduling. In a kitchen remodel, for example, countertops can't even be sized until after the cabinets are in, nor can a custom shower door be ordered until the tile is installed. That means starting and stopping parts of one job, and moving on to other parts until materials arrive, so while the project may be moving forward, it's not always in an obviously linear fashion.
Although they try to anticipate issues, surprises do happen, says Kubicek, from weather delays to damaged or missing items, to customer-initiated changes after the fact.
"In general, we have learned over the years that to keep a project running smoothly, it's important to not overbook ourselves, have a lead carpenter on the job from start to finish, and preorder everything possible so there is always forward progress, even if there is a material delay," says Kubicek.
In the Zone
Once a project is past the planning stages and ready to begin, it's easy for frustrations to develop. For Strohmaier Construction, keeping the client involved in what's happening on-site, and in terms of finances, is essential.
"We use a program called Buildertrend and this allows our clients to log in to their projects," says Raena Strohmaier, who founded the company with husband Kyle. Customers can view the job calendar, as well as all project documents, material selections, and even daily job logs, Strohmaier says.
Though communication is important, so is acknowledging the emotional impact of the remodel process, Strohmaier says.
"These are often really large investments for folks," she says. "We have many who have been saving their entire lives for their one big remodel. So it is stressful."
Most homeowners either pay cash or use a home equity line of credit, Strohmaier says, although sometimes the bank is involved in financing. For anything under $200,000, they ask for one-quarter installments, cash or check only: a one-quarter deposit, then another one-quarter at the start of construction and half-way points, with the balance due upon completion. For projects over $200,000, they do monthly draws.
It's common for homeowners to have big ideas about a project, yet dial them back once the discussion turns to budget. Nonetheless, the clients will often return to those ideas and expand the scope once the project begins and they realize they really did want those items in the remodel after all.
"We are used to this happening quite often but it does cause a little bit of delay because it wasn't planned for when we started," says Strohmaier, who includes this in a long list of things to anticipate during the remodel.
Strohmaier's proactive approach and experience paid off for clients like Angela Simmet and her husband Mark, who met with several remodeling companies before choosing Strohmaier's.
Not only were they reasonably priced, Simmet says, Strohmaier's includes design in the package.
"Kyle and Raena are the Chip and Joanna of Spokane," says Simmet, referring to the stars of HGTV's Fixer Upper.
The Simmets had their kitchen and adjoining family room remodeled, which involved removing some walls, installing new cabinets, refinishing the floors, updating built-ins like the stove, and adding select touches like a rolling ladder to access upper storage spaces, and pendant lighting.
"The finished product turned out better than the original renderings," says Simmet, whose husband and brother-in-law own a roofing, window and siding supply company so are well-versed in the construction process.
Regardless of their efforts, Strohmaier says, there seems to be one unavoidable situation in all remodels, something she calls the "paint freak out."
"As soon as wall paint goes up people question whether it is even the color that we all selected together or not," Strohmaier says. It's a combination of color perception, lighting that might not be installed yet, and the sense of dissonance that comes from spaces covered in tape or plastic or just generally not finished.
It even happened to her in her own home, she says.
"I woke my husband up in the middle of the night crying because I thought I chose the wrong paint color and that it somehow looked different," she admits. "But when everything comes together in the end it always was the right color."
Remodeling for Profit
In contrast to homeowners fixing up their own domains, for Christensen Brothers Properties, remodeling usually involves an entire home and it's done entirely on spec. Known as Flippinbrothers on Instagram, the company, run by brothers David and Jason Christensen, evolved from doing side gigs remodeling and flipping houses to supplement their income while working in the medical field.
Unlike the typical remodel where a client directs the objective, Christensen Brothers look for homes that need work, but are in desirable neighborhoods. Remodels are geared toward a quick turnaround and profitable resell. That means being careful to look for things that can be expensive and time-consuming to fix. Among the "red flags" are out-of-date electrical systems (there's still a lot of knob and tube wiring in older sections of Spokane), dated plumbing and uneven floors. Nonconforming "bedrooms" are also on the list — those are rooms that don't meet the requirements of an egressable window and a closet.
"We start with our projected sale price and work our way backwards," Jason Christensen says. "Projected sale price, minus what we think it will take to fix it up (renovation budget), minus our profit we'd like to make, equals what we would be willing to spend on a home." Then it's a matter of checking the purchase price against the listing price.
Once they've settled on a home to purchase and renovate, they determine what and how much needs to be done. Their top five list of marketable essentials? New kitchen, new bathrooms, open concept, a true master (bedroom with attached bathroom and closet), and nice floors. "Since we don't necessarily 'specialize' in one type of construction or carpentry, we literally do everything, so every day is different and every day presents a new puzzle we get to put together," Christensen says.
Once they take on a promising older home, there are still challenges, Christensen says. Working with old lath and plaster walls is both messy and labor-intensive, whether the project is adding a window or door or demolishing them altogether. "Most of the time it is more cost-effective to demo the entire wall and rehang drywall, then to try and salvage the lath and plaster," Christensen says. They also have to be on the lookout for hazardous materials used in older homes, including asbestos and lead paint.
Although they try to keep the process under three months, what they call "big ticket items" can add cost and time to their plan. "These include electrical, plumbing, HVAC, drywall, windows and roof replacement," Christensen says. "Kitchen cabinets and countertops are another big-ticket item, however this is usually money we are happy to spend, because it is the pretty stuff that sells the house."
No matter the scope of the project, the real satisfaction for all remodelers comes at the end. "It's so rewarding to see something go from old, ugly and rundown to new, beautiful and very desirable," Christensen says.
---
Christensen Brothers Remodeling
Started in 2017 (although the brothers had been doing side jobs for many years prior to incorporating).
Current team: Four, including the brothers' wives, who do all the design and decision-making on what the finished project will look like, plus two additional employees and a team of regular subcontractors.
Specialty: Purchasing, renovating and flipping houses, as well as select remodel jobs.
Strohmaier Construction
Started in 2011.
"We were strongly encouraged by our parents," says Raena Strohmaier. "My parents are both in the industry and my husband has extremely handy parents." After fixing up the apartment complex husband Kyle's grandparents owned, the Strohmaiers updated their own home, discovering they loved remodeling and construction.
Current team: Between 8-10 staff, including an on-staff designer.
Specialty: Whole home remodels and customer service (they've won Best of Houzz for that, five years running).
Integrity Remodel
Started in 1997.
"We were just young and crazy enough to jump in because I had some field experience in various areas of construction and cabinetry and felt I could provide better service and quality than many of the remodeling contractors out there," says Todd Kubicek.
Current team: 12 full-time employees, 4 part-time.
Specialty: High-end design. "From conception to completion, our core values of compassion, excellence, uncompromising honesty and gratitude are woven deeply into all we do."