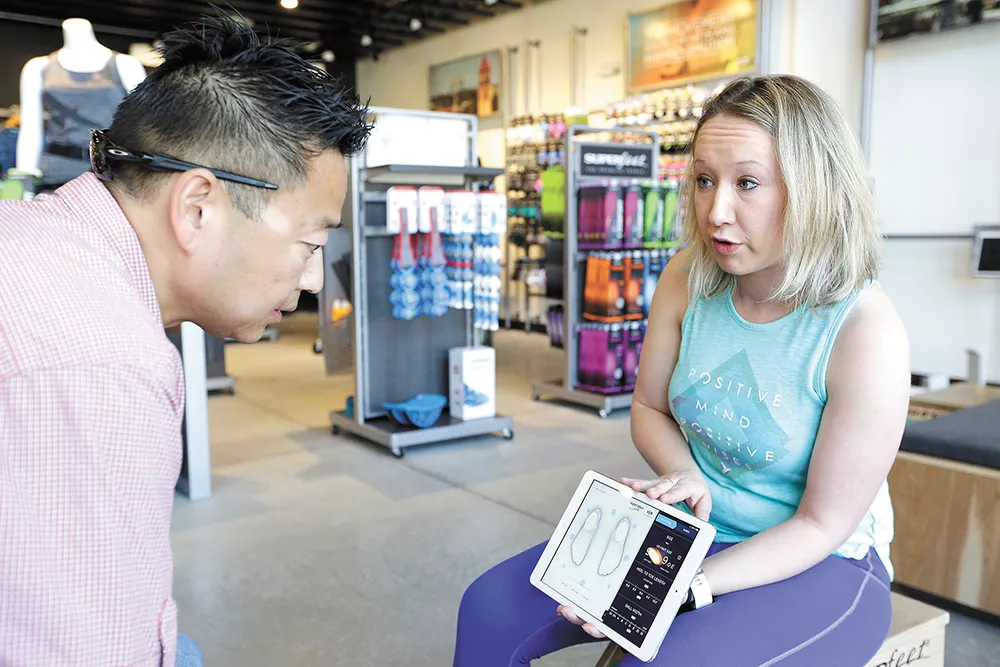 The first (and only) time I got fitted for a new pair of running shoes, I didn't realize that I would walk out feeling equally like Cinderella and the subject in some foot-related science experiment. Shoe experts these days, including the people at Fleet Feet, have this sizing thing down.
First, they tell me to strip from the ankles down. I walk my bare feet over to this platform that looks like it could teleport me into space. It's actually a scanner called the Volumental, which scans my smelly dogs and sends the data to my email. The specs will help Danielle Ramsay, an assistant manager at Fleet Feet, know what size and shape shoes to give me to try on. She pulls up the 3D image on her iPad and shows me just how unique my feet are.
The left one is narrower than the right, Ramsay tells me. But not so narrow that I need to wear special shoes. Phew. That could have been embarrassing. My arches are on the "lower side," so no need to look for a super spacious shoe. Finally, Ramsay studies my walk as I strut across the store. I'm trying to walk correctly, but the entire time I'm thinking: "What the hell is the correct way to walk?"
Apparently, I have some "over pronation," which means my feet roll inward when I walk.
"All that means is we want to get you in what's called a stability shoe," Ramsay says. I blame my weak ankles, but she reassures me that many runners need stability shoes, which have more support at the arches of your feet.
Next, Ramsay hands me a (much needed) fresh pair of socks and we get to trying on some shoes. This is the part where I feel like Cinderella. Ramsay takes each pair out of the box, explaining their particular shape and material. She loosens the laces and opens the tongue just wide enough for me to slip my feet inside.
I stand, and she checks how much room is between my big toe and the top of the shoe. A half-to-full-thumb's length is ideal. Your feet will expand when you run, she tells me.
I find a pair I like (and that are on sale), but what if I didn't have Ramsay fairy-godmothering me through this ordeal?
Her first piece of advice for someone looking to buy running shoes on their own is to measure the length and width of your foot. Most shoe stores have Brannock Devices to help. If one foot is bigger or wider, go with the bigger size. Next, she says, the shoes shouldn't be too tight, but they shouldn't slip in the heel either.
She adds that "you shouldn't feel like you have to break your shoes in. You should walk out feeling like you can run in them. Maybe not like a marathon, but they should feel comfortable when you buy them."
Finally, she recommends getting a new pair every 300-500 miles.
"The function of a shoe is to protect your body, and it does that for a certain amount of time," Ramsay says. "Over time the midsole tends to compress, and then the body starts to take the impact." ♦