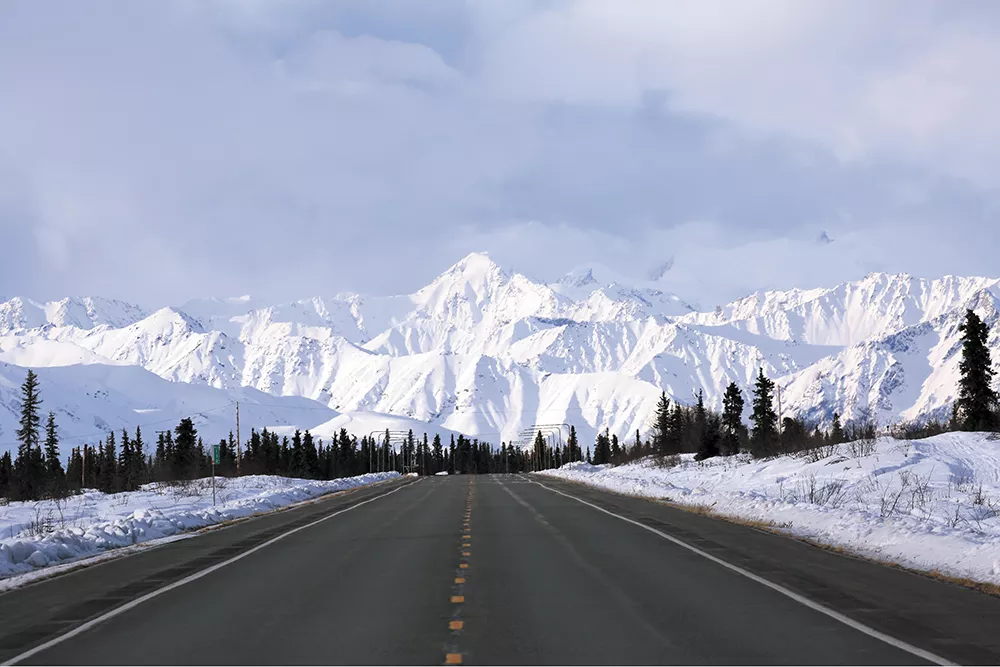 Anyone who skis knows Alaska for its helicopter skiing — the huge classic lines in just about every ski movie. But what most don't know is that with the right backcountry knowledge, gear, and a little sweat, you too can have an Alaskan adventure without taking out a loan. I'm going to fill you in on a few tips I've learned from visiting this skiing mecca year after year.
The first time I skied Alaska was a wild ride. Three close friends and I rented an RV from ABC Motorhome. They are conveniently located close to the Anchorage Airport. Motorhomes are great because you can keep your trip flexible in case of weather. Our first stop was Alyeska Resort. By showing them our airline tickets on the day we flew in, the resort gave us free day passes — a sweet deal.
We had a fun day of tram laps, skiing the north-face chutes and riding the upper bowls. After an excellent day of skiing, we splurged a little and ate at the incredible Sakura Asian Bistro in the Hotel Alyeska — hands down my favorite sushi joint on the planet. For a great après ski bar, the Sitzmark is the place to be. Before leaving Anchorage, I highly advise loading up with food and beer to save you some cash.
The next day, after too many beers and a fuzzy head, we checked online (alaskasnow.org) to get the forecast for some nearby backcountry touring. Being on the west side of the Chugach in Girdwood, Turnagain Pass and Hatcher Pass are both within a few hours' drive. The snow stability wasn't looking good in this area and since we were mobile, we looked into the other side of the Chugach range on Thompson Pass outside of Valdez. The forecast called for snow with a few bluebird days, so we packed up and headed out for the six-hour drive.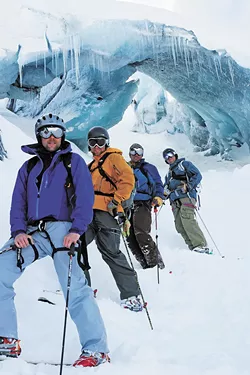 Once on the Glenn Highway, you realize it's the most beautiful road in the states, with endless white-capped peaks along with the amazing Matanuska Glacier in view right from the road. It was a beautiful stop for lunch so we broke out the barbecue and had some halibut burgers. After a few more hours of driving, we ended up on Thompson Pass. The next day, we woke to snow and all you could see was white. Hearing about road runs you can shuttle, we decided to take a few laps. Waiting out the storm and trying to drink it blue, the clouds finally lifted to expose the beautiful peaks of Thompson Pass. With endless ski runs right from the RV, we knew this was the place to spend the week. The snow was deep and the views were amazing. Run after run, choking on the Chugach powder, we were in heaven.
After getting to know some locals with snowmachines at base camp, with a little cash, we were able to get a lift and stay up higher to get into some tight chutes. Today you can book a day or a week with Justin Befu at Alaska Snowboard Guides to rent a snow machine with a ski rack to access more of the Chugach. If you know how to ride a sled, it makes for an awesome adventure.
Once you've worked up an appetite, Valdez is about a 30-minute drive to grab a shower and some food. Two places I personally recommend: Fu Kung, because it's Fu Kung good, and the Fat Mermaid. Both are excellent and will hit the spot after skiing all day. Parking in Valdez for the night will give you a chance to check out the local watering holes, usually an entertaining experience.
The next day it cleared and we were back on the pass getting face shots and epic runs. As we were planning on going back to the west side of the Chugach to ski Hatchers Pass, we heard that there would be a good aurora borealis show and we decided to stay.
That night, the lights came out and they danced all around us as we stayed warm by the bonfire. On the way back to Anchorage, we stopped to check out a classic heli operation, Alaska Rendezvous, with a fun restaurant and bar. The way it was built feels very Alaskan. A few hours from there, we were able to see the peaks in the Wrangell-St. Elias National Park, another great spot for a roadside barbecue.
Hours later, we arrived back in the big city and our trip had come to an end. Sure, it was a little cramped with ski gear, a little stinky, but it was an amazing way to ski and see Alaska. ♦