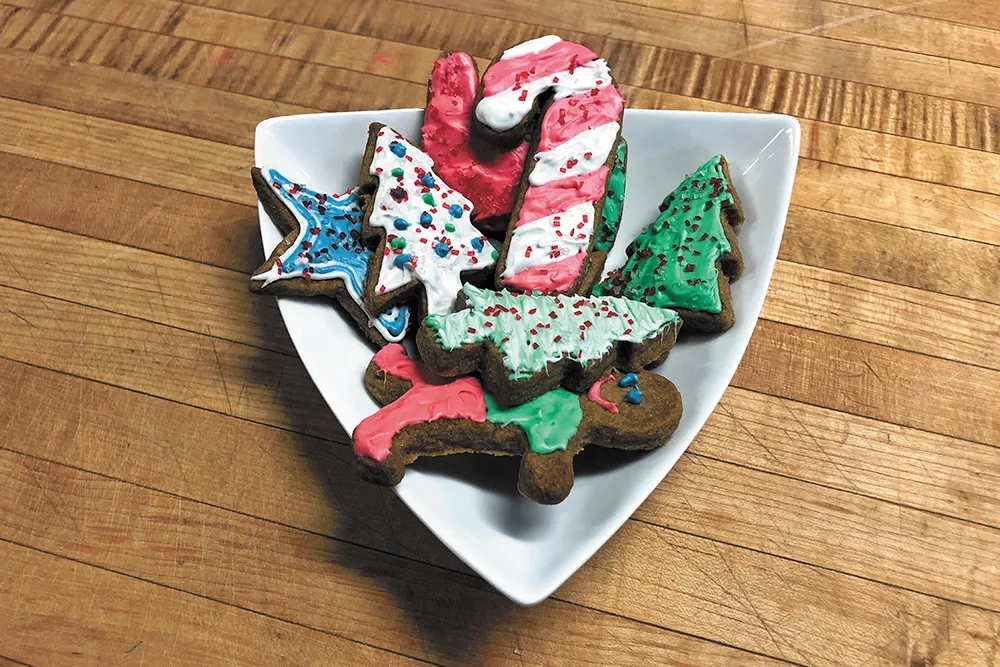 For many this time of year, baking and decorating cookies is a tradition as important as putting up decorations or making time for friends and family. Whether you're an experienced baker full of holiday spirit or a novice just looking to try your hand and have some fun, you can't go wrong with this simple recipe for shortbread cookies.
Why shortbread? Aside from being a great cookie for decorating — shortbread cookies keep their shape very well in the oven and come out just strong enough to play with without being too hard to eat — it's also a great cookie for the cannabis enthusiast. The amount of butter used in shortbread cookies pairs wonderfully with the typical strength of homemade, weed-infused butter.
Plus, they're easy. I turned to local chef Jake Fast when putting this together because he has a massive restaurant-style kitchen in his home. But really, you can make this just about anywhere with an oven. The only piece of equipment required for this recipe that I don't have in my personal kitchen is an electric mixer, but I know plenty of people who would've let me borrow theirs. All-in-all, it's a timeless recipe that takes almost no time at all. Ten minutes of prep and 15 minutes of baking, then decorate to your heart's content.
Shortbread Cannabis Christmas Cookies
1 cup all-purpose flour
1/2 cup room-temperature weed-infused butter
1/4 cup powdered sugar
1/2 teaspoon vanilla extract
Pinch of coarse salt
Preheat oven to 350 degrees.
While oven is preheating, use an electric mixer to beat butter and powdered sugar. Mix until combined and smooth.
Add vanilla and continue to mix. Then add flour and salt and mix until those two have just combined with the rest of the dough.
Transfer dough to a lightly floured, flat and smooth surface and roll out until about a quarter-inch thick.
Using a lightly floured cookie cutter, cut shapes out of dough and place on a cookie sheet lined with parchment paper. Take the dough scraps, combine and re-roll to quarter-inch thickness and repeat.
Transfer cookie sheets to middle rack of preheated oven and bake at 350 degrees for about 15 minutes, at which point cookies should be lightly browned around the edges and on the bottom.
Remove from oven and let cool until you are ready to decorate.
Depending on the size of your cookie cutters, this recipe should yield 10-16 cookies. My batch resulted in 13 cookies, which we cut into a handful of holiday shapes like Christmas trees, candy canes and a maple leaf, for some reason.
The decoration process was certainly the most stressful part of the entire experience, mostly because, as I learned, I'm not too skilled with icing. Even if my cookies didn't look as artistically inclined as I had hoped, I still had a great time making and eating them. Decorating cookies during the holiday season was a blast from the past that I'll definitely be bringing back as an annual tradition, whether the cookies get me high or not.
This year, though, they certainly will. ♦