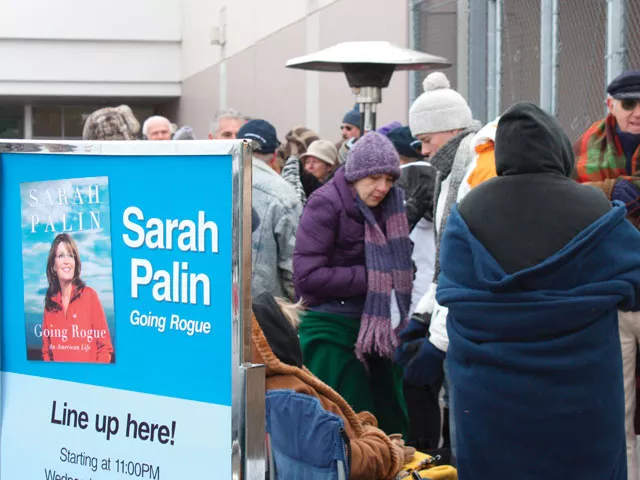 When it comes to Sarah Palin, there's no middle ground. People love her or hate her with passion that's equally intense.
Witness Coeur d'Alene last Thursday — when more than a thousand of her admirers braved Alaska-like cold in a Fred Meyer parking lot for a chance to meet the losing vice presidential candidate and have her sign a copy of her book.
While some of the chattering-teeth fans were longtime political activists, many had never been to a political event or ever considered standing in line to meet a politician.
But for Sarah, they would. They called her by first name and openly gushed.
"I'd like to have her over for dinner," Joyce Jantz says as she waits in line with two copies of Palin's Going Rogue. "Except for that Levi Johnson, I would like to have all the Palins over for dinner."
Jantz voted for the McCain/Palin ticket as a resident of Maine, but says she was really voting for Palin. After the election, she cut McCain's name off her bumper sticker and headed west toward her new home in Idaho with "Palin" on her bumper the whole time.
"She represents independent women and that's very hard today," Jantz says. "I like what she says. I like how she says it."
In 2012, she'd like Palin to be on the ballot again — this time on top of the ticket.
Jantz wasn't alone in her wish. Though he couldn't afford a copy of the book, 62-year-old John Zugsay walked two blocks from his home in hopes of catching a glimpse of Palin as her bus arrived. He was waiting to snap pictures to send to his relatives in Texas.
Palin for president? Zugsay thinks it's a possibility.
"I heard on Limbaugh that 50 percent of the country wishes we had Bush 43 back," he said. "That's bad."
Julie Reynolds arrived at Fred Meyer at 9 am the morning of Palin's appearance and was the 701st person in line. It was reported that only 700 would get in.
Still, Reynolds and at least 300 other Palin fans huddled in the cold in hopes they too would be able to meet the former Alaska governor. In the end, Palin signed books for every single person in line, though she refused to give interviews.
"I love Sarah Palin," Reynolds says. "I think she's an awesome woman. We need more women like her. … She always stands up for what she believes."
Though the crowd was mostly white, it wasn't entirely, and the professional spectrum varied, too. One woman said Palin is the only politician she's liked since Kennedy.
Though Palin was praised by many in line for being a strong woman, it wasn't just women singing her praises.
"Sarah Palin is the oxymoron," Gary Kwart said. "She's the only honest politician and that's an oxymoron."
Though others have labeled her two syllables short of that, the crowd at Palin's book signing were loyalists. And after hours of waiting in line together, they were friends.
"I think she threatens people that go against her values," Athol's Lora Gervais said. "We need more people like her."