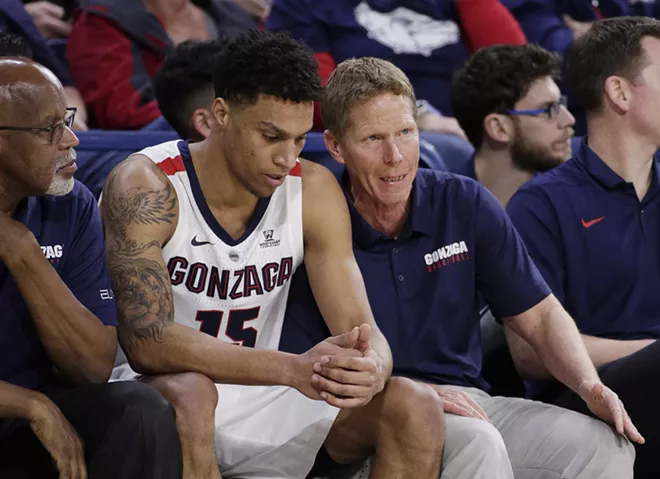 T
he Zags
front court, even without Killian Tillie, is a daunting task for most teams, though they don't resemble the profile of big men of old. Their high profile years in 2015-16 and the 2012-13 season were buoyed by behemoths like Kelly Olynyk, Przemek Karnowski and Zach Collins, all three at or bordering 7-feet tall.
This year's group is significantly shorter, with juniors Brandon Clarke and Rui Hachimura both listed at 6-foot-8. Yet the Zags are dominating the glass and swatting opposing shots at a higher clip than ever before.
"Ten blocks," coach Mark Few said after the 94-71 win against Texas A&M, "I can't remember when we've had a night like that."
And the guards stepped up too, with sophomore Corey Kispert adding three blocks of his own. Opposing teams will no doubt take note of the difficulty Texas A&M had at dribble drives throughout the game, where their scoring guards couldn't make anything work trying to penetrate the Zags interior.
The wing-dominant Zags team will have to continue to rely on their fast-break play and high-energy defense throughout the rest of their nonconference, playing teams with similar strengths, not just in Maui but also against the likes of Washington and North Carolina. Outside of Zach Norvell, the Bulldogs haven't showcased their perimeter shooting like in past seasons.
Looking ahead to the Maui tournament which starts with Monday night's game against Illinois, the Zags are going to be tested in all three games that they play.
"There's potentially a team that will walk out of this thing 0-3 that's an NCAA tournament team," Few says about the loaded field. "I think this will give us a good barometer with where we're at nationally and help some of our young guys who are being forced into some more duty than they had originally planned on, get valuable minutes and experiences so when Killian comes back we'll be better off."
The ultimate prize and what no doubt ESPN, the tournament runners and college basketball fans in general are praying and wish for is a final matchup of Gonzaga vs. Duke, which would have the Blue Devils playing yet another game against a Top 3 ranked team nationally.
Gonzaga played a large number of minutes against Texas A&M in a zone defense, and you should expect even more against the Blue Devils who boast even bouncier athletic wings than the Zags do. Just wish Clarke well if he's tasked with trying to guard this: