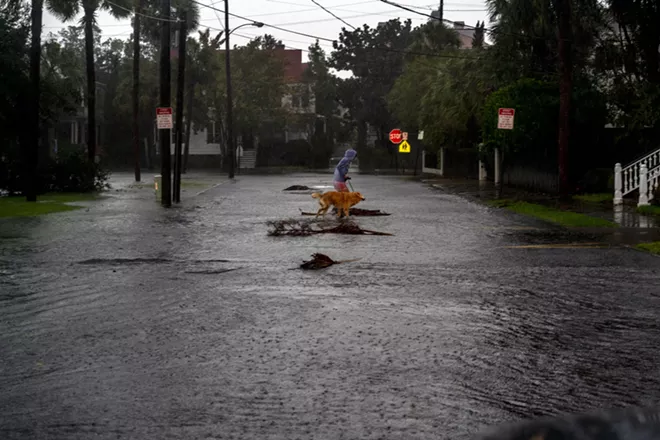 By Richard Fausset, Nicholas Bogel-Burroughs and Patricia Mazzei
The New York Times Company
H
urricane Dorian was pounding
much of the Carolina coast with heavy rain and strong winds Thursday, spawning small tornadoes and causing widespread power losses and flooding.
By early Thursday afternoon, the Category 2 storm was about 55 miles from Myrtle Beach, South Carolina, as it continues its creep up the East Coast, according to the National Hurricane Center. The center's models show it could possibly make landfall on the Outer Banks of North Carolina on Friday.
Forecasters said storm surge waters could flood up to 8 feet in some areas.
Dorian's rain bands were whipping cities from Savannah, Georgia, to Wilmington, North Carolina, and places along the coast could receive as much as 15 inches of rain before the storm departs. The storm has already knocked out power for nearly 200,000 customers in South Carolina, as well as 9,000 in North Carolina and 7,000 in Georgia.
Dorian brought tornadoes to North Myrtle Beach and Little River, South Carolina, said John Quagliariello, a National Weather Service meteorologist.
The Waccamaw River is expected to crest late Friday and into Saturday morning.
Some 441,000 people evacuated their homes ahead of Dorian, a number similar to the evacuations for Hurricane Florence last year.
The wind began howling and groaning in Charleston around 2 a.m., bending and toppling trees to its will, and downing power lines.
By daybreak, it felt as if the storm had fully arrived. Streets were flooding. Charleston County government officials ordered residents to stay off high-span bridges, given sustained winds of more than 30 mph.
In Brunswick, a coastal county that extends from the South Carolina border to Wilmington, North Carolina, a tornado that touched down in the morning in Carolina Shores caused no serious injuries, a local official said.
Dorian's outer bands reached north to Wilmington, slamming the area with heavy rain and winds and also causing another tornado. Forecasters said water in Wilmington could rise between 4 and 7 feet in some areas. Many of the neighborhoods along Cape Fear River were expected to flood.
An 85-year-old man in nearby Columbus County died Wednesday after falling off a ladder while preparing for the storm.