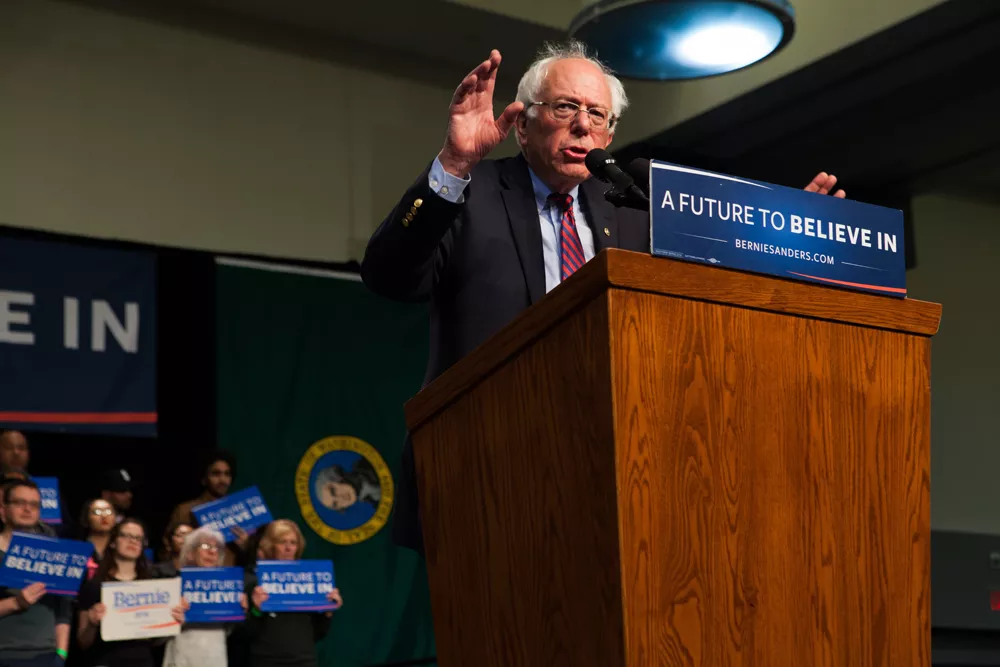 Beating the Odds
It would be an incredible comeback story if BERNIE SANDERS somehow were to win the Democratic presidential nomination, which at this point is nearly mathematically impossible. It would be more incredible than, say, the Golden State Warriors coming back from a 3-1 series deficit and advancing to the NBA Finals. Sanders saw the Warriors' Game 7 win over the Oklahoma City Thunder live, perhaps seeking some inspiration, but more likely intending to earn some points from California voters ahead of the state's primary on Tuesday, June 7.
"Last week, Golden State was down three games to one. Tonight, they finished off a great comeback in California," Sanders tweeted after the game. "I like comebacks."
Sanders appears to be far behind HILLARY CLINTON in California; she has a 97 percent chance of winning the state, according to a FiveThirtyEight analysis of recent polls. As of Tuesday, she also has the endorsement of California Gov. Jerry Brown, who urged Democrats to quit fighting. Even if Sanders wins California, going on to beat Clinton for the presidential nomination is a long shot, one that even the Warriors' Stephen Curry might not be able to make. (WILSON CRISCIONE)
The Third Way?
Over Memorial Day weekend, two former Republican governors stood on a stage in Orlando and accepted the nomination to lead their party's long-shot bid for the White House.
The Libertarian Party — an individual-liberty-minded party that's spent decades calling for the government to slash taxes and spending while relaxing laws concerning drugs and guns — is hoping to have its bright, shining moment this election cycle, with former New Mexico Gov. GARY JOHNSON and former Massachusetts Gov. WILLIAM WELD as the ticket's respective nominees for president and vice-president.
Johnson and Weld are both two-term governors, potentially giving their party's ticket more executive experience than either major party. A super PAC, initially set up to support libertarian-minded Kentucky Sen. Rand Paul's failed presidential bid, has signaled that it will support Johnson, according to the Washington Post. Johnson drew 10 percent in a recent survey of voters.
After clinching the nomination last week, presumptive Republican nominee DONALD TRUMP dismissed Johnson as a "fringe candidate," noting that he received only 1 percent of the vote in 2012 as the Libertarian Party's presidential nominee. (JAKE THOMAS)