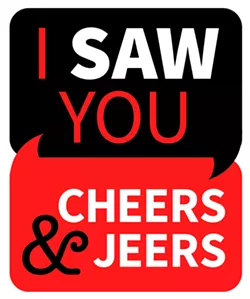 shaken Saturday, Feb. 13, 330ish, at Trading Company, McDonald and Sprague, in the fresh produce section. You; tall, attractive highlighted just-past-shoulder-length hair, snug blue jeans, heels (?)....me; dashing Dave Grohlish figure...I mentioned the difficulty level of opening the produce bags...I wasn't able to formulate a compelling follow-up conversation. If I had been on the ball, I would've asked if you would like to meet for coffee.
See what you've done? Okay, red-beer lover, I'm calling your bluff. Was it enough merely to be flattered by "I see you"? Or maybe now, enough for you read I Saw You — and see yourself? Or, you want to satisfy your curiosity — same day, same time, same place.
A great smile I recently took my son to go get a fade at the Barbershop on Monroe! While I was there I seen this young handsome barber checking me out! I tried to avoid eye contact as I didn't want him to see me staring back at him! He has to be no older than 21, and let's just say I'm quite a few years older than he is, but what I would give to be 21 again! I believe he had his hair in braids, but I'm not completely sure? I just want to let him know that I saw him checking me out, and I definitely noticed him! My favorite thing about him, was his smile!
teacher rodeo You saw me at the Pipeline Bar. You were strong and lively, at trivia with your friends / teachers and doing a Rodeo Barstool trick, and you said that I should try it too? (R U Nuts?! I'm too old for that!). Anyway, I'm just the guy at The Bar, went back to work my crosswords, and we chatted off and on for a good long time that evening, and I cannot tell you how very nice it was to listen to you. I really needed that, a wonderful distraction, you seemed a bit edgy, & wanted to talk some more, sorry but I have to work in tomorrow,.... Now I'm sorry that I didn't see that you got home, but as you had friends waiting to take you home, I took to the road. I really must have frustrated you, but I had my own stuff to work on, and a mess at work waiting for me. Sorry, sad excuse, my bad... C'mon back for trivia, or coffee, or anything.. Or send a message to my office. ~:-). -LM
My Friday Night Dance Partner K - I love that you play music for me so I can dance, because you know how much I enjoy it. I love the way you wake me up in the morning. I love the way your eyes sparkle when you smile. I love the way you grab your guitar and start playing at random times, even though you won't let me record it. I love your sense of humor and the way you make me laugh about the silliest things. I could go on and on. I LOVE YOU. That is all, carry on ;) E.
Boldly I Thank You I know how it feels to read the "Cheers" and "I saw you's" and think to oneself, "How cool that this person has someone who is bold enough to put their thoughts and heart into print." It feels good to voice one's appreciation of the people who mean the most to you. That said, I cheered my sister once before, and now I'd like to cheer a friend I hold just as dear. Thank you Little Sam, for becoming one of my best friends and being an integral part of my life. You are faithful, kind, loyal, talented, beautiful, loving and lovable, not to mention spunky and strong. I'm undeserving and deeply grateful for your love and friendship! As long as we are together, I know that we can make it through just about anything! I love you as my sister and as my best friend. Even better, I know you feel the same way for me and doubt will never convince me otherwise! Thank you for the above and also for anti-social nerdy hugs, letters, phone calls from across the sea, always having my back, and everything else! Cheers to you! I grin and hope this sits well with you; I put this into print so you'd feel like a star and to let all who happen to read the "Cheers" section know just how much I love you because of who you are.
Turn Down Your Damn Music! Jeers to my neighbors across the street who think that their music is so great that the neighborhood should hear it. Aside from the torture you are inflicting on me, my spouse, and probably all of your neighbors, you often interrupt my daughter's nap as well, so you're also torturing toddlers. I would ask you to turn it down, but you don't look approachable. I would call the police, but I don't want you to get shot. I pray that your sound system breaks, and that you cannot afford to fix it until my lease is up.
People Just Don't Care No More I am so sick and tired of people not caring on victimless crimes anymore this includes illegal dumping at various Goodwill Donation Sites though out the city. Spokane police will not do anything on victimless crimes because it's not a big issue well technically it is. Its a costly issue and anussance and a eye soar for seeing these places used as a dump site because people cant afford to go to the dump. Spokeites are not utilizing the dump passes that some of the neighborhood community areas issue so many of them each year or have no way to dump their unwanted items but donate them to goodwill that is in very horrible conditions. I read that it cost Goodwill over a million dollars in dumping fees annually in illegal dumping that the people of the city of Spokane has no pride in and Illegally dumping unwanted things at various donations centers through out Spokane. Technically that cost more money for programs they can't have for you people because you keep dumping trash on their property. If you need to go to the dump and have no money for a dump run their are resources at your local community center for dump passes use it.. Thank You
Complain much? I'm a server at a local restaurant and, unfortunately for me, you and your wife came into my work for dinner one night. I had the displeasure of serving you on our dining patio on this particular beautiful, early fall day. I brought your appetizer and shortly after, was returning with a heavy tray full of your food as you stormed passed me back into the restaurant and said you wanted to change tables, and that your appetizer was terrible so you left it outside. You wandered around the bar looking for open seats in a packed facility as I stood like a servant still holding your tray of food. You settled on a different table and I got you situated, made you comfortable, and brought you and your wife a second round of drinks. I checked in with you shortly after and you complained about your meal even more, so I had the kitchen completely remake it. I offered you complimentary items and you demanded I bring you free alcohol. After you were finished I brought you a bill which had already been reduced by 20% of its original total, and you continued to complain about the price and demanded to see the manager. After complaining to him you received another 25 dollars off of your tab. In the end you "thanked" me for my service and left me a crumpled up dollar bill on the table. Gee thanks... That's really going to help me pay my bills. To you sir I say, don't bother going out to eat if this is how you are going to act. Stay home and make your own meals, and save yourself that dollar bill. ♦