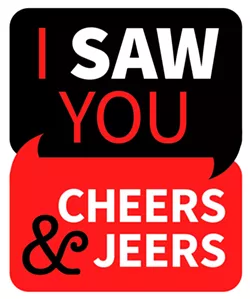 More than Fair! You: Dark skinned beauty in camo pants and Harley shirt enjoying a King Corn Dog w/ ketchup and mustard just the way I like it! Me: Blue jeans and blue button down shirt, could not keep my eyes off you. We locked eyes for a moment. Wanna meet for food or drink?
ROSE GARDEN ROMANCE: I saw you on Saturday the 15th at Manito Park. You were wearing a Lisa Brown T-shirt and talking about the history of the garden. I can't resist a fellow history and political nerd. Maybe we can walk the gardens together sometime soon? I was in the Blondie T-shirt and only had eyes for you.
To drivers who see bicycles: To the car drivers in this area who see us bicycle riders AND give us room, thank you. It's most of you! WELL DONE! And jeers to the jerks who "just don't get it."
Nicest Guy Ever Walking downtown: 9/11/18, across from the bus plaza I noticed a weirdo abusing his dog. I told him loudly, stop it! Of course he shouted, "he's my dog, mind your own business." Then I responded, "it is my business when I see an animal being abused." No need saying what the weirdo then said. My whole objective for posting this is to say thanks for your sweet words and your support, young good looking guy, you with a helmet on, riding your bike walking next to an older lady with a walker. You posess intelligence, fearlessness and humanity and I'm so happy I met you and spoke to you, if for only seconds. When you told me you had my back, I believed you.
UGM Crisis Shelter Staff: You provided me and my daughter with care, compassion and dignity. I was at my lowest low and your patience and love really helped me make it through. The love, the prayers and the kindness was unexpected and much appreciated. Keep doing what you are doing and thank you for keeping me and my daughter safe.
Re: Local church kicks out disabled veteran: Cheers to both of you who submitted last week. You bravely stood up to a local religious hierarchy which booted a seasoned combat-traumatized veteran — a true patriot who was merely looking for acceptance, friendship and healing. This "church" had no right to turn you away from the supposed love and nurturing that a great man, who supposedly existed two millennia ago, wanted the world to embrace. These so-called "Christians" have succeeded in bastardizing and, in some cases, criminalizing the very words they consider sacred. The problem is that, now, with so much right-wing strength and control in governmental realms, these "churches" think they have the right to pick and choose the members of their flocks. They gain even more power from the very fact that they do not have to pay taxes. I left religion years ago because I'm sickened by all the snobbery, the "holier-than-thou" personas, the gross twofacedness and, especially, the massive hypocrisy. To heal, I suggest becoming a volunteer at the VA or the Spokane Veterans' Home and spend time talking and sharing experiences with those who would never judge you... Or exile you.
<3 With you: I have found ultimate safety, happiness, comfort and acceptance. There is nothing better than true love.
Plum delicious: Thanks again to the sweet woman at the East Side library who gave me the bag of plums. I was only there for some DVDs, but got a lovely dessert as well. We need more neighbors like you.
To the Inlander woman on the phone: Cheers, Inlander: I just tried for half an hour to search archives for a particular column, Rob Brezney Horoscope, that I religiously read in the Inlander through the 90's and still follow. I could not find a way to get to archives of this column on line through the Inlander website. I finally phoned and talked to a delightful gal who couldn't find the way to the archived column either. After a fun conversation she's off to find the column, and I'm suggesting better online archives for those of us who want to find obscure articles.
Downtown Les Schwab: I recently brought my truck in with a nail in the tire that needed to be patched. When I came back for the truck, the lady at the counter told me there was no charge — just remember them when it came time to replace the tires. Believe me, this little act of kindness will definitely be remembered and I will be more than happy to give this store my business. Thank you!
Want my dog tags back: Last Wednesday you all broke into my car and stole from me. I take some responsibility in the loss of my property because I should never leave anything in my car, but I forgot something that is very precious to me. Please, whoever stole my dog tags that I have had since I served in the Navy some 40 years ago and my daughter's dog tag who served 20 years ago also in the Navy, that are connected to the same chain, leave the tags somewhere where someone will turn them in. It would be laughable to think I could ever get the jewelry back that was taken, but I would be so thankful to get mine and my daughter's dog tags back! That is what hurts me the worse. Please, if anyone finds two dog tags, chained together both females, it would mean the world to me to get them back.
Political dumbasses: Jeers to the those of the political far left and the far right. This is how places like Iraq and Syria came to be. First the formation of tribes that refuse to cooperate and compromise. Then blame and insults. Eventually car bombs and civil war. The idiot liberals and moronic conservatives are both destroying our country. They have already killed common sense. ♦