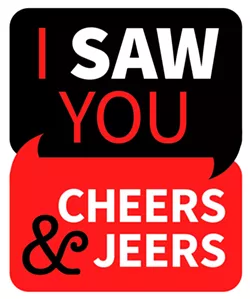 I SAW YOU
You Took My Breath Away You: Hot Dark Haired Man at Valley Applebee's on Pines on Monday, March 11. You were sitting at the bar around 8:30 pm. I walked by you and you smiled your gorgeous smile at me. I felt an instant electrical connection! I have brown curly hair below my shoulders, hazel green sparkly eyes and wear glasses. I was wearing a maroon tweed blazer, multicolor orange/maroon blouse, maroon pants tucked in my orange/blue cowgirl boots. I was with two of my friends and my oldest daughter, and we were sitting in the first booth on the east side of the building. You were staring at me, and when I looked your way, you flashed that huge smile again. Dang, I wish I would have talked to you but I was with my daughter and I felt a little awkward. Care to chat?
Teenage love and rockets: JB I saw you, in the hallways, in the high school. We embarked on a friendship, a romance, a teenage love and rockets. And when the teardrop exploded it was louder than bombs. Now, drifting, falling, 30 years on, it's a question of time. With bells and horns in the back of beyond. If I could say anything, it would be I'm sorry, I tried to go beyond love and in the same deep water as you. Tonight, under the Milky Way, staring at the sea. I think about you with Tenderness.
CHEERS
Called out on the 43: You were sitting a couple seats in front of me on Sunday on the 43 with your son (?) when you called out a woman ranting about foreigners. You told her simply that she had to stop with her racist comments and they weren't okay. When she tried to goad you in return, you didn't give in and start conflict. I wish I had even a hair of your courage, and I applaud the example you set for the little boy with you. It was very heartening to witness that. Thank you!
Snowpacalypse: There I was, snowbound in the Bowl and Pitcher car park. New to hiking, newer still to driving in snow. Through shoveling, cardboard, and gumption you unstuck both my Ford Edge and my sentiments. May the gods shine beneficence upon your every waking moment.
"The Kooks Conquer Idaho": We all want to see our fellow Americans arrive into the 21st Century both in mind and matter, but as Zach pointed out, that remains as remote as finding life on the moon as it is in finding a politician in Idaho that has any intelligence when it comes to... dare I say it, pandering for the most expedient payoff politically over actually going to bat for the best of its citizens? Case in point being that a full decade after refusing to expand its citizenry to the benefits of the ACA, it decided instead to let its people go bankrupt or die for that entire time rather than accept the notion that "ObamaCare" would actually be of help... ahhh yes the infinite wisdom of FOX News would never dare let actual data become part of the big picture. Let's instead focus on Obama's birth certificate and if he is a Muslim (spoiler alert he is a devout Christian) a law scholar and devoted family man without a whiff of scandal over an eight year term - That said I cannot understate the damage that this does overall to the state in regards to tourism. I spent 18 years during my entire time while living in Oregon that NO! Spokane was not home to the Aryan Nations and NO! Richard Butler was no longer alive and that yes people of all color and character are acceptable... I take it all back, I was wrong, to all you Oregonians and others, feel free to stay clear of Idaho.
Victoria's Secret - Valley Mall 3/16: Thank you to the lady who walked up to my mom and I shopping for perfume at the Valley Mall's Victoria's Secret Store on March 16th and gave us a 20% off coupon. I rarely pay full price for anything, but was celebrating a recent pay increase, so I was going to pay full price for the perfume, as I really liked it. Even though it may have been a small gesture to you, it really made my day! Thank you!
Speeding angel: To the person who somehow knew that there was a cop ahead of us and waving me down to slow down, I thank you.
JEERS
Winco in Spokane Valley: To the people at the Winco on Spokane who decide it's okay to take up the whole isle: it's not. Learn how to stay on the side so others can pass. It shouldn't be that hard, you drove yourself there and it works the same way. Do not sit in the middle of the pasta aisle for 5 minutes debating whether you want penne or spaghetti noodles, involving everyone in your conversation because they want you to pick, just to grab both boxes and do the same thing on the cereal isle.
What the heck! Pardon me for selling my SoCal mini mansion and moving to Spokane and finding this. Everyday is flannel day apparently. I was in the drive thru of Starbucks yesterday and couldn't believe the tread of the tires in front of me. I took my daughter to take photographs of the city, do you know how many trees and birds got in the way of her perfect pictures? Also, the apples at the organic grocer are great with your added beard hair. Does no one shave?
RE: NOT SO MAGIC BOY: Let the jerk go! Anyone who can't accept all of it, especially a rabbit tail, doesn't deserve you. Don't let Elmer Dudd ruin your day, doc. Bring on the tails! Life is way too short to not celebrate yourself. ♦