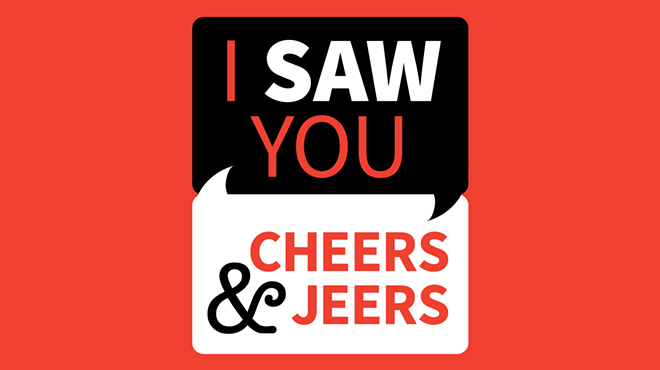 I SAW YOU
Dear Lime Scooter Crew: A couple of you dudes were zippin' down Wellesley on your Lime Scooters, around 2:30, Sunday morning. You were clearly having a blast, and your cluster of bright LED lights were very visible from the front as you zoomed down the middle of the road. But guys... you were all but invisible from the back. I know it's fun, and it's summer, so ball out or whatever, but you gotta be more careful. The bikes and scooters aren't supposed to be in the road anyway, and at 2 am on a relatively dark street, with drunks and people with crappy night vision, you're rolling all kinds of dice. I damn near pulled over to tell you to get out of the road, but... you really shouldn't have to be told. Please be more careful. It would legitimately suck to have as good a night as you appeared to be having, end in someone getting hit.
Hi there at Hillyard Fest: I saw you at Hillyard Fest on Saturday. We both were enjoying the mister and commenting on the smells of teriyaki in the air. I hope your day was as productive and enjoyable as you had hoped it would be. Loved your shirt!
Boy, that was a hot one ;) I saw you while walking in the dreadful summer heat by the Centennial. You were so kind and a sight for sore eyes. Thank you for making the start of my weekend great.
Sweet Guy at Sweet Peaks: Sweet Peaks. Dusk. You were sitting by yourself. Hoodie on. I walked in while you were sitting and waiting. I enjoyed our conversation (hopefully you enjoyed your milkshake). Let's be friends.
Disturbed Concert 7/31 - front of stage barrier: You - long black hair, brown eyes, were lifted over the barrier when the crowd got too pushy. I've got your souvenir shirt if you'd like it back. cmoonl7@yahoo.com
Wandering Soul: I saw you walking down Maple Street, with your life in your backpack. A dog beside you and the hardship of life showing on your face. Curious eyes turned uncomfortably towards you, glancing quickly. Many wonder why you stride down the street with such forceful steps yet they feel your emptiness. At night as you sleep you breath deeply, your arm around your faithful companion, I wonder if you think about your future, or are you struggling to live each day. Is your childhood a memory that feeds you or do you put up a wall and keep it behind? You may not show fear or emotion but I'm guessing when you are alone it barrels through you and hits the bottom of your soul. Can we as passersby lay judgment to your circumstances? We have no right to look upon you with sorrow or sadness. We have no idea what happened in your life that has made you walk alone. Stand tall young woman, stand proud. You may not feel this is where you want to be, but for now, this is who you are. Thank you for letting me into your life for just a few minutes. We all need to see how life can change so quickly, and we should live the lives we have right now, with a peace in our heart, every step we take. BN
Dancing with a stranger: At the Hillyard Festival you heard me wistfully say I hadn't danced in years. When the music slowed, I felt a soft tug on my hand and looked over to see a kind face smiling at me quizzically as you gently pulled me up to dance. I was shy and awkward, but fit perfectly in your arms. You were a very good dancer and patiently showed me some fun moves for four songs. Later when the tempo slowed again, I slipped my hand in yours. You smiled and lead me back for one last dance. You had to leave just before the fireworks, but we're reluctant to do so. We hadn't talked about ourselves, nor exchanged info — just danced. I'll be at the music venue at the Argonne Library, 8/13 at 6:30. Would you dance with me again? e_femail@yahoo.com
CDA Prosecuting Attorney and Fireman: I had the pleasure of meeting you both and you said you were supporting the community, you so kindly offered to buy a stranger a burger, I must have offended you since I was your server and cook but you never left any gratuity. So please accept my apology. I look forward to your next visit.
CHEERS
I Trust You: I have faith that one day you and I will be together again. Although it seems impossible right now I am not going to give up on us. Through this wild and crazy life I have lived I have met two kinds of people: those you can trust, and those you can never trust not even in a million years, and you are absolutely someone I would trust with my life. I don't have any time to waste on untrustworthy people so I pray every day that we could make peace with one another and that this war between us would cease.
Attention Registered Voters: Cheers to you, the community of Spokane! I've noticed many of us opening our eyes to the misinformation and lies that fall from Cathy McMoscow Rodgers mouth. I encourage you all to check her voting record - as well as her "A" rating from the NRA. PS- Nadine Woodward is no better, refusing interviews. She's a former media personality, why is she afraid of backing her own hardline agenda? Sunlight is always the best disinfectant.!
JEERS
OOh the Irony of a Christian Hypocrite: I'm a neighborly type, so I came out of my small house to talk to you about the little housing development where I live. You are thinking about buying a couple of the units as rentals. But you just couldn't stop yourself from getting in a little preaching. Going into a three minute sermon about King Solomon and the "wisdom" of riches. While your fancy cream-colored SUV sat in the gravel parking lot of this modest development you had the gall to preach to me! I'm the one who made the choice to live in a 650 sq-ft house. Take a lesson from this atheist - don't buy into this development. Take that money and invest it in people - like a wounded warrior, or a kid trying to go to college, or a working mom trying to feed her kids on a minimum wage job. Your fancy SUV and desire for rental income clearly demonstrate that you haven't learn that lesson from your King Solomon that you so sanctimoniously quoted on my doorstep.
Jeers to Stuckart: For both exploiting the "homeless" population and using it as a platform to bash his mayoral opponents. If Ben cared as much about the actual tax paying, hard working, contributing people of Spokane as much as he did as the "homeless" I might have voted for him. But, just like his initials his campaign and policies are B.S.
DOG SHIT: While I try to keep my corner of the universe clean and healthy, I do not appreciate someone putting an open bag of dog shit down the catch basin at the corner of our street. Storm water and run off from sprinklers is all that is supposed to go into those. How do you expect to have clean water for the Spokane River if you put that in it. Maybe you should have a glass of water to drink and appreciate the people who try to keep that clean for you. Only thinking of yourself again. ♦