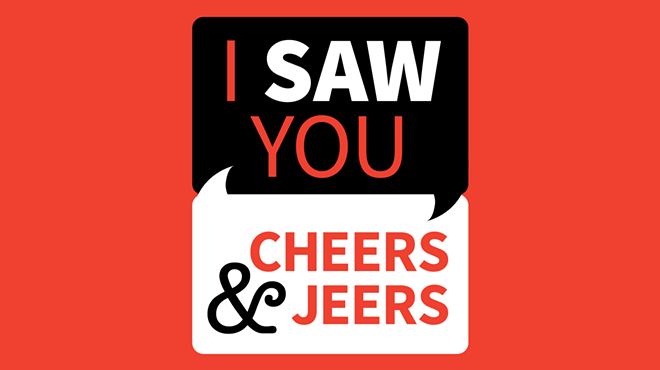 I SAW YOU
I melt with you: I saw you by Ben & Jerry's on Saturday. We both were tired and a little sunburnt. I am glad I took your ice cream suggestions. Thanks for brightening my weekend. Hope to see you soon.
Dog-gone great attitude: I saw you at the Costco up North in Saturday. You handled that hustle and bustle with ease. Even when you dropped a hotdog you didn't let that phase you. Your smile was contagious and your ideas exemplary.
Don't Go Bacon My Heart: Saw you at Safeway last week. We both were picking up BLT fixings. You were in dark gray and I was wearing a fun yellow pattern. I'm sorry my friend kept running off and interrupting our conversation. Maybe we can do a shopping trip together sometime soon? Or catch a sandwich locally?
Deli Counter Encounter: I almost walked right into you at the NW Blvd Safeway Deli Counter on Sept. 3. We laughed. You wore glasses and have dark hair. You said I have a beautiful smile. I think you're very attractive. Coffee? Sunday morning at 10. Indaba on Broadway. Hope to see you there :)
At Pig Out in the Park: You and me sat and talked a little at the Black Oak Arkansas concerts Aug. 31 - 8:30 pm. Front Stage... you looked like a nice woman and a little shy maybe, sitting in lotus position/blond hair/shorts/red nails /flip flops and you waved goodbye to me. Love to see you again and to talk more? kittycat69lover@yahoo.com
You being a two-man tent cover I saw you... lying by the roadside, all wrapped up in a bundle. 9/8/19, riding the Spokefest cycle event... A mile north of the four mounds fire station... close to the intersection of Dover and Charles Road. Looks like you "fell off the wagon"... took pity on you. But now you are just extra baggage... ya gotta go. Would be willing to drop ya off downtown Spokane if anybody wants to claim ya.
CHEERS
Ellery and Frances: Dear Ellery and Frances please contact me about borrowed books! Ellie, 624-9295
JEERS
Pigs in the Park: Being a newer immigrant to the Spokane area, I've attended "Pig Out in the Park" for the past several years. This year will be the last of those. The rudeness of "humans" at the event this year was amazing. I'm not even sure how the event met fire codes this year. The walking spaces were too narrow for people to move through efficiently, but that didn't prevent many from cutting off small children and the elderly as they aggressively shoved their way. The place also smelled poorly. If it's against your belief system to wear antiperspirant, would it kill you to at least bathe so you don't smell like a pig? Perhaps the worse was the abject stupidity of many. Despite multiple signs indicating that pets were forbidden, many were present, providing more congestion problems and smells. FIRE BAN - Hey Neighbor! How about do the neighborly thing and go talk to him! Maybe he is not aware, or just wasn't thinking about a fire ban and would appreciate the information.
Sports Radio: Jeers to Spokane's radio stations for taking away Fox Sports Radio and ESPN Radio! You left us with local sports (which is OK) and Brock and Salk in the morning or Patchin and Lukens in the afternoon. UGH! The biggest change was that you took away 1510 Fox Sports and turned it into the stupidest concept ever... hip-hop and sports? WTF? The only sports on that station is EWU, Indians, high school, etc. And then you combine it with hip-hop? Give us a decent sports radio station with national sports! It's football season and not everyone here is a Hawks fan. Come on, man!
GET OFF YOUR PHONE: I'm pretty good at spotting drivers using their phones while riding my bike. Especially this case, on the night of Saturday, Sept. 7, 2019, when I got stuck behind you at a green light for 20 seconds straight because you were on your damn phone. I do admit to F-bombing you first, but it was justified in my eyes, because you should not have your phone in your hands while driving. Shout-out to the dude in the backseat who told me to go F myself, you suck too.
Counterfeit Tweaker: Dude... you were pretty amped up when you stopped by my garage sale. I hope you are enjoying the golf clubs and the cash you stole from us. I hope you and your girlfriend got a nice fix, courtesy of us. Don't worry, we got you on camera, got your plate, description of your car and the best part of all is that the Secret Service has your "money" Enjoy federal prison, asshat.
Reply to Lime sidewalk Crime: Sept 5 Dear fun hater: "Irregardless" is not even a word. Focus less on what's cruising down your sidewalk and more on your own intellect. This will, I believe, help you out regardless of the current "bane" of your miserable existence.
Re: Hood Vandals: You taped a deer's head on the front of your car? Are you f—-in kidding me? That is the most white trash thing I've ever heard.
Texting and driving: I'm on my way to work. Turning left, the lady in front of me doesn't move. The light is green. I can tell she is texting. I honk. She holds up a just a minute finger. We miss the light. Man beside me on Division texting swerves into my lane. Then bounces off the barrier. I honk. He flips me off. Turning left in the center lane. A woman texting swerves into the middle straight at me. I slam it into reverse and start honking. She looks up all surprised. How did texting become more important than driving? None of these people were kids. Middle age adults. When they hit me will they say it wasn't my fault. It was an important text!
Jeers to Sean: Sean, I can't think of a worse person to coexist on this planet with. You caused me pain by tweezing out my ingrown hairs for me, you hurt my feelings by picking out the cheesecake pieces in the cheesecake ice cream, and you don't squeeze the toothpaste from the bottom each time. Dang you! Ugh, you know I have nothing bad to say about you. I fall in love with you more each day and you're perfect to me. But you always want a jeer about you, so here you go. Only because I love you. - M ♦