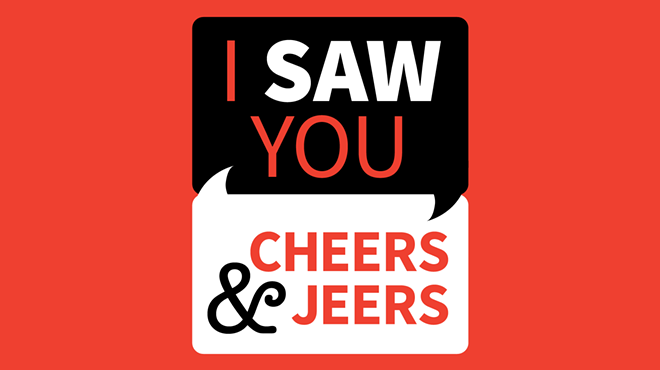 I SAW YOU
RE: Sun Audi Zip, 9/5: When you drove away, you ripped the heart from my ozone... I went home and watched watched "Zack and Miri Make a Porno"... Thanks for coming back to fill my hole!!!...(: XO, DUBL-D
Suspended license stupid: I saw this car in a really bad accident crash and incredible traffic explosion it looked like he has no breaks.
Moonlight in Your Urban Forest: Have none of us seen the girls on Sprague and other avenues? Their pimps may not be visible in daytime hours, but if you stay up late at night you see them, beating and berating these poor daughters. But we are all so busy with our other things. I see why pimps are not afraid of decent men. Reading this, pimp?
Baby Shower Babe: I saw you from across the room at our mutual friends' baby shower. You were wearing a comically V-ed punindress shirt and a chuckle-y smile. I was impressed with your party game skills and ability to remain call in the craziness. You sure are cute ;)
Nachos & Smiles: I saw you at Rincon Tapatio on Friday night. Your smile was contagious and you were so helpful when my friend stopped his silverware. I really loved your enthusiasm for nachos. How about we share a plate next time?
CHEERS
Kindness of strangers: A big cheers to the kind man at Zip's on Trent in the Valley, who paid for my meal with cash after the card machine had went down. I didn't tell him, but one of the burgers was for my grandmother, and we are both extremely grateful. It's wonderful to know random acts of kindness still exist.
Dan, thank you my friend I don't know where to start.: Thank you for making me a better person and giving me advice and all the organization skills to get my life in order. I am so blessed that we met at a state function. Cody! Lionel trains and Murray, Idaho trips. Goodwill taught me and you a lot. Thank you for the friendship. Retirement is coming. Buy a new Jeep Wrangler. Thank you for the good times! And all the laughter that we shared.
My One & Only Makayla: He was the pen she was the highlighter. He wrote his future she made it brighter. Makayla falling in love with you has made my life so much brighter and I know you will continue to make my future brighter with you by my side. You are so amazing in every way possible. Thank you for loving me every single day. I know I love you, you know I love you, now anyone who reads this will know I love you.
Stranger @ The Flying Goat: Cheers to the Flying Goat customer. The evening of 9/21 you saw a young couple enjoying dinner before the Homecoming dance. They called so happy to share the news that someone had paid for their dinner. They were so excited to share how wonderful you made their evening. You didn't see them as anything other than a cute couple out to eat. I can never repay the acceptance you gifted my daughter. I worry so much how the world will treat my daughter and her girlfriend. I am forever grateful to you for showing my family that the world is filled with love. If in the future we are faced with hate or discrimination your act of kindness with serve as a light in the darkness. Cheers for making a wonderful night even more magical.

JEERS
Stupid people: Here's to the customers in the drive thrus that sit at the speaker and hold up everything. Most employees have a list of things that they need to do before they get to go home. Instead these poor employees are stuck there and most of them have families to go home to. So maybe you should think before you hold everything up.
Time to Pay the Citizens BACK! Sadly since the Inlander has their own political left leaning agenda this will probably not make the cut. However now that the "not a snow ball's chance in Hell" governor from the Great State of Washington has dropped out — amazingly travelled on millions of tax payer's dollars and went all the way up to 1 percent — of the presidential race I'm guessing reimbursement of those millions has the same chance of coming back to the hard working people of Washington! God forbid that someone such as myself would even bring it up — which is why this will NEVER see the light of day. But sadly that will reflect more on the people ultimately at the Inlander and the people in the state of Washington for allowing it to happen in the first place!
re: Pigs in the Park: To thee who wrote of Pigs in the Park, I disagree. Firstly, who are you to complain about the pigs having their dogs in the park? Many Spokanites enjoy the smell of a dirty dog, especially the malnourished emotional support dogs. Secondly, you must not know anything about fire codes because as long as people are able to run if there's a fire, everyone will be able to get away just fine. Thirdly, I already addressed the smell issue, but many people enjoy the smell of feces, urine, sweat, body odor, stale beer, and vomit. It's a great reminder of the best of Bourbon Street in New Orleans. So, here's to Bourbon Street, Spokane. Who dat? Who dat? Who dat? Let's all support Pigs in the Park next year!!!!
Doesn't hurt to say hello: My husband and I frequently walk at the Bowl and Pitcher. Such a peaceful place to spend a Sunday afternoon. Walking along we always say good morning, afternoon or whatever the time of day. We wonder since when it is way too hard to open you mouth and say a simple hello. Most people that we encounter either turn their head the other way or stare straight ahead. Now we make a game of it to see just how many will respond to our greeting. Isn't it sad that a hello is more than a lot of people can handle. Open your eyes and hearts, life is short, live it. ♦