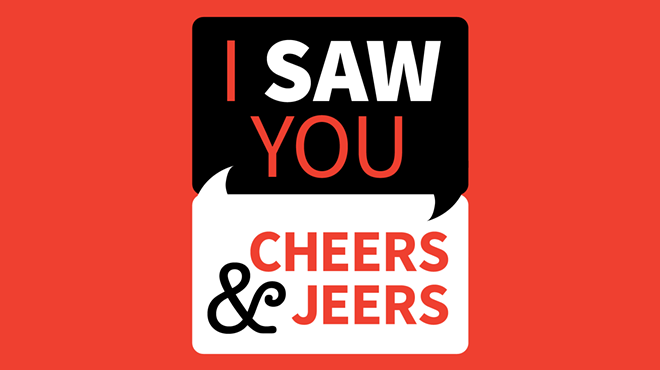 I SAW YOU
Taco about a nice guy: I saw you at Taco John's on Friday <National Taco Day> and you kept your cool, miraculously, throughout the hectic craziness. I was impressed by your cool demeanor and kind smile. Thank you for brightening my night.
Winco-n I see you again? I saw you at Winco up north last Saturday. You picked up an item I accidentally dropped and we mused about the new seasonal moscato. I hope we can share a bottle soon.
Do-Over: I'm sorry that I accidentally let you expire on the first go-around. I'm thankful that I saw you again and it led us to THIS moment. Thank you for always giving me QT and WOA; our talks mean the world to me. You said that it may be your "secret fantasy" to be written about here someday. Well, I'm here to tell you that you ARE special to me and that I'm SO thankful that I SAW YOU. XOXO
CHEERS
Acro-yoga acrobats: Dear Drew, Jenna and Chris, you sweethearts helped me FLY in the meadow east of Duncan Gardens on a Wednesday afternoon. Lumi and I hope to see you again! xox ellie
Felts Field air traffic controllers: On 10/1, what could have become a serious incident was avoided, thanks to a caring friend on the ground and to a professional and compassionate air traffic controller at the Felts Field tower when a senior aviator had some difficulty preparing for a flight. It should be noted that the team of controllers at Felts do an outstanding job every day.
Who Is Most Qualified? Well after reading Robert Herold 's article, I am voting for not only the most qualified, Ben Stuckart, but the only qualified mayoral candidate. I saw what disaster happened in California when the voters sent Schwarzenegger, a well known bodybuilder to lead the state as governor. Mayor of Spokane should not be voted for because they were seen on the evening news for years. Ask yourselves, after reading Mr. Herold 's column, who is really smart, intelligent and hardworking and will use common sense when making important decisions. Your only answer is Ben Stuckert. (Congratulations, you have made the right choice for your own well being.)
Tip-Top at The Man Shop: Wow! Talk about a job well done. By far, it was the best haircut I have ever had. You might be thinking to yourself, "What could possibly make THIS experience better than the countless other mundane ones I've had before?" Simple... the right person. Ashley at the 3rd Ave location to be exact. She did a fantastic job. Her cleanliness, thoroughness, and attention to detail were above and beyond what you might expect for your average, run-of-the-mill haircut. Not to say the average experience is bad, but this one was just that much better. And while getting a haircut might not be a life-changing thing, having a positive experience does make for a better day. Thank you for doing such excellent work, Ashley!
Dino! :) Dear Dino, Since you've entered our family we've had so many laughs and smiles! Thank you for completing our family. We love you! You, Mr. Dino, are the best golden retriever ever! We love you so much you fatty! RLDAHFSM
Thank you to a Holy Family nurse: Cheers to a Holy Family nurse I'll never forget. My mother was hospitalized for a week in July. We had been visiting her daily but she had gotten much worse. I knew she was leaving this world. I knew she wasn't going to get better. I found a chair in a hallway and attempted to become one with a dark corner. You found me. You took me to a room to gain my composure. I can't thank you enough. She died the next day. I just wanted to say thank you for your kindness.
Hops &Drops:Shout out to Hops & Drops for resurrecting me every Sunday morning with house made Hollandaise for the Eggs Benny and sausage gravy for the fried smashed taters. They're the bomb diggity in my wiggity fa shizzy yo! #BLAMthereitis
JEERS
Whistling's Great Just NOT in Spokane: WOW! If you're Left Leaning, the Whistle Blower's next attempt for the Democrats to take over the government and get rid of President Trump must be heartwarming. You should check out the real qualifications and the connections of the "Whistle Blower" though. However whistle blowing here is a different matter. I am Not particularly a fan of Larry Stone however he spent his money and time to produce a piece meant to create dialogue about issues in Spokane. Once again Freedom of Speech in Spokane is ONLY speech that the people associated with City Hall wants to hear. Which seems to be blather limited to support established agendas. Otherwise your multimillion dollar projects to build and benefit Spokane get their city support money's jerked! Notice how Walt Worthy keeps quiet (smartly) and get tens if not hundreds of thousands including street repair for free when the crane lifting up sections of the new hotel break water mains and damages buried street utilities. Larry won't have to worry about that!!! His support went right down the toilet — I mean thrown down into the bottomless pit of homelessness! Just like education, the more promises made if money is allotted the more it is wasted on NO fix programs — soon to be the story of homeless support in Spokane!
Enough is Enough: Jeers to the Mead School district. You came to us for a bond increase, and we gave it to you. You came to us for a levy increase with the promise that our property taxes would actually go down, and we gave it to you, Now you come back to us for another levy increase, because the state said you could increase the levy rate. You have crossed the line from need to greed. I hope your latest request is met with a resounding no vote. Respectfully, D. Swanson
Dignity and self respect: Ok Spokane, help me out with this one please.... Why are there so many men that lie, sneak around, and cheat on their wife or significant other? If you're unhappy, just end things! I can think of at least two dozen D-BAGS that I have met or dated over the years. So please, don't draw sh*t out while you window shop or make a purchase that you know you can't afford. How do you think you're gonna get away with it?!?! Shame on you for trying/doing this to your wife and for shattering her confidence for every man that comes along for the rest of her life. She deserves better. ♦