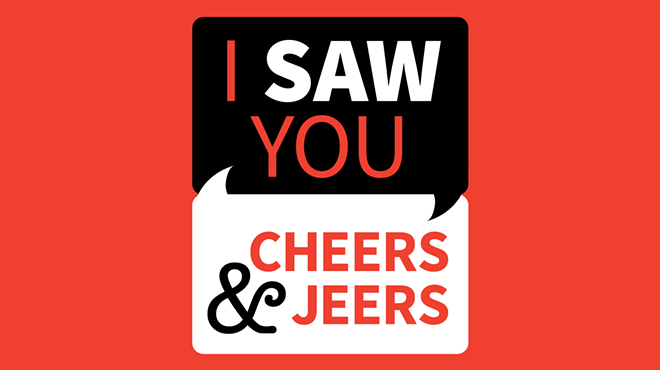 I SAW YOU
Schfifty Five: KVH - it's been 4 years since I first laid eyes on you at the Rocket. Many ups and a couple of downs, and here we are still loving each other. You are and always will be my one and only guacamole. I love you more than you will ever know. Foredder Babe.
Always and forever: We met so unexpectedly and it happened all so quickly. I didn't have a chance to think about what we had or what I would be losing if I lost you. I didn't think about losing you and I didn't think about how you would feel with my actions. All I know is we had such great potential and I didn't let us fully flourish. Now I am left feeling empty and can't help to think what we would have been if I would have taken us seriously from day one rather than 6 months in. I love you and I am in love with you, and always will be. I truly believe that if we're meant to be we will cross paths again like we did at the wave. I hope that day comes again...
Thai Bamboo Babe: I saw you at Thai Bamboo this Saturday. I can't get over your contagious laugh. I am sorry your order was incorrect at first. Next time it's on me!
Treasures while Thrifting: Hey there. Saw you scanning the aisles at Value Village while I was looking for my "lost" friend. You commented on the treasure chest in my cart but your kind words and assistance were much more of a rare find. Hope you found the perfect costume accessories!
CHEERS
Why it didn't work with anyone else: We have known each other all our lives. 41 years it took us to realize why it did not work with anyone else. We have been through so much in 9 months. Exes that thought they owned us. We both have fought so hard to give each other a clean and sober life. We went from having only each other to finding great jobs, a warm place to sleep, a good vehicle, a crazy dog that drives us crazy but fits perfectly in OUR family. I am so in love with you now and forever. You are my sir lancelot. My rock. My safe place. THIS LIFE DOESN'T SUCK.
Help at the airport 10/17: Thank you for posting that really positive encounter. We really need that right now and I'm glad you're alright.
About time, response: Chief, After six long years, we finally got together. Within one year, we were married. In 9 more months, we'll have another family member. Cheers to you, Chief, I am pregnant. - Roo
Back in town: Hi Tom & Kathy, we see you have moved back to Spokane. We do not have your phone # so we are trying to reach you this way. Since we do have your address, several of us are planning to visit you. We will make it a surprise. We guess you heard about the office. It is sad to think that one person could destroy a business and ruin so many lives. Well, we will see you soon.
Robert Plant Show: We all paid good money to see this guy perform. He shared a speech that he obviously wanted us to hear. Wether we agreed with it or not, we should have been respectful and allowed it to play uninterrupted. Propaganda is meant to divide us and cause turmoil. Calling those who disagree with the propaganda Neanderthals or worse... is proof that the divisions are happening. You're all allowed your opinions and to be offended. Not to lash out BECAUSE you are offended!!! Robert gave a lackluster performance because of the reactions and disrespect showed before he stepped out... CHEERS GUYS!
JEERS
Jerk: On Oct. 19th, you hit my elderly mother's car in the Rosauers parking lot on 14th. At 1:50 pm. You stopped and took her name but did not leave your information. You're a young white male with a big dark rig. You did about $2,000 worth of damage. You might want to step up before karma gets you.
RE: Road Rage Grandpas: Dear Idiotic Post-Millennial Whiner: Your recent submission was the (yes, you've won two SMK awards at the same time!) Most Humorous *and* the Most Whiniest post ever published in this great paper! Please, pat yourself on your sore, overstressed shoulders!!! The mere mention of "grandpas" only suggests two things: 1) you are an ignorant ageist, and 2) you whine far too much for your age. Now, youngling, you already mentioned in your OP that your parents were the original "negligent" objects of your spoiled youth. Red flag... Then you continued to flame the fire toward older adults. Hmmm.... Sounds like you are a spoiled brat. Maybe you, and all of your little idiotic minions, should: 1) quit driving like you don't care about your own lives and the lives of others, and 2) quit using your f'ing phones in transit! Yeah, you might be "20 years old" but, by international standards, you're still open to ridicule. Your previous Jeers message only proves that you are a stupid, whiny, self-important moron. And that you hate people who are more mature than you, or that more mature people finally called you out on your childish bullshit!!!
10/25, Division Woman in Subaru: The stickers on the back of your nice, warm subaru suggest that you're a laid back Montana native who enjoys the outdoors. However, you seem to lack all compassion for those who are unfortunate enough to have to live in the outdoors. You nearly slammed into the back of my vehicle because you weren't paying attention as you sped to change lanes in a well-trafficked intersection. Is it really that much of an inconvenience to wait 10 seconds while a homeless gentleman crosses the street on his way to get his one warm meal for the day? I hope that your day is as pleasant as you are.
Ballot waste: Sitting here filling out my ballot with my trusty "tablet" to guide me with info on each "issue," I found that whether or not I vote nea or yea on the the advisory vote section, the Legislature is not committed to enact what the voters "approve," "reject," etc.. I don't get why the expense of publishing and all that goes along with that, is even put on the ballot. Again wasting the taxpayers money.
Calm Down: We are all trying to get somewhere safely. Please do not disrespect your elders. They (and we) are allowed to go the speed limit. You who are driving aggressively and flipping them off, cutting them off, getting in front of them and hitting the brakes, Shame on YOU. Grow Up! Yes, you too in the black Subaru on HWY 2, calling people names and telling us to get out of the fast lane AS WE ARE ALREADY SPEEDING PAST PEOPLE... apparently not fast enough for you. It's not a freeway, there is no "fast lane" on a divided highway with constant left-hand turns!!! Calm down, slow Down. The ICY roads are coming!!!
Q6 goes slave: I saw the Q6 anchor for Northwest give a big list on how to appease your workaholic boss, and I thought to myself that job really sucks. ♦