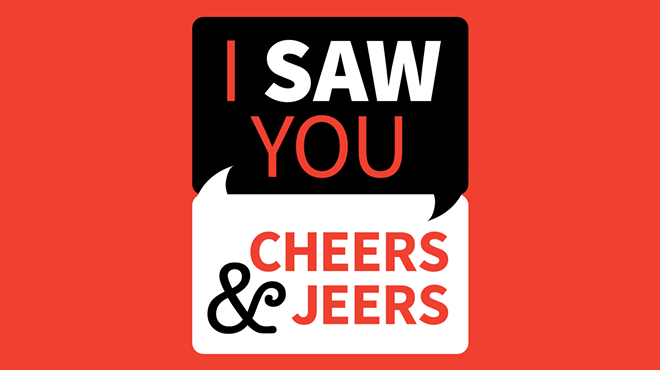 I SAW YOU
Canopy Credit Union Lounge: We saw each other on Halloween Eve in the Lobby of Canopy Credit Union. You were sitting in the lounge fiddling with your beanie. That smile tho!!! You made it very hard to pay attention to the transaction at hand. Next time I'll try to catch your name. "Nice boots!"
3 years of "Perfection" . . . It's me again, the short lady who saw you, the tall man, in the waiting room at Perfection Tires 3 years ago this month. Yes, I'm still short, you're still tall, and we're still getting our snow tires on at the same place. We're still having the time of our lives, and as I predicted in last year's "I Saw You", 2019 has been an exciting year for us. You see, dear Inlander readers, this short lady and this tall man are getting married in a few days! It just goes to prove, you never know when a chance encounter could totally change your life!
I AM beyond: I am beyond grateful to have you in my life Please marry me you are better than I deserve. I am so grateful. Mr. JD, my daddy, I love you and am honored to be in your life and I can't be sorry enough for the past but now we are new.
Downtown Spokane: Have you ever seen a car pulled over downtown getting a citation from a cop? Have you seen any officer give any motorist a ticket downtown, ever? I've been doing delivery downtown for four years and I've never seen it. So next time a pedestrian or cyclist gets killed by an aggressive or negligent driver, do we even have to ask who was to blame? Spokane drivers can literally get away with murder. If the Spokane Police cared about the safety of people living and working downtown, they would stop wasting time harassing the poor and start ticketing negligent motorists.
Solidarity in the Slump: I saw you at Ben Stuckart's Tuesday election results event. In fact, I saw all of Spokane's young thinkers and achievers. All of our sage and experienced leaders and success stories of equality, justice and creativity. I felt the collective slump in the crowd, alongside you, as we heard the news. What a sore night for our community. The small glimmers of hope were your supportive smile, those amazing catered treats and the shared sense of community and solidarity. I owe you a drink next time. Also: Ben, one for you — on me, too.
CHEERS
My calm in the storm: Only you could find joy in a hectic post-rough week jaunt to Taco Bell with two overactive children. I find amazement in your strength, support, optimism and guidance each day. I love you.
Cheers to Bob: Sitting a couple of stools from us at Jeremiah Johnson's brewery in CDA, Bob overheard us mention that it was our 15th anniversary and we had celebrated so far by hiking Mineral Ridge. Bob corralled our waitress without our noticing and paid our bill before he left. Your act of kindness made a good day even better and we will certainly pay it forward.
JEERS
Re: Re - Dignity and self respect: I'm not shallow or narrow minded, Mr. Ciao. I had a temporary moment of weakness and was taken advantage of. You're right, not all men are pigs like my message would suggest, but because I assume "he" will be genuine, I get taken advantage of. One of my flaws is wearing my heart on my sleeve, which makes me vulnerable to predators, like the Mr. Wrong I went on a rant about. I hadn't dated for over a year and finally allowed someone to get close and date on a regular basis, then he slipped and told me that his "roommate" was actually HIS WIFE. Thank you for putting my a$$ back in check, Mr. Ciao, and thank you for being one of the good guys. Hopefully it's contagious! <Muah>
Re: welcome to Spokane: To the dummy who wrote the jeers about Spokane welcome, I have fulfilled your challenge and found: 1. No need for security scans in grocery stores. The poor people just want free stuff. 2. Nobody asked me for a beer downtown but I got asked for a lot of money and gave it all away because it's important that those who don't work are able to eat. 3. I saw a lot of people with cardboard signs and markers and gave them money so they could buy more markers and food. 4. I saw a lot of tents by the river but they had their piles of garbage stacked neatly by their fecal piles. 5. I saw people outside grocery stores and gave them money so they could get food inside. 6. I didn't see any security around any of the areas. My guess is because Spokane has so much crime, they're probably busy with that. I did go close to the river and only saw a few needles and a little garbage close to the feces and toilet paper. Being new to spokane, I really like it. It reminds me of what Portland and Seattle were like a few years back. Here's to you, Spokane! Drink, drink, drink up!
Not Surprised: The citizens of Spokane voted exactly like I thought they would. Voting in I-976 because they don't care about their communities. They are like the Trump supporters thinking what they can GET, not what is best for all of us in Spokane. I spoke with other voters, the ones who believed the erroneous "blurbs" about Mrs. Clinton, who didn't care about the experienced and knowledgeable candidate and voted for the "celebrity." All of you should feel ashamed, but you won't. You'll stick your fingers in your lapels and say "I won" because Spokane didn't.
Skateboarder on Garland: To the trashy girl on the skateboard with the verbal diarrhea who barked at us for taking up too much room while holding hands on Garland's tight sidewalk... a couple of things. 1. You should read Spokane Municipal Code 16A. You do not have the right of way. 2. We don't have eyes in the back of our heads and could not see you coming until you were already getting off your skateboard. 3. Brush your hair, you're a mess. Try not to get hit by a car and maybe say a sincere kind word from time to time. You must have someone in your family you'd like to make proud by making the world warmer and not the toxic garbage your mouth can't help but to projectile vomit. 4. If that's too unreasonable, maybe you would travel better by broom stick. They're cheap and they sell them everywhere, just be careful for splinters. Safe travels now, you nasty little witch!
Smoking the reefer!!!!! Have you ever noticed that men 55+ think that smoking weed is the worst thing in the world and then act like you are a heavy drug user and a waste of life on this earth. But in return they tell you a story on how many times that they were pulled over drunk and not arrested and how the cop followed them home... Congrats old dude, you didn't kill somebody drinking and driving.
Re: response of road rage grandpas: Excuse me for being concerned about road rage, older gentleman. Seriously, your response and rude comments were uncalled for. I am in no way an ageist and actually spend a lot of my time with the elder community. I am not a whiner, or a spoiled brat. I have friends who have died in accidents caused from road raging GRANDPAS. I'm far from either of those. Good thing I know who I am, you condescending asshole. Have a nice life. ♦