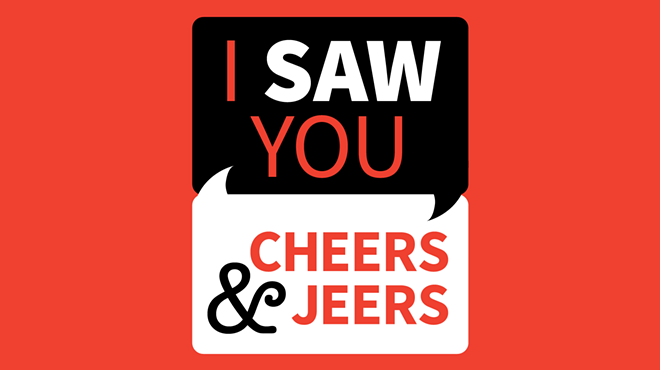 YOU SAW ME
Line Cutter?? At the Fall Folk Festival, a long line snaked out from the cashier. I went to the empty line on the other side of the cashier and got immediately checked out. I'm sure many of those waiting thought I was a line cutter because there was only one cashier but there's supposed to be two lines and one cashier; it's more efficient that way. So instead of everyone waiting while a customer gets his change, napkins, forks and food out of the way, the cashier just turns to the other line with no time wasted. The same system is found in many hospital cafeterias. Sorry if I angered you; I was trying to set an example.
I SAW YOU
Still Loving You!!! It was about twenty years ago, we both saw each other on opposite corners, on the one ways in Spokane, on the west side. We both were stopped at a stop sign, looking at each other, and I can't help but replay the thoughts that were going on in my head, when I met you for the first time. Those thoughts, twenty something years later still remain in my head on a daily basis. "Damn he's sexy, Who is this guy?" and then again, "Damn he is sexy!" I couldn't say a word but stare across the street at you staring at me! I couldn't say a word, then finally, you asked me if I knew someone, and that question was the starting of our years, and years of friendship leading to the life we now have together after 10 years of loyalty, dedication, and most of all trust and love. What shocked me that day, and still today is that I have never had thoughts before that have made a person hot and bothered the way I did the day we met. And what shocks me today is that these same thoughts are still in my head every day! You JCP are the only man who can get my thoughts all hot, and wacky. I love those feelings, and all the other feelings I get with you, I love you Babe! Love You, Loving Me! KB
Macaroni & Cheesey: I saw you at Mac Daddy's on Saturday night. I'm sorry my dinner party was so loud and antsy. You seemed able to make a positive out of everything and that was more than impressive. Maybe next time we should get double the amount of wings or those deep fried macs and you can beat me at pool?
Cutie-Pie:Saw you at Shari's North on Friday. You seemed distracted but your laugh was hard to miss. I was the one with blue hair streak and matching glasses. I'd love to share chuckles over a drink sometime. Maybe somewhere different? Though, you can't negate the awesomeness of multiple pie options.
CHEERS
3 Years of Perfection: So excited to hear your forever got rolling at your favorite Perfection Tire. Best wishes for a long and happy life together. Congratulations from the enTIRE Perfection Family!
Free bleeding: As a member of the human race whose uterine lining sometimes leaks out of her, I want to shout out Spokane International Airport for making the period products in their bathroom complimentary. Thanks for doing your part to make travel less stressful and more equitable!
The last hero: Cheers to the last real hero who saved me on Friday night around 7 pm Nov. 15, 2019, at Safeway on Mission and Hamilton. I was sobbing because my partner had just smashed out my back windshield and I was waiting for the police. It was cold and dark, you came up to my car and my dog didn't even bark at you, you gave me a half pack of smokes than handed me a 20 dollar bill and said "Get yourself some gas." What you did gave me back a little bit of hope. I am homeless and that car was the only safe place for me and my dog to live. The money you gave me I used for gas to take me far enough away so I could be safe and think about my life and what it had become. For what you did I am thankful, humble and forever grateful for the last real hero. THANK YOU FROM THE DEPTHS OF MY HEART!!!!!!
JEERS
Busted in Benewah: Jeers to the Benewah County cops who saw my Washington plates and stopped me for failing to use my blinker. We all know how the rest of this story goes, right? The fine I paid for my victimless crime will be the last money I spend in your county till you change your ridiculous laws.
Shame on Spokane, Valley and County: Very much shame on our local governments for not enforcing a burning ban during the recent bad air advisory. I am pretty sure with your lack of enforcement that maybe hundreds of people with respiratory problems ended up in the emergency room like I did. Shame on you fireplace burners who could care less about the health issues you create for old people, babies and those at risk.
RE: Dignity I think we dated the same same jackass!!!
RE: RE: RESPONSE OF ROAD RAGE GRANDPAS...ugh... Oh, yet more of my valuable free time spent responding to the idiots of our local society — it becomes rather mundane, but necessary... After all, those who lack respect for their elders are only digging their own graves when, just around the corner they, too, become older. So, I digress. According to the November 14, 2019, issue of The PNW Inlander JEERS section you, Dear Youngling, challenged my previous retort to your original post with blatantly scathing remarks *and* claims. I can handle the remarks, but do you care to answer these claims now? 1) How do you actually "spend" your time "with the elder community?" Do you have a career that involves care or facilitating the elders of our region? Or are you just musing by hanging out with your grandparents on holidays or only when your friends' plans, or your phone, or video games keep you from being politely sociable? 2) Exactly HOW MANY of your "friends" have "died in accidents caused from road raging GRANDPAS?" Do you care to provide names or, at least, the dates and incidents? I'm curious to see these obituaries. Yeah, I thought not... Funny, now that we can further read your ill-educated "testimony" we deduce that you are either a wee high-school-age or very young college-age female (since you didn't happen to mention GRANDMAS or even MOMS in your OP) and that you are just — again — a stupid, spoiled, whining BRAT. Enough said. Yeah, I'm condescending to you because you can't even care to recall the basic skills your previous ELA teachers granted you, as you are purely unable to demonstrate proper grammar or prose in your stupid posts. But, PLEASE, keep driving around town blaming others for your own asinine choices — continue using your dumb-phones while driving — and the day you and/or others are injured or killed by your own ignorance will be the day we know that you finally shut the F up. ♦