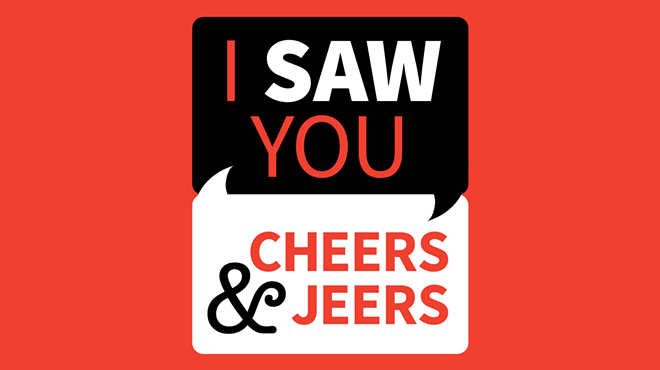 I SAW YOU
Go Dawgs! You were cute, funny, and paying for parking at WSU. I was cute, funny, and late for an exam. Your quick wit primed me more for my upcoming feat of erudition than did the Dutch Bros coffee I was sipping. Fancy a beer? SouthernBelleInThePNW@gmail.com
I didn't see you: Hey you three missing tortillas. It was 11:29 PM and my growling stomach led me to the Safeway on Northwest Boulevard for the ingredients to make my favorite meal. I had been dreaming about stuffing a melty cheesy quesadilla into my mouth and sped home to my apartment to create the culinary masterpiece. When my excited hands went to open the tortilla package, I discovered it was already open and I quickly took inventory of my new tortillas. There were only 7 remaining of the original 10 that were advertised on the package. This happened in 2001 and I am still forlorn and have dreams about you. I hope wherever you ended up you were happy.
Ready to shred? Hey little green turtle. Last year you were tearing up your toe side carving. Are you ready to shred again this year? Let's hit the slopes together sometime.
Fun Flirt: I hope this message finds the beautiful woman with short blonde hair with tattoos on each shoulder named [Melisa] I met at the Davenports Tree of Elegance on Sat Dec. 7. I didn't know if you were playfully flirting or romantically flirting and didn't want to ruin the perfect moment by finding out. This may be a pathetically charming (hopefully) attempt to see you again, but life's short and I'm a fool and dreamer. Let's have some adventures to see if there's a connection. Email me "Mr. Adorable" at spokaneandsingle@yahoo.com
Downriver Grill: You were a server, dark hair and extremely tan skin. So beautiful, we kept making eye contact but I was at a family dinner. I had the white T shirt on and gray beanie, also a broken foot with a brace. Let's grab a drink. Send me an email if your interested. bamafootball523@gmail.com
Ulta-ra cute: I saw you standing awkwardly in Ulta this weekend. Your willingness to help supportively without any knowledge of the product was laughable but candid and kind. I appreciated your honesty and hilarious commentary. .
CHEERS
Cheers and jeers: Cheers to all the business on Sprague for removing snow from their sidewalks. And jeers to those who don't! (Merry Christmas to all.)
To the Most Amazing Woman: Cheems, congratulations on almost two years at VIPKID! You've worked so hard and put so much of yourself into it. I'm so proud of you! You bless the kids and I so much with your selflessness and you are such a blessing to your students! We love you!
Burrito Bonding: Cheers to the owner of Neato Burrito whom we had a pleasant conversation with last Saturday during the slow time. We were the couple who tried to come in whenever we're downtown, as the vegan options are fantastic. So great to support a successful family business in the heart of downtown!
Cheers to Inga Laurent: Thanksgiving is long over but it is never too late for gratitude. Thanks for a peak inside your heart, Inga, and for coffee, toffee ice cream, fog drifting, strong women saying what they want, different cultures from my own, tea, humility, leopard print, cheek wrinkles, mustaches, democracy, kindness, lyrical music, reading, peaceful protests, moonrise, sunset, unmarked snow on a moonlit night, suede boots, swimming in water that feels like velvet. Let there be more cheers in 2020!
Constant Comfort: You've been a support throughout so much whether it's helping with a sick kiddo to helping with work events and trying shoes. You are my safety, my happiness and my comfort. I love you more.
The 575 Mafia: Yokes sommelier. Thanks Cody you made our day. Gewurztraminer
JEERS
Secure Your Dogs: I'm sorry to sound like a jerk here, but reading about someone's dog jumping out from the back of a truck kinda struck a nerve. Why don't people secure their dogs if they are driving a truck? Do you know how many accidents happen with dogs in the back of trucks? If that dog jumped out while the truck was going fast, guess what? Bye bye doggie. I'm not talking about bumps and bruises, the dog could get seriously injured/possibly die (no kidding cause a serious wreck). Secure your dogs.
Merry Meltdown Memories: Jeers to anyone who thinks placing a terrified, hysterical child on Santa's lap for a Merry Meltdown picture is an acceptable holiday tradition. Way to taint the holidays for the only group that gets to celebrate them wholeheartedly, and good luck on them wanting to be "Home for the Holidays" when they're old enough to set their own boundaries. Yeah, that's therapy-speak. But honestly, there is something passive-aggressive about tormenting your child, so you can get a funny picture.
NIGHT CREATURES: To the slick night creatures who silently stole a great grandmother's 2002 Hyundai Electra (on food stamp shopping day!). What a shock in the early am! They took her car across town to a Shadle District back alley where they jacked and blocked it up so they could quickly remove the too-fancy rims and catalytic converter. They also took her battery; her nice stereo; two pairs of sunglasses; the steering wheel cover; her cigarettes and lighter; and even her ice scraper! Then they got into the trunk and stole the jack and her old man's ammo box full of hand tools. Very slick, boys! What you failed to realize as you opened your ill-gotten Xmas "gift," is that you've now made a future appointment for yourselves in the valley of Hinnom just outside of Jerusalem. Your appointment is with One who will also come as a "thief in the night" to pitch your sorry asses into the "lake of fire!" Perhaps "instant Karma" will get ya first in this life. "Thou shalt not steal!" The "wages of sin is death," boys. You might want to consider repentance before the "great and terrible day..." Will you die the "second death" for stealing a little old grandma's ice scraper? You bet (your life)!
Shame on All of Us: After reading the article about tenants rights in Spokane and the public's comments in response to that article I just have this to say: SHAME ON ALL OF US. We allow homelessness to exist by our lack of action, by our mindsets, and also by our own filthy greed (BECKIE SHELLY: If property taxes go up on the landlord then why can't they pass the expenses onto the renter? My bill goes up every year... so should rent.) When will we care enough to change it? Probably not until you have experienced it yourself! It's coming.
Make I saw you great again: Meeehhh, "I've been looking at these things for years and never seen one about myself meeehhh," grow up... Excuse us for sharing a common enjoyment with our SO that make their heart skip a beat when ever they unexpectedly see something written about them. I'm sorry your lonely pathetic ass can't appreciate small showerings of appreciation to a loved one. No one's gonna write one about you... Move on. ♦