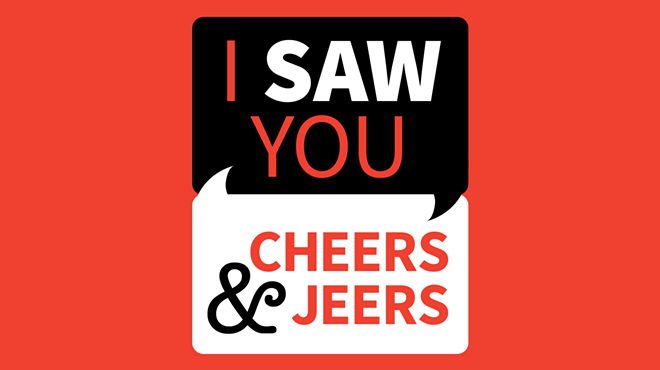 I SAW YOU
Fit girl Muv North: You, blonde hair and pink sweater with black tights. Me, tall with long hair, orange shoes and a blue shirt. We made eyes a couple of times on the "grass." You're beautiful. Think we'd vibe?
I was in a pickle: I saw you at the Shadle Subway last week. Thank you for helping me when I got flustered and for making sure I got those excess pickles. Your smile and candor was unforgettable!
CHEERS
Shelving Superhero: Thank you for unloading, loading, picking up and building so much shelving for us this week. You are and always will be my superhero. And you look good doing it too! ;)
Restaurant Week Palm Court: Enjoyed an evening with friends at the Davenport Palm Court for Restaurant Week last night. We have been going every year and have enjoyed many great meals; however, this was especially memorable. The asparagus salad, Cioppino and chocolate ganache was to die for. Others had the steak and burnt cream and the comments were all extremely favorable. Our waiter, AJ was very attentive and had a great personality. Overall, I highly recommend the Palm Court!
Polka dot: Play polka. After everything through and through you are still my polka dot in my world of stripes. I love you from the first day I met you very proud of you. I think you're an amazing artist, a talented, sexy man, that you're hardworking. However I just wish that you could see yourself the way that I see you and how wonderful you are. I stay up late at night sometimes praying that you'll see yourself the way that I see you and the way that God sees you and that you would have more self-esteem. You definitely worthy of all the good things in your life. Thank you for being there with me through this hard time for helping me get to my appointments and things your support means the world to me that's just another good thing that you do. I know I don't always show it. Just know that you always have my heart polka. And I love you very much. Everybody in this world deserves to have somebody like you in their their lives. Just love you to pieces. From Susan with all my love.
Goodwill at the Goodwill: I always seem to come up short when I'm at the store, be it for groceries, clothes, or the thrift store. There is a gal at one of these stores that always makes it work for me. I never have to put something back back because she will apply the extra Goodwill to make it work for me... thank you for being you. You are a valuable asset and because of your kindness towards your fellow man, your store is the only one I shop at. I encourage the people I know to shop there as well, and to support your store, because the way a customer is treated, I feel is the heart of the way a business operates. Cheers to you Toni for being part of the Greater Goodwill towards your fellow man!
Anchored Dragonfly: It has been a roller coaster of events. Thank you all.
JEERS
How you treat service workers says a lot about you: So I was on the train going to another city from Spokane. There was a washout on the tracks and we had to get towed back to Spokane, better safe than sorry. Well, not everyone was just happy to have been saved from being derailed. I get that it's frustrating not getting to the place you wanted on time but the workers and service knows what they are doing. There was no way to tell the complete damage done to the rails, and I would rather not risk going over broken rail ways just to get somewhere. But that's not my issue; at least two people, grown adults that should know better, who were just out of line to attack the workers aboard and customer service workers. I understand, it's frustrating that this happened, but it is not the fault of the workers. Wanna get mad about something? Get mad at mother nature, but really, no point. Both of the people I am referring to felt entitled to treat the workers poorly, snarling and snapping at them like it would do some good. The only thing it did was shed light on your characters, and how little empathy you have for what must have already been a stressful day for them. I get it, you've places to be, things to do, people to belittle. But you were not the only one that had a bad time on that train and not the only ones who were disappointed. It's perfectly alright to get mad about the situation, it's normal. But tearing down people just doing their jobs is a habit I've seen too often and it really bothers me. The two characters I saw on that train made me grateful to have been raised to treat people better. Try putting yourself in another person's shoes and see how you'd feel getting screamed at for something out of your control.
No talking: So, you cut my hair. You do a great job, and I intend on staying with you. As you have said a few times, "you are a discounted therapist," however, I do not want to talk nonstop, I do not want to answer all of your questions about myself, please, just cut my hair, no talking.
Clickbait Journalism: Jeers to KHQ and the Spokesman-Review for using sensationalistic, clickbait-style images of the Corona virus in stories about the transfer of a handful of virus patients to SHMC's specialized national Pathogen Center. Passing up the opportunity to focus on the reasonable, even predictable, role of the SHMC unit in assisting with gathering data and knowledge about this virus while it treats the patients sent to it, both those local news sources chose to slam us visually with huge, dramatic images of the virus enlarged many thousands of times. Read the online reader responses to the stories and note all the emotional, misconstrued, uninformed, panicky nonsense, impervious to reliable medical advice and common sense. I can almost picture a movie crowd of vengeful peasants armed with pitchforks and rakes marching on Sacred Heart with torches, prepared to burn the place down for endangering their lives by bringing a deadly plague into our safe, germ-free town. KHQ & the S-R have to take responsibility for these reactions, for cultivating fear and the spread of rumors, due to their irresponsible (faux) journalism choice of graphics. But, hey, clickbait works, right? Gotta pull in readers and viewers to feed that bottom line, eh?
Re: Jeers to "It's Just beer". I totally disagree with your statement "there is so much to offer here" with respect to "craft beer." I haven't found Spokane to be a good beer place. Just the opposite. When compared to other cities, it's actually uninteresting beer at expensive prices. Also, with regard to "also has one of the highest-densities of breweries" in the country, where do you get your data? You are completely wrong. Spokane doesn't come anymore close to "highest densities of breweries." Here are the top 10 breweries "per capita": Portland, Maine - Asheville, NC - Bend, OR - Boulder, CO - Kalamazoo, MI - Vista, CA - Greenville, SC - Portland, OR - Pensacola, FL - and Missoula, MT. Spokane actually doesn't make even the top 25. Many cities in Colorado and California do, as well as Seattle. But, Spokane is nowhere close. If you want a superior pint, skip Spokane and get a better brew in Seattle and at a cheaper price. If you want a marginal beer, get one in Spokane and pay more for it. Someday, they'll begin to disappear. Instead of "Spokane: Near Nature, Near Perfect", how about "Spokane: Average Beer, High Prices"? Seattle or Portland could use: "Seattle/Portland: Quality Beer, Reasonable Prices". Hawks! Hawks! Hawks! Hawks!
Jeers to Jeers: Look, first of all, as a born and raised Spokanite, I've read the Cheers and Jeers section for years, but I HAVE TO SAY that lately the Jeers section has been reduced to no more than angry drivers and clearly made up scenarios. Clean up your act, the Inlander, or else... ♦