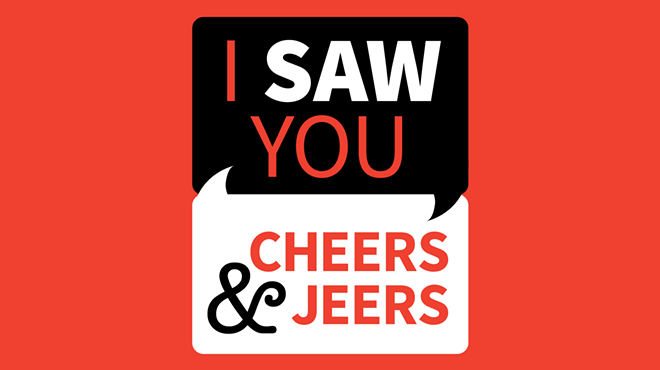 I SAW YOU
Mystery Manager Man: Our paths crossed last Friday night at your restaurant on the South Hill. Your laugh was boisterous and hearty and it stirred something up deep within my soul. You brought us our food and if I hadn't have been with my two little girls I wouldn't have let you leave my side. I'll be back again soon, look out for the lady in red drinking mai tais with a lusty look in her eyes... xoxo
My shadow hero: Thank you for always being by my side. With all the things we have went through you were the one that kept me going. You have made me a stronger person for that. I want you to know how much I appreciate and love you. You are my hero for sticking through the sun and the rain, and all the storms we've had, and for just always loving me like you do and never giving up. Your will to keep fighting has given me hope and strength. And to know you are by my side we can win it all. You are my rock, my world, my everything. Thank you for being you. I will love you to the moon and back again, to infinity and beyond. Forever your batty girl.
MR. B. TO KITTEN: Dear Wonder Girl, your allure is almost irresistible, as at the Westminster Apartments. I will always remember the image of you walking your dog on the front lawn of the Westminster, and smiling at me. You were wearing your smart girl glasses, and it was autumn. But for now, dance as you must, and I shall understand, as I do of life in all. We will meet again someday, in the meadow of the flowers. I will be 25 and you 21. Just think of me and I will appear, princess. Your Anthony.
Voting is Sexy: I saw you, dropping your ballot early this week. We had been talking about the importance of marking it correctly. Thank you for being as excited about it as I was. I wish everyone saw it as an important contribution the way you did/do.
CHEERS
Library Superheroes: Cheers for the Downtown Library staff. They made a big move to the Plaza and created a very nice space that, somehow, has a little bit for everyone. Kids, young adults, adult, foreign language speakers. It will a long two years, but we'll get through it. Thanks for all your hard work.
Extra Saucy? Thank you for grabbing Subway for me when I couldn't. Your kindness never fails. Even if they forgot my extras, you never do.
Arby's Dinner time: Me and My wife went to pick up some dinner at Arby's on 3rd. Thursday. 2/20/2020 after we placed our order. We pulled up to the window to make our payment. the kind worker told us it was already paid for. To my amazement. Sitting there with my wallet in hand, mouth hanging open. What do you mean, it's paid for? Who paid for our order? She told us it was a secret. Now I would have to believe it was the car in front of us. Thank you. They not only paid for our dinner. But there was a balance due to the next car. Because this kind person paid $50 the amount due to the next car was 21.32. me and my wife would like to thank you. It was awesome. I have never in my life had that happen to me. After the shock and my wife laughing at me due to the funny face I was making, lol. It came to mind. What a kind thing to do. We, me and my wife would like show to gratitude to you, and this is the only way we know how. We will pay it forward. Thank You and God Bless
Crazy driver: So today I had a guy go road rage on me for trying to keep him from slamming into the back of my car. I was using the Medical Lake roundabout and I was on the inside lane of the turn going onto Geiger. I was merging and he sped up so I sped up to merge and not get slammed into. He started to honk his horn and drive erratically. So I turned and he passed me and I thought it was over. He then started to slow down so I tried to get around him and he started to sway to keep me from going around. I finally passed him because he was trying to get me out of my car so I passed him and kept going to the US 2 light. He followed me really closely, I think he turned his brights off only because there were other cars on the road. At the light he got out of his truck and walked over to my windows to cam me. I pointed to his SUV and said get out of here. He continued to follow me until he turned onto Deno Rd. He had a white SUV with a pod on top. If he is reading this, dude you need to seriously chill. I was only trying to get into the lane, which I was already started doing before you got into it. Unlike you I won't follow you and try to cause a wreck like you did. Stopping on a road in the middle of it is dangerous as well as swerving to keep someone from passing. I'm sure we both broke some rules but you could have just passed me and kept going and I would of not even cared. You can't call it chasing someone when you slow down in front of someone purposely. Also I wasn't trying to piss you off by slowing down on the road, I was trying to keep within the speed limits, as cops regularly patrol there.
Jeers to me... Jeers to me for giving you so many chances. I realized that you will never change and the three kids we have together do not mean anything to you. You are fake all around just to get attention from women. You do the same at work and put everyone and people at the hotel (that woman) ahead of your family and responsibilities because somehow you need that to boost your fragile ego. Well MGP you go for it and after 20 years of which 17 you cheated I'm done. You can go break another's spirit. Stop telling our daughter that I talk "crap about you," you stalked me for years and lied right to my face. Go back to Guam pay your children's bills and leave me to find a man that isn't a narcissistic personality like yourself. I am not your booty call. Did you tell that woman that you keep trying to sleep with me still? Does she know you are obsessed with me? You don't know what love is or isn't. I deserve better and I will find my knight in shining armor. Stop playing the victim because you cheated over and over!
Boring Cheers and Jeers: When I arrived in Spokane, I thought the Inlander section of Cheers and Jeers was pretty entertaining. That went away long ago. Recently, it seems to attract writing from mostly people with low intelligence. In the last few weeks, there have been comments in both Cheers and Jeers sections about local beer. These seem to be written by people making and/or selling them. Who cares about Spokane beer or the entire topic for that matter? Small minds talk about small ideas. For the (insert pronoun here) who enjoys calling people names, wake up. Your silly words went out of style years ago, but feel free to continue since you don't appear intelligent enough to develop a more interesting vocabulary. Can't anyone reading the Inlander write anything more creative? Cheers!
LOUD LADY: At the Spokane Chiefs game against Seattle Friday 2/28/20, the lady sitting in section 118, all she did was talk during the whole game, and she was loud, we had to hear about doctors performing surgery at the Shriners Hospital, which she really shouldn't be talking about, so about her mom having her at an early age and how she had her child at an early age, then her friend came over to talk to her and it got worse as she and her friend talked about her co-workers. I could go on. Your at a hockey game. No one wants to hear your outrageous life, I don't know her but now I do know she was just loud and crazy, and yes we said something to her when we left. ♦