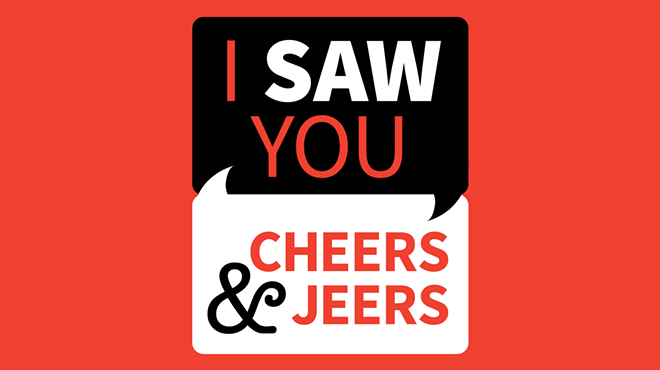 I SAW YOU
7-11 Sweetheart: I saw you May 24th at the 7-11 on Washington & Indiana. I held the door you bought my slurpee. You: Very handsome man, driving a white truck. Me: tall blond wearing white pants. You asked where I was going all dressed up. I told you work. I really just wanted you to know you made my day with your kind flirty words. It's been a long time since I have received that kind of attention. Oh! And thank you again for the Slurpee! You are a sweetheart!!
Firefighters at the BLM Protest: 6/7 Dear Hot Firefighters, activism suits you well, well enough to date my smokin' sister. When values align, the stars align. (#BLM) Whichever one of you has a mustache under your face-mask, you may take my sister on a date. (She's classy and asked me not to do this.) Sincerely, the Married Sister
The Romanian: Reading this column lately has struck some reminiscent chords and cause me to reflect and I saw you crossing from Manito on Friday. I'd always wondered if you left because of age, maybe social approval from family and friends. One thing I know for sure is it was fear and that was fed by comparison. I wasn't looked at for me. I change things in my life because people matter to me more than things that can be replaced. Naturally my interests change as most interests and habits for people generally do over time. People change if they are willing and it does take time. Usually in subtle, unnoticeable ways from a daily perspective. You've helped me improve myself even in your absence. And I go back to the nights when we stayed up until 3 or 5. Those were nice. Not knowing when we'd talk again made it hard to leave whenever we were together. Hope you continued to dance, maybe ballet like you had started. Your gentle, uplifting, and sweet personality and presence is missed by all. -T
CHEERS
Cabela's Parking Lot: You backed your truck out, accidentally causing a stray cart to hit my car. You genuinely apologized to me, and I didn't acknowledge you. Jeers to me. Thanks for taking the time to care, even though it wasn't your fault the cart was left there, and no harm came to my vehicle. I hope I didn't ruin your day by being in a bad mood. Cheers to you.
Nurses: Thankful To Our Community Providence St. Joseph's Care Center in Spokane would like to give a huge THANK YOU to those who helped us celebrate our nurses for National Nurses Week last month! Our facility was able to give all of our nurses a gift basket filled with goodies donated by our amazing community and provide lunch each day of the week! Dutch Bros Coffee, Sip N' Paint Studio, Board and Brush, Dandles Candles, Sweet Frostings Blissful Bakeshop, Mt. Spokane Ski and Snow Park, Kona Ice, Petal Pushers, Jimmy Johns, Sweeto Burrito, Meltz Extreme, Dick's Hamburgers, Soulful Soups, Mary Lou's Ice Cream and More, Costco, and Big Rods, BBQ. We are so appreciative of the support and love you helped us show our nurses during this difficult and unsure time in the healthcare world!
To Harry from Sally: Thank you for driving 250 miles to fix my plumbing disaster on such short notice. Not only did you effectively save me thousands of dollars - your presence was an absolute salve to my recent heartbreak & your act of kindness reminded me of the love I deserve. 'Til our paths cross again, boy...
JEERS
Girl with the Two Brindle Dogs: I've seen you a few times walking over to the Cedar Springs 4 apts. next door and letting your dogs poop in the grass. You don't pick up after them. You walk back to your side of the street, essentially leaving it on your neighbor's lawn. If you are too lazy and don't want the responsibility of having to clean up after your dogs, you probably shouldn't have pets. It isn't anyone's responsibility but yours to clean up after them, so stop making it a problem for someone else. Would you want someone doing that to you and your property?
Illegal school zone camera: Jeers to the city of Spokane for placing the Automatic school zone camera on North Nevada by Longfellow Elementary 718 feet (three blocks and a red light) from the school property. RCW 46.61.440 states that a school speed zone may extend only 300 feet from school property. And Jeers to the state of Washington for setting that fee at $237 (18 hours at minimum wage). If you'd like more homeless single moms, this is the way to do it!
Aloha, Boogerloos: Aloha is the Hawaiian word for love, affection, peace, compassion and mercy - none of which are capable of being enforced at the point of a gun, Hawaiian shirts notwithstanding. Tiki torches must have fallen out of fashion.
News fuels the fire re: I submitted a jeers to all the local stations about their constant coverage of protests gone awry 5-31-20. I did not mean to say that it shouldn't be covered. I was upset because it seems to me that All media shows the same footage over & over and tells the same things over and over giving the perps (not peeps) undue fame. I think we need to quit rewarding perps with airtime for their bad behavior. I also think the news should quit shoving bad things down our throats all the time. My God there's news from 5AM to 7AM then news @11 Am then again @ 12PM then from 4:30 Pm - 6PM then again @6:30 Pm then @10 Pm and 11 Pm. I'm just saying give us the news without the fear & rage behind it.
The entitled wide dude: ...not wearing a mask due to nasal surgery. I know you're a white male in America but your life is not more precious than anyone else's. Don't be a rude maskless jerk who doesn't social distance when asked nicely the first three times and then not at all. Next time if you're at an estate sale where masks are require maybe wait until someone is done looking until your force your way in. I hope your mom is ashamed of you. She raised a real selfish, jackass.
Mike and Mary: Jeers to all of you that said we were too young. Jeers to all of you who said it would not last. Jeers to all of you who said she must have been knocked up. Happy 40th wedding anniversary. Mike and Mary!!!
RE: CADUCEUS: Your JEERS is directed at the wrong person. First off, I guarantee the cheating husband/father is not "broken." Oh I am sure he regrets it now because like any DOG getting caught with his head in the trash, he is suffering the consequences of his actions. Secondly, the wife should not lose her self esteem because her husband is more focused on tail than his own family. Be your own woman, don't let that pig define you. YOU did not stray, he did. Why should that make you feel less than? Thirdly, it is the married partners responsibility to not stray from his/her family. The woman he strayed for has no loyalty or responsibility to you and yours. I know you want to place the blame anywhere but your useless partner, unfortunately it is all on him. The juvenile in this situation is the husband who could not walk past the temptation and not look back. He lacks such impulse control that getting any minor attention from the opposite sex leads him to their bedroom and away from his family. She did not take any vows for you, he did. She owes you nothing while he owes you everything wonderful and beautiful in his life. Judging by your jeers, you have probably convinced yourself that counseling will solve the problem. In reality the only thing that will stop him from straying again is finding a lawyer to rip everything from him as you should. Allow the next poor woman who gets stuck with him to deal with his indiscretions. You deserve better and can have better. Don't be one of those women that plays by the rules of baseball... one time and he's OUT. ♦