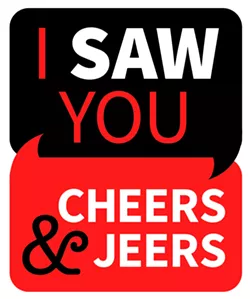 Does anyone know a guy they call "Tree"? I met Tree a couple times at the Illinios Bar. I would really like to get ahold of him if anyone can help. It's a pretty unique nickname so hopefully someone out their can help.
Rocky Picture Show Garland Theater Saw you at the Bon before the show, captivating, unique, are my disciption of you, platinum hair, spike bra, me blue outfit, long hair. drinks sometime? moesfunk88@gmail.com
Cinder (Division) Cannabis beauty I saw you on Wednesday, June 10th around 1. You were the beautiful petite brunette working at Cinder on Division. Me: 6'4" blonde guy. You were very knowledgeable and helpful, and even knew that the product that I was buying was an aphrodisiac! You also gave your coworker a hard time for jumping into the conversation as soon as she heard aphrodisiac. *All three of your crew were super nice and helpful, by the way. If your boss is reading this-they all deserve raises!* Anyway, I missed several opportunities to figure out if you're single. If you are, and would like to talk, say hi! runsfarslowly@gmail.com
hogfish You sitting with two friends out smoking. me wearing grellow. you kept looking my way we caught eyes and i smiled. do i know you from the past? I sure would like to see that smile again! If you see this ask j the bartender.for my info. you bright shoes and skate board.
TIFU Saturday June 13th: I was watering in my backyard when I noticed an aggressive robin start fighting with all the other birds over the bird bath, so I decided to cool him down. He made his way to the top of my fence. He seemed to like the shower but finally flew away. Moments later I heard a car start from behind the fence and drive off. It didn't take long for the embarrassment to set in, as I realized that people do take lunch breaks on that particular street during lunch time. I apologize to whomever was in the car behind the fence if your car got wet. Please excuse me for this mishap, I meant no offense toward you. I'll be sure to be extra careful for now on.
Sweetest Muffin I see you standing there lost and confused. That's OK. I love you and will give you the space you need. People change all the time, but it doesn't have to be a bad thing. You've been sad and I haven't had all the time to give you. I now know what I need to do for this and for us. Don't give up! Find yourself! But when it's all said and done come back to me.
True Compassion Noah, thank you for your genuine compassion towards me the night of May 26th at the car crash site at Nevada and Rich. I was the lady in the black vehicle who was in shock. I am so glad that there are kind people like you.
Rachel Dolezal From an old frontier preacher. Cattle, buckaroos, sheep and wild horses. Ghost towns, ice caves, lava flows, and lots of sagebrush. When I first became a preacher I asked my preacher father for his sage advice. I was expecting scripture and verse that would change my life forever, but my father knew me well. He once walked me into the police station. Me on toe-tips, because he was holding onto my left ear. I was nine years old. His advise to me is my advise to spokane now. He said ""Son, never make a habit of pointing your finger at folks. If you do you have three fingers pointing right back at you."" For little comfort and a big smile read Hebrews chapter 11. The Hero's Roll Call of Faith. You will never read a list with such a motley crew of degenerates that had a heart for god. Murderers, thieves and prostitutes. You will know me when you see me. It will be many years from now in heaven. You and everyone else will be entering the temple to sit at the foot of the throne of God. I will be the poor slob in a crisp white uniform with old cowboy boots holding the door open just happy to be there.
Ressa's Rocks! "Bags, belts, Birkenstocks, boots, buckles, shoes and more!! Ressa's can handle all these repairs, with great skill, good humor, service, patience, and honesty. They've put new straps on my favorite shopping bag, stretched my boots, repaired torn sandal straps on my favorite summer sandals, resoled shoes, and even told me honestly and with humor, my favorite sport bag was not even worth repairing. And they'll restore your favorite boots or Birks as well. Bonus! Ressa's a local business, stop in with your favorite shoes and they'll fix them up, good as new.
Look out world Congratulations on your new job. My bohemian girl has gone corporate. Traded in your peasant skirts and dangling earrings for the corporate suit. I would wish you luck, but you don't need it. Knock 'em dead.
Water Boy Thank you, to the gentleman from the parks department who filled my water bottle 6/15 at the Fish Lake trailhead. Monday was my longest ride of the season and I was ill prepared. It's unfortunate working water fountains are a thing of the past so it was fortuitous that I ran into you. Thank you!
Wasting more tax dollars Way to go (city of Spokane) another blunder! The landscaping at the new maintainance facility looks real nice and I just can't figure out why they would do all that planting just to let it all die due to lack of water? I drove by on Desmet and almost all the planted stuff is dried up beyond recovery.What a huge waste of money! More poor planning
Corrupt Spokane Court I'm amazed at the unethical actions of a Spokane Superior Court judge and lawyer's postings on social media. When a lawyer posts on Facebook she wants to start punching crazy people in the face that she deals with in court, and a judge, who is her friend, (conflict of interest???) posts in response~ Me Too!! Me Too!! it becomes very corrupt and troubling. Should judges, who judge people for violent acts, engage in posting desires to violently assault people? This is not funny or judicious and is a blatant violation of the Judicial Canon of the State of Washington. I encourage all who read this to expose the corruption they encounter in the courts of Spokane.
DOUBLE JEERS TO THE PEDESTRIAN IGNORING THE LAW This is response to "JEERS TO CYCLIST IGNORANT OF THE LAW." You quoted RCW 46.61.250 telling the cyclist he was ignorant of the law when he said "get to the other side" of the road. Running on the left side of the road is allowable when a sidewalk is not provided. Having encountered numerous runners/walkers on the left side of the road while cycling, I always look back and then move OUT OF THEIR WAY to pass. You ignored part of the RCW you yourself quoted. For your edification, here is the part you left out, " ... (pedestrians) walk or move only on the left side of the roadway or its shoulder facing traffic which may approach from the opposite direction and upon meeting an oncoming vehicle shall move clear of the roadway." Meaning get off the roadway for oncoming vehicles. A bicycle is considered a vehicle for purposes of the law - RCW 46.61.755. What he should have said was "get out of my way." I doubt you do that.
Misusers of the word "gay" Jeers to the fact that people still use the word "gay" to mean something is stupid. I didn't consciously choose to be gay and it hurts that you would use a word that describes me to connote something is dumb. When I went to the Pride Parade Saturday for the first time, I was happy to be around people who are like me and who don't use that word in the hurtful ways you have.
Adult immaturity at dance studio You expect children to be immature, but when the instructors and parents do nothing but air their dirty laundry on Facebook something needs to be said! The nastiness that has been shown by the staff (including the Director) at a local dance academy is ridiculous. These adults are supposed to be setting an example to these young dancers. It's more like Junior High! Shame on you! ♦