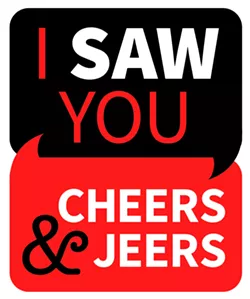 Once upon a time G - I learned from you so much about history...then we shared and made our own. I miss the times we had and the laughs too. I miss your smiling face and how I felt your friendship true. Please get back to me somehow, you know I need it very much, I wouldn't be reaching out this way, if I didn't need that special touch.
I want you too J I want you too. I felt so comfortable with you it was as if there was no distance between us...I fell in love with you the moment I looked in your eyes and I've been meaning to tell you,I have this feeling that won't subside. M
To the Macy's employees on the 5th floor during Hoopfest I was in the women's bathroom with heat exhaustion setting in. You got me a chair and cold, wet washcloths for my face and neck, and kept me company until the medics arrived. Thank you so much for your concern and extra efforts to make sure I was alright.
Continuously Amazed By The Gernerosity of Others I am a barista in the Spokane area, and I would like to say thank you to everyone that has ever tipped me! I actually get paid to do this, but something about my service makes you feel like giving me a few cents upwards to a few dollars out of your hard earned money, and I am so impressed! Thank you everyone. Over the past year I have saved the majority of my tips and am about to embark on a wonderful road trip to California, and to Disneyland! This is because of all of you, THANK YOU! I hope you are all enjoying your summer and drinking delicious coffee!
Acceptance I am Jamie, a MTF Transgender Woman, and I am so pleased with the amount of acceptance from friends and from so many others, young and old alike, here in Spokane. I have received such positive and respectful responses, especially from clerks, waitpersons, and salespeople. If some individuals do not accept me, then at least they have not made rude comments out loud. Some people have asked why I am "wanting to change my sex" and it isn't clear to most people that I am not "WANTING...," I "NEED" to be the person that I was really born as inside, "a FEMALE." I'm on Hormone Replacement Therapy (HRT) and am slowly seeing differences in my body appearance. While I am not able to afford all the "work" like Caitlyn Jenner, I do not yet appear as polished and "feminine" as she. But I dress every day as a woman and try to be as naturally feminine as possible. THANK YOU, SPOKANE!!
Helpful Corbin Park Jogger Thanks so much to the Corbin Park jogger who volunteered to help me lift my heavy garage sale purchase into the back of my car on Friday morning 7/10/15. By the way, nice abs!!
Black and white photo booth You have changed my life profoundly, my lovely twin. Thank you for the picture, and the memories I hold dear while we are apart. I love you, as always.
You deserve a raise Sweet-natured little new gal that's working at the Flying Goat. We are (semi) regulars in our mid 60's. It's been brutally hot and working the patio lately, you still have that inviting smile on your face regardless of being tripped by children running around or dealing with a demanding table. It's refreshing to see one of the younger set these days radiate HAPPINESS. Overheard you talking to a co-worker, your positivity about life in general is awe-inspiring. You stand out in the crowd. Thought you'd like to know that unbeknownst to you ... people are impressed. Tell your boss to give you a raise. We will be back.
Insensitive Lady at Animal Shelter Jeers to the lady that marched into SpokAnimal and barged her way to the front counter, demanding to know why they "charged so much for their dogs." She proceeded to announce to anyone that was in the general vicinity that she "didn't pay this much before for a dog" and that their fees are too high. The front desk lady at SpokAnimal very patiently spoke to her, telling her gently that the fees cover shots and other things to support the dogs that are housed there, but this woman would not listen. She then complained that there wasn't a "good selection" for her to choose from. Shame on you, lady! Our local animal shelters have to deal with enough bad behavior from people that abuse and neglect their pets. Take a lap in someone else's shoes, miss. Or better yet, take your energy and volunteer to help animals in bad situations. It will cost you nothing.
Shakes are made with ice cream Okay, so it's not a BIG deal, but it frustrates me when so many coffee stands advertise espresso shakes and what you get has NO ice cream in it. Or they think blending it up with a mix of some sort and ice is a shake. It's not, that's called a frappe. I can't tell you how many time I've asked for a shake and gotten this. One time I specifically asked — you make this with ice cream, right? She said yes — and then I heard the ice being blended. Just be honest if you want my business — that's all I'm saying.
Learn how to read (and drive) A special shout-out to the lady in the large black SUV who didnt want to let me in to the I-90 on Thursday from the Pullman Highway. There are signs clearly warning you to allow traffic to merge over, but maybe reading and driving are somewhat challenging areas for you. You self-righteous idiots driving in the right lane at this junction need to recognize how small the merge lane is, and how dangerous it is for drivers to have to stop there. Which is why I forced myself in at all cost! It was really awesome how you had to slam on your brakes because you suddenly realize I'm getting over. In the future when you're traveling down Sunset Hill, let's hope you will be more aware of traffic that needs to merge over, so that you aren't in this situation again. Or maybe the next time you try to get onto a highway, some dead-ass moron (like yourself) will give you the same hellride you gave me!
Mayor Rushing I just wanted to send out a big jeer to Airway Heights Mayor Patrick Rushing and his racist Facebook post. Shameful act for a public figure!
the other local "publication" To the other magazine that recently released their "annual food issue." First of all, the food section is a whopping 20 pages long, and doesn't even begin until page 131. Secondly, you only feature those who pay for advertising instead of talking about our real food scene and how it has vastly changed in the last decade. Third, featured in your cover photo and article, a true "filet of ribeye" should never have a bone in it and in the photo is not wrapped in bacon, as the article claims. The proper name for this dish should be bone-in rib chop. Stop featuring only businesses who give you money — they aren't always the most savvy of the city. Lastly, your neighborhood feature of Riverside avenue is 100% wrong: none of those businesses are actually on Riverside Avenue, they are on the streets of Main, Washington, and Spokane Falls Boulevard. Stop having your silly parties and boasting your extravagant ventures and start writing real articles about sh*t that actually matters. Thank God for the intelligent, passionate writers at the Inlander.
Re: not cute or nice Really, you're complaining about an older man talking to you, I bet if he was some movie star or producer, would you be quick to complain and older people have a right to go any bar they want and just so you know, younger men go into bars looking for older women, and there is no such bars for the older people, people go to bars not just to meet young immature spoiled brats like yourself. Seems like you need to watch out for young weirdos.
Very bad manners at Chautauqua Jeers to me! I am the rude person who made a very nice lady move from her seat at the Sunday show at Chautauqua. I said it was my seat which was very rude as well as ridiculous. I am so sorry for being such a crass mole (and sorry to the moles who don't deserve this). Please accept my apology. I hope I didn't wreck your day ♦