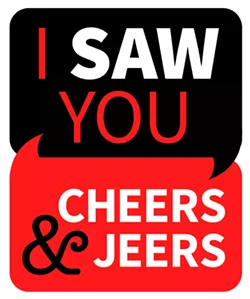 You spun my world! I saw you downtown, I held the door for you leaving the Globe. You beautiful smile, long legs, green eyes. You went to a red Audi, would love to meet for coffee.
RE: Toad You are my world LOL, there are other Toad's out there... I am Toad too! Coco? Your name rhymes with that... but can you give me more to know who this is? How about your age! xoxo. Good thing my friends read this shiz! Ive told them its not her, but maybe a couple of clues would help! t
Huckleberries Flower Buyer Besides all the "I am an idiot for not getting your name" things we read in here, I was thinking "I am an idiot for not getting your name." Last Saturday, Jan. 30, you bought beautiful flowers after we smiled while you were getting produce and I was being my silly self with the coffee sample gal. You came up to me and my friend and told us you were sorry about our friend, I told you the flowers you bought were beautiful. Me and my red hat would love to stop and smell some flowers with you and your beautiful smile, eyes and fabulous dark hair...
Steelers fans I have seen plenty of Pitts Steeler fan in and around town this past season. We all seem to be alone and if we are lucky we might be in the same pub watching a game. Wouldn't it be nice if we actually met up instead of just bumping into each other? I am creating a place where we can gather and chat and hopefully meet up next season! I hear its going to be a great season for us! Check out our new ""gathering place"" at ""Spokane Steelers Fans"" on FB. Lets connect and create an amazing 2016 Season. Go and Like us to keep up on current news and current locations as to where we will be meeting for the games next season. No, it isn't too early to get ready for next season. Go and like us now so you don't have to worry about finding Steeler fans next season to watch the games with. Lets meet and enjoy celebrate our team together!
Take Your Picture Trader Joe's Fri 1/26 6pmish. You: shopping w/ gf's. Me: guy who took pic with your phone. I wanted to say that your eyes sparkled and your smile could sail ships. Wasn't a time or place for such a moment. But I wanted to tell you anyway.
seahawks yuk I Saw you now all I do is see you in my dreams. I know I'll never have a chance we are from more than opposite sides of the tracks, fence, social class, opposite sides of the cell..I am more than glad I met you thank you you have changed me and helped me to find my self my real self I thought I lost forever. even though your choice of football teams sucks . you will always be the coolest. maybe in another lifetime. hopefully in the next life.
My Kelvinator The first house I bought in Spokane had a Kelvinator oven. It was old, reliable and had classic styling. You, Sir, are my Kelvinator. They don't make 'em like you anymore.
SHOUT OUT! A huge thank you to the South Hhill food bank! I visited for the first time today, bringing with me a canvas bag to escort my findings. I was instead given enough food to feed an army, the kind with nutritional value, too!!! I would have been grateful for some mac n cheese, & I can't tell you how amazed I was to leave with all that. To top it off, you had a whole team of folks wheeling the huge carts of fancy kickdowns to people's cars, and for everyone — BOUQUETS OF FLOWERS! (And you happened to give me my very favorite kind!) ... When I'm not struggling, I love buying bouquets of flowers for people flying signs because it's adorable & a rare treat for a hobo gal — I was tickled to the core to see this happening on a larger scale! Yay! My friend and I made it back to my house, standing in the backyard — still in awe at our fantastic 200 pounds of food, and out came the sunshine. Thought you deserved to know just how much you did :)
Black Chow Named Jade This sweet girl came into my life over 7 years ago through an ad in Craigslist Spokane. I was her fifth family and I made a promise to her that she would have a forever home with me. I want to say Thank You for giving her to me to be my dear, sweet companion through life and kudos to all former humans for their skill at raising such an a kind, sweet dog.
Fast forward Love is the answer, and you know that for sure: love is a flower, you've got to let it grow. I will always love you my chi.
Rude! Jeers to the guy in the white car who backed into my SUV while I was at work wednesday morning and then decided to just take off with no note. What a class act you must be. I'm going to assume you must not have insurance because only trash like that would do such a thing. Pretty sure someone will come forward seeing you do it. What a disgrace you are.
Hay Spokane The green grass of the neighborhood park where kids play and people take walks is not your dog's toilet. The park is also not a trash can. Though you can find them there. Please be responsible and clean up after yourself and your pet.
Cat trapper To the person that trapped our cat in euclid/tschirley area watch u back. U left our cat in the rain and snow for three days. We will find u keep ur own business in line and stay out of ours
To the person who stole my Little Free Library bench Really? You felt it necessary to steal a wobbly old falling apart wooden bench. By the way, did you notice how low to the ground it was? It was low because that bench was for children. It was for the children walking to and from school who stop at my Little Free Library box almost every day. Good work stealing from children and interfering with the positive message that reading is important.
Make America great again??? Jeers to Donald Trump and his supporters. Was Obama really so bad that you would actually consider Trump for president? First off you should realize that immigrants are who made this country great in the first place. What's Donald plan to do after sending 11 million out of our country? Enslave Africans again to cover the workers lost? Doesn't sound so great to me. Also, the number one problem facing the U.S. are constant mass shootings and he wants to do nothing. He should change his slogan to "Make America racist , sexist, and violent again." Fellow Washington residents, please don't support a racist, sexist, ignorant bully on primary day.
Enough Already Can we call a halt to all the intrusive questions every time a person visits a grocery store, big box store, coffee stand, etc? I don't mind in the least when I am asked how my day was, or general conversation about the weather, the Cougs and/or the Hawks....that's just common courtesy when you're spending a few minutes paying for your stuff but... come on people! In the last week I have been asked "What are your plans for the rest of the day?", "Where do you work"?, "Are you having those yummy looking steaks for dinner tonight"?, and a new one today.... "Are you going to use those new dish towels to dry your dishes"? What? What? When did it become common practice for the barista, check-out clerk and bag boy/girl to ask such personal questions? What if what I was doing for the rest of the day is visiting my dying mother? Is that really what you want to hear? I'm finding it more and more difficult to not be rude when the third degree begins. What I'm doing for the rest of the day is really none of your business. Just stop it. ♦