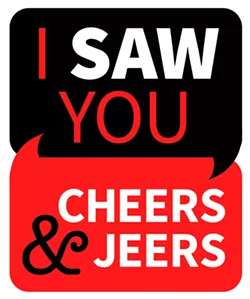 Be my Polar Bear You are the handsome white haired gentleman at the credit union in the grocery store. Every time our eyes meet I can feel the attraction. You have stolen my heart.
At the Haunted HayRide You... one of the creepy zombies, me running like a little girl! Who knew a haunted hayride would be where I met the "ghoul of my dreams?" I already have plans to see you again next weekend or maybe the next few weekends!! I need to know your name! I need to see what is under all that makeup! I'm a Spokane Valley, kid, too! Perhaps a little Monster Mashing??
handsome man in the car on west carslile.. you saw me and my son on our way to a birthday party on sunday sept 25th out of town we were walking by the adult ed center on monroe and carslile you got my name but i didnt get yours i was in such a hurry to not miss my ride.. you drove passed me a few more times i wish you would have stoped again as we could have exchanged info please contact me @ echomarie05141981@gmail.com just let me know its you.
Cheers to the Gathering House Many thanks to all the people at the Gathering House coffee shop. When my husband and I were rear-ended on Garland with our six-month-old baby in the car, you invited us inside (even though you were closed) and helped us calm down while we sorted out insurance and ensured our baby was okay. It was a scary experience for new parents, and we are very thankful for everyone at the Gathering House!
TreeHouse Club Staff You guys are awesome! Some of the most knowledgeable budtenders in town with some of the friendliest staff I've encountered at any store in Spokane Valley or Spokane. Congrats on your article in Dope magazine and being their store of the month for October! Keep up the good work and don't let them Haters get to you!
Thank you! I was walking downtown with my daughter and grand daughter when I was approached by a young man with a red beard. He told me I looked beautiful, smiled and walked away. I'm a 71 year old woman who feels younger. He made my day. My daughter and grand daughter were impressed. Thank you. Women my age still want to be appreciated.
ROBERT my knight in shining armor on a dark road Thank you to Robert that came by when I ran out of gas after a wedding at green bluff. It was really dark and no one around! Thank you for getting me gas then jump starting my car after the battery died. Thank you from the bottom of my heart and possibly saving me from any scary clowns! Rhonda
To my wonderful son Thank you to my darling 25-year-old son who gave me my first ride on a motorcycle ever. You knew how apprehensive I was yet you were able to keep me calm on your brand new Harley Davidson Softail. You knew I wanted one experience, and you came through and gave it to me. I had such a great time on our day road trip; stopping at a small café for breakfast; enjoying how graceful you were on that motorcycle; talking and laughing; sharing in wonderful moments; just spending quality, precious time with you; my only child. The skies might have been overcast, but there was no rain in sight, and I only felt the warmth of sunshine on my face as we left the cares of the world behind. I hope we can have another mother/son date soon when you return to me in my dreams. I love you, my son.
re: truck drivers this is to the PERSON WHO wrote the nasty msg to the truck drivers a couple weeks ago you complain about their driving, do you know what it takes to drive a big rig? to deal with ppl like YOU! you stated you were gonna start cutting them off, bad move for you they cant stop like us in a car it takes them time so i guess when you get ran over youll understand you need to respect the men and wemon who drive the trucks as they ARE the ones who brimg food and other items to us! CHEERSTRUCK DRIVERS YOU ARE AWSOME!!
Northbound Pachyderms To the two large mammals walking past the Spokane City Hall building telling me that bikes don't belong on sidewalks. saw you two staring at me from half a block away, both of you veering towards me as I rode slowly on the side of the sidewalk. I get it, you want to make a point, the sidewalk is for walkers, hence the name. But you were intentionally trying to run me off as you huddled together and oozed over into my path. It was early and there was no other foot traffic around, I would think you'd be a little more understanding when someone invades your 20 foot bubble. Riverfront park is closed off due to construction and the Chinese Festival, some of us downtown employees are forced to to around. And since you looked to be walking into city hall, who may have something to do with my detour, you should have easy access to Section 16A.61.787 of the Spokane Municiple Code, since you brought it up. Maybe you'll read it and not just the first line. I can't wait for the park to open back up. I'd rather slalom the grubby gack heads than listen to some know it all behemoth, spouting their self righteous and ignorant opinion. Next time I'm not slowing down.
Litterbugs! I am so disgusted with all the litter in and around Spokane. Please STOP littering! This is where we live. USE THE TRASH CANS!!!
Good Guys Need Not Attend My husband is a police officer. He takes very seriously his duty to serve and protect, both in uniform and out. Like most officers, he carries his weapon concealed while off duty. You would never know seeing him run down the street or passing him at the grocery store. But, should the need to use it arise, you would be grateful for his presence and extensive training — instead of needing to wait for police to arrive. My husband is also an avid Chiefs fan — ever since he learned about hockey. He has even been a past season ticket holder. He very excitedly took our son to opening night only to be turned away by new security measures at the Arena. He politely showed his police identification, which, according to Federal law (HR 218; LEOSA,) allows him to carry, but was still denied entrance. The metal detectors now in place serve as a sort of deterrent, but mainly gives Arena administration a false sense of security. Given that security personnel are unarmed and hardly prepared for a shooting emergency, one would think they would be appreciative of the expertise and presence of off-duty police. But, no. So, Criminals (for whom, by definition, the rules do not apply,) take note: the Arena is open for business. Public: beware.
STFU at concerts! You were drunk. You heckled the opening act, you talked through the main act, even after we asked nicely if you would just not talk quite so much during the show. Oh, but you had MORE STUPID TRICKS up your sleeve. You SANG ALONG to the main act, and I promise, honey, not one single person in the whole theater, NOT ONE SINGLE PERSON bought a ticket so they could listen to you warble along OR to see YOUR PATHETIC DRUNK SHOW. You have no clue how obnoxious you were. We had to sit next to you. We have to tell you something: YOU SUCK.
Scumbag who stole tip jar To the scumbag who stole the tip jar from the girls at Hot Toddys coffee shop on Francis. You circled a few times on your bike before riding up and grabbing their jar of tips. Did it ever occur to you that this is how they pay their bills and eat! Get a job don't steel from others! Carma will get you! Maybe you'll crash your bike! ♦