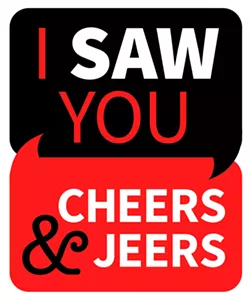 Meat Puppets front row We talked while waiting for the Pups to start. I first saw them in '85, and you first saw them in '90. We share a love of Mark Lanegan. You disappeared late in the set. Not sure of your status, but would enjoy talking music over a beverage sometime.
Handsome Baldy at Starbucks I had about 20 minutes to kill before my next meeting and swung in to Starbucks on 2nd and Division (March 16 around 10:30 AM). We made eye contact a few times and I was more than prepared to say hey but you took a phone call before I had a chance to. Would love to be able to say hey again.
Ultra-Successful? Joey, Nico, and Matt! Where is your Ultra-Successful podcast? All of your loyal listeners have been WAITING since December for another episode! Hope to hear from you soon! — Your Loyal Listeners
belated birthday love We used to be best friends, but I missed your birthday and now we're not. Sometimes I'll see you zipping around downtown in your nifty new 4Runner, walking from your office with a gym bag full of softballs, or taking a lunch break at our favorite burrito spot. I want to yell "I MISS YOU!!" and grab your hand and skip down the street until we're besties again. I am so very sorry for missing your birthday, I hope you will forgive me. Sending love from a slightly creepy yet safe distance. A
Still don't like au gratin potatoes We tried once before but I wasn't ready yet. It wasn't that the spark wasn't there. It was, I just couldn't see it until now. Now, it burns within me. I've been broken but those scars are almost healed. You've always wanted to look in the 'I Saw You' and have someone write about you. I want to be that person. Your the only girl my kids have ever liked. Hoping your's like me too. You spend all day making sure peoples hearts are in the right place. I think mine is back to where it's supposed to be... but I still don't like au gratin potatoes. Can't wait to see you again!
Folkinception @ The Bartlett Saint Pattys Day I found myself next to you on the dance floor after retrieving my jacket, we exchanged subtle glances but the vibes were strong. The girl you were with didn't seem like your date but I still didn't want to disrespect. I was with a friend and as we left i saw you outside on the patio, we exchanged more looks (elevator eyes) and I was happy when we walked the wrong direction and we had to pass you once more after turning around. Still being too shy to say anything, like introduce myself, I was cheesy and tried to be cute by saying "You again??" I'll stop beating myself up for not making any moves, just meet me back at the dance floor for Folkinceptions next show at The Red Room Saturday 4/08
KNOCK KNOCK [Signor] Oliverotto often sits high atop justice hill waiting for his shift to end. When it's done, he sometimes hits the bar to chill with a few other VIP security buddies. He said he suddenly allowed me to join them after his daughter put in a good word for me at the food bank. Heads-up, babe you asked if we could go to a more private place but they are why I am here. One day I would like to take you to dinner — if I see you again & if we can find the time. You won't have to dress to the nines. P.S. Remember what book you were reading. Thank you so much hun.
White chevy cruze To the chic with the bye felicia sticker, your a cutie. I was in the dirty envoy, good driving miss. If you would like to grab coffee some time and discuss life, email me at fixedonflow@gmail.com. sincerely, the bearded gentleman.
Super Hero fun run and Your super heroine powers amazed me I was minding my own business on my annual Super Hero's fun run with my friends and their 3 little Super Hero's. When suddenly I saw what appeared to be 2 damsels in distress on the bridge in need of their picture taken. So me and my sidekick my giant red beard swooped in, only to find 2 super ladies having it all under control. Your sister was kind enough to let me assist in capturing your picture. You were the super blonde heroine with the adorable smile. If I had to guess your super powers are: grace, kindness, and an overarching care for mankind as you were on a fun run for good will.
To the Future; Cheers I see you everyday. // And my goodness, what joy that brings. // When i look at you, it occurs to me how // beautiful your smile is, how gentle your eyes are, // and the kindness your soul possesses. // Most especially, how lucky i am. // When i met you the hands of time stood still. // Now we have a family. // Our dog, our lizard, and us. // In our sweet, small, peaceful home. // And you have become my greatest treasure. // My bestfriend, my lover, my extra big smile. // I love you Troy. // Cheers to being happy. // Cheers to the future.
Pizza, Cops and Rebellion Picture it. Saturday afternoon. The sun is actually shining. My friends' teenager decides to exercise his freedom of speech and then proceeds to take off on his own. 'Cause you know, what else do you do? Bit of a jeer to him but a major cheer to the good folks at the STA Plaza. Christmas (that's her name!) at Pizza Rita contacted the transit officer on duty and they were very professional, understanding and competent. Though the kid turned up somewhere else, it was great to know people at the STA Plaza were keeping an eye out for him.
Spokane IS Rising! Cheers to Spokane Rising and other innovative thinkers! Sprague, Perry District, and now Monroe will be revitalized! So excited to see this run-down street get some love — it will benefit everyone to have a welcoming walk-able and shop-able street. Keep Rising Spokane!!
I Love you MORE You never fail to amaze me. Given the recent changes in our life, you don't even blink an eye, I do not know how I got so lucky. You are a very patient husband to your crazy wife, and an amazing father to our girls, I do not even know where to start to thank you for everything you do and for loving all your girls UNCONDITIONALLY... WE love you and I LOVE YOU MORE!
Landlords who rent to drug dealers Shame on the owners/landlords who knowingly rent to drug dealers. You know what they do since they are home all day and night. Pay cash for rent. People constantly coming and going. Police and ambulances who show up when someone overdoses or there's a fight. Especially the place on the 900 block of South Lincoln.
RE: Leave Monroe Alone Just stop talking, you're making a complete fool of yourself. Not sure how NOT improving Monroe will prevent you from being behind a bus and you say use the money for "the roads" — Monroe is a road. Also, Grand IS already a two way, so like I said — just stop talking, you're an idiot.
Insurance About so called 100% AHCA/OBAMACARE covered Doctor physicals, it is BS. The only way you will be not paying for this is if you lie and tell them you are as healthy as an ox. Ditto to even get your employer to toss a few bucks towards your insurance that covers nothing. If you you so much as tell your doctor you stubbed a toe or occasionally have trouble sleeping you have a "pre-existing condition." Then you pay up the ass. Screw insurance as it exists, don't buy it. Trump is a fool, but hopefully at least sooner or later us young, healthy people can opt out of this dumpster fire we call insurance in this country. I'm done paying monthly into a 10k yearly deductible plan that covers nothing...
What part of Yamamoto don't you understand? I get that the Zags are all that right now but to not give a shout out to the athletic season that home grown jock Kailer Yamamoto had this year ain't cool. I am sure that Happy Valley, Yakima and Bydgoszcz are all beautiful little bergs but how about a little home town flavor to the 'Best of the Inland Northwest' when it's right in front of you to be recognized. ♦