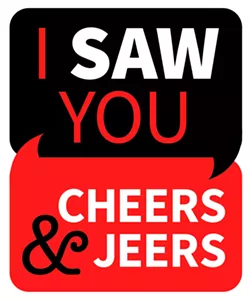 We saw you assisting a senior on Senior Day at Northern Quest. You were so friendly and respectable with such a pleasant demeanor. As seniors ourselves, we take notice when the younger generation treats the older generation with utmost dignity and respect. It's a rarity these days so we appreciate you taking time to assist those who need it. You've assisted us in the past, and it's always been with friendliness and pleasantness. So thank you for making us see and believe that there is still goodness in those much younger than us.
I was Remembering... I remember thinking of the time we went to Shari's, after the party at Ann's, and how beautiful you looked in the fluorescent light, while we nervously waited for the pie that never came. Then I looked across the table, while we discussed the day over breakfast, and you looked even more beautiful, like you do every day, more so than 22 years ago. Hoping for a meet-up soon?
Love your riff family Since we have all met you, you've been the same genuine human since day one. You need to know how much we all appearciate you. How much you give, and care for all of your friends and family, we all are going through hardships together, but it's our friendship that gets us through the weather. This is what builds us and we wouldn't have it any other way. From the greatest bar keep and the best travel companion mahalo. I see you there shaking that thang. Thanks for creating a spot that makes me feel like myself 9 years running, that will not be rivaled by any bar in Spokane. Love peace and chicken grease. There are no words to describe what you do for us, "ya mother you got rhythm" bow wow. Thank you for believing in us as a humans. As people as family, arrow ER row. A space we can call home and a friend we can call family. With love, yours truly The Riff family.
NW Blvd Safeway 4/6-17 You bought my groceries, I didn't even get your name. Thank you so much for your hospitality. Can I take you out for a beer to thank you?
Hey, good looking I may not ever talk to you, but I have to say you are the finest looking man I have ever seen, in CDA on the sidewalk, in the middle of the road, at the gym, I can't help but smile everytime I see you.
Tall, Professional and Handsome You were the professional and kind, a driver for Spokane STA. I got on the 90 with my cousin... headed to a tattoo event and saw you: tall, dark hair and beard, fun haircut, sleeves rolled up, black glasses. I appreciate how kind and professional you were with every single rider. We made eye contact briefly and I couldn't help but hope you don't read this! I was the shorter blonde with blue glasses and and a gray sweatshirt. Send me an email at letterstomrsfreebird@gmail.com if you'd like to meet for a drink!
Girl at Safeway on 29th about 9:00 pm 4/9 I was at the check stand when you walked by and told me that you liked my sweatshirt. We talked about bikes a little and you said yours had been stolen and all you have now is a beach cruiser. I got a really friendly vibe from you with that smile and those beautiful eyes. Plus you seemed really cool too. Coffee and maybe a ride sometime? P.S. I've never done this before. :)
Over the Years Take Two We only see each other a few times a year anymore. It's probably good because I've had to mentally distance myself from you by being less friendly. And that's because after all these years, the physical tension is there every time I see you. The proverbial lust crush. I seriously don't understand why we've never gotten together. I've had wistful thoughts, that maybe your early retirement might change things, maybe missing your kids and a loss of purpose might cause you to reach out, and we'd talk like we used to. At this point I'd settle for a conversation over a glass wine so I could ask you why. Oh I know the reasons you'd give. And I'd respond that this was about us, not anyone else. Maybe I've misread you. Maybe I was making a fool out of myself being so obvious about wanting you. Maybe you've never felt the same tension, had the same thoughts, or looked at me the same as I look at you. I'm not sure I really want to know, it might be better to be left in my dreams than to know it was never possible. So why am I writing this? On the crazy thought that you might see it and know it was about us? And somehow we'd end up having that glass of wine? Only in my wildest dreams. No, I think this is my way of trying to release it and move on. And maybe one last chance at the lotto :).
Folkinception @ Red Room Dear Elevator Eyes, I nervously showed up to my second-ever Folkinception show (they're ok I guess) and looked for you amongst the hippies and baby boomers. I remember catching eyes with you at The Bartlett and was hoping for a sequel. Maybe our paths didn't cross? Maybe you didn't make it? Whatever the case, I'm willing to try again. Folkinception is at the Big Dipper this Saturday (4/15). I'll be there waiting for you to say "you again??" ... again.
Whiskey and the Holy Ghost @Meat Puppets guy: spokaner@gmail.com
Damn....I'm Lucky Micaela, It's easy for me to look at you and tell you thankful I am for you every day for being here for me through mine and our new journey together. It means something more when I take the time to show you in different ways how thankful and lucky I am to have you as my partner and by my side. You are so beautiful inside and out and I just want to say thank you again and I want you to know exactly how much I love and appreciate you. You're the cheese to my macaroni and I love you. Love Always And Forever, Chad
my clementine S&J you make me so proud!! you two have changed your lives around and are heros in my eyes! and the love you two share and the experiences you've had together is something so special. and now the greatest news ever "plus 2" you guys will make the best parents! love you all so much love mom
Kudos to you, kid! For being so respectable, honorable, polite, dignified, compassionate, considerate, gentle, kind-hearted, amiable, personable. There are too many great qualities about you to list here. With your confident, positive, enthusiastic, optimistic, magnetic, jovial attitude and personality, you have the potential for great things and will have ample opportunity to advance your career if you so choose and desire. May success, peace, happiness and prosperity be yours always.
Unconditional love To the human who has loved me unconditionally, never given up on me, even when I gave up on myself, who sent me charged crystals knowing I would need to feel them, & funny memes knowing I would need a laugh. Cheers to synchronicity, crazy love, our dudes, & the hopes of every lasting love in this cycle of life >><<
I HOPe you learn some manners... Went to breakfast this morning at a pancake place. The booth behind us contained a man, his girlfriend, and three unruly brats. Together they proceeded to 'entertain' the entire restaurant with their loud and obnoxious voices, while chewing. They made stupid complaints to the waiter and were actually wrestling each other at one point. Heather... yes, we all heard your name shouted a dozen times... please reconsider eating in public. Your foul manners and those of those kids ruined breakfast for us all. ♦