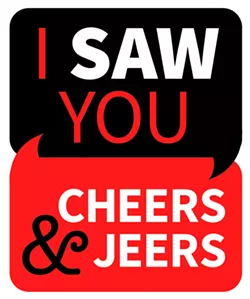 Steelers fans I see you sitting alone watching the Steeler's games during the season. I want to invite you to join other Steeler Fans and enjoy the family. Join us on FB@ Spokane Steelers Fans. Like us and join us for the games. We will be at Borrachos downtown on September 10th for the first game of the season. Join our page to see where we will be for our Steeler games and be part of the Spokane Steeler Family! Hope to meet you soon!!
Your Compassion Was Inspiring I saw you at the Anti-Hate Rally/Stand Against Racism Rally earlier this week. I was so impressed with your compassion and dedication to the cause that it brought me to tears. You spoke about what we need to do as a community and as individuals. You were helpful and kind to everyone in attendance. At the end of the night you handed me a purple flower. You inspire me. Can we be friends?
We all see you We all see you in the neighborhood near Huckleberry's. I'm sure your red Mustang gets a lot of attention and so do your other activities. We all see you. We live in your building but there are others around the neighborhood. We are watching, we are gathering evidence and we will be going to the police. We will not stand by, we will not enable you with our silence. Cease and desist immediately.
I met you at Safeway in line buying mint ice cream on Saturday night at 10:45 pm I bought mint ice cream and dog food you were back from college in Virginia and your parents live in Lake Taps and you were born in West Seattle. Lets talk more, you seem nice. Lets eat some mint ice cream. email me at yardguy1111@gmail.com. What you up to? I am in town for another week with two dogs and nothing to do. Show me around Spokane?
Nectar Wine & Beer Sat. 8/19 On the patio Saturday evening. You: blond hair in jeans, white sandals, pink & white striped shirt enjoying drinks and dinner with your friend. Me: brown hair in jeans and greenish-blue shirt sitting behind you. You were taking pictures of the view while your friend was away from the table. You turned around a few times, enough for me to see that you're stunning. I wanted to say hello, but missed my chance. If you're single and interested, email me at winefana@gmail.com and maybe we could meet up for a glass of wine sometime.
Huckleberry's on Monroe Tuesday morning August 15th I was standing by the coffee and you asked me if I was on my way to work. I told you that I had just gotten off and was headed home to go to bed. You asked me what I did and where I worked. You also asked why I was drinking coffee if I was a health care provider. I showed you that I was drinking herbal tea. You said "I'll see you later" and I should have said..."I sure hope so!" I was wearing a pink scrub top and grey pants. I'd love to have coffee sometime!
Angels on Earth Angels work for Hospice of Spokane and treated my mom and our family with kindness, dignity and respect both at home and at the Hospice House. This is an incredible organization. If we all treated each other the way these angels treat those they help, the world would have no problems. Thank you Hospice for providing comfort for my precious mom who provided others with kindness throughout her life. My family and I are forever indebted to you.
To server Webby at the Chili's at Northtown Mall We were there Saturday, August 19th just after 5 p.m. You were our server. You did an EXCELLENT job! The food was delicious and made to our specifications. Moreso, we enjoyed our dining experience because of YOU! You were friendly with an infectious smile and magnetic personality. You gave us a few laughs and made us smile. You also totally understood our sense of humor. It's been a LONG time since we've had a pleasurable dining experience with a server who is friendly, kind and fun. Thank you so much for serving us! We were so impressed with your skills and attitude that when we return, (which we will!), we will request you as our server again. (Yes, as promised, email was sent to corporate to brag about your amazing service to us). Thanks for being one awesome server!
A Friend When I Need(ed) One It's been a little over two and a half months now- but, you replied to my request for help with a "You're awesome. Want a beer?". I eventually took you up on that offer- though belated. I just want to say thank you for taking the time to reply because 'this' has been one of the craziest roller-coasters of my life but I don't regret a single second. That comment that you made sums up our relationship pretty well -- "I like you. I appreciate you and accept you. Can I do something to make your life better?" -- and you do. Every Single Day. Cheers, my person.
Harley Heartbreaker I was coming from the airport merging onto HWY 2 and I didn't see you in my blindspot! I felt so bad when I looked in my rearview mirror and saw you on your bike. I am a fellow biker also so I felt so terrible for cutting you off. I wished there was a way I could apologize. When we got on the freeway I was ready for you to drive past me flipping me off or scowling, but when you drove past me I waved an apologetic wave and mouthed sorry. You smiled and waved back accepting the apology. THANK YOU for forgiving me. You may look badass but I can sense you have a kind heart. You made my day.
YOU ALMOST KILLED US SMALLS On Sunday Aug 13 @6 PM @ the intersection of Regal & 42 by Shopko, my wife and I avoided a devastating accident due to someone running a red light. The light had turned green and the vehicle in front of us was going through the intersection, just as we were about to proceed a vehicle heading north on Regal flew through the intersection at excessive speed. Talk about seeing your life pass before your eyes, it was the scariest thing we may have been involved in!!! If my wife had not hesitated for a split second we would have been T-BONED and have been seriously/fatally injured. In a state of shock we were brought back by the car behind us leaning on their horn as if nothing had just happened and we had fallen asleep at the light. Inattentive driving has reached EPIDEMIC LEVELS!?*/! We have reached out to the city to see if there was a red light camera. If anyone was at the intersection that witnessed this near miss please reach out to us by replying to this post. I will reply so we can recall it more accurately. We have always been very defensive drivers and it has saved us numerous times. This event comes on the heels of a pedestrian being run down/KILLED at the intersection by DICK'S by someone driving on the interstate with no brakes. Sometime it feels like I live in the TWIGHLIGHT ZONE!!!!
Ungrateful Medicaid Recipients To those who are on Medicaid. For a lot of you, this will not apply, but to the medicaid recipients who insist on yelling at the doctor's office personnel because they are running late, or have paperwork for you to fill out, you should take a moment to reflect on the big picture. You are on a state medical program that is paid for by the taxes collected from the very individuals you are yelling at. The people who work at the local medical offices do not qualify for Medicaid generally. They have to pay for their own insurance. For you to be ungrateful and rude to them is an affront to basic decency. Rather than complain, why don't you realize that your healthcare is supported by the hard work of these individuals and be patient.
disinherited forever How dare you lie to our Granddaughter. She believes we told you not to call, write or email us again. You know you were the one that said those hateful words, not us. Surprise... I've got it all on tape. One day our Granddaughter will hear that tape and she will know you for the liar you are. Of course by that time it will be too late, but she will learn the truth. When she realizes the damage you have done to her with your hateful lies she may find it hard to forgive you. Especially when she see's what it has cost her financially.♦