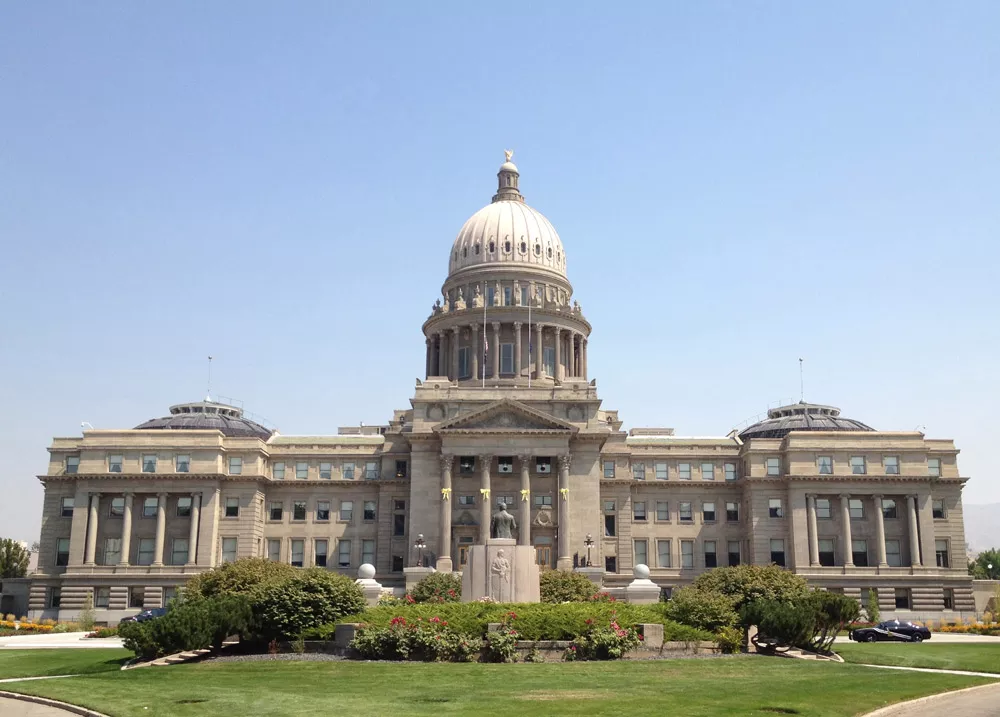 'NO BASIS IN FACT'
Idaho's legislative session finally came to a close in the early morning hours of April 11. But the next day, the legislators were already fighting again, trading strong words over the legislature's failure to pass a CHILD SUPPORT bill.
"Scuttling [the bill] without debate was heavy-handed opportunistic theatrics at the expense of single-parents and children... the most vulnerable in our society," Idaho Republican Rep. Luke Malek wrote in an email reply to an editorial by Rep. Lynn Luker. Malek added that he does not support "the erratic behavior that will lead to the dismantling of our child support system."
Republicans on the House Judiciary, Rules and Administration committee narrowly killed the bill to bring Idaho's rules for handling child support cases with foreign countries in line with federal standards. Some worried that international-treaty language could subject Idaho parents to rulings in foreign courts, including Islamic Sharia courts.
"There's no basis in fact for that concern," Malek says, adding that this hasn't been an issue in any other state.
In his editorial, Luker says he and other Republicans had additional complaints, arguing that the bill and treaty introduced serious due-process issues. He blamed the federal government for "using children as collateral to force its policies upon Idaho and its sister states."
The decision is estimated to cost Idaho at least $16.1 million in federal funding, leading the Department of Health and Welfare to announce that "the vote will make it nearly impossible for us to enforce child support like we should."
It's left Idaho Gov. Butch Otter considering calling the legislature back to Boise for a special session.
"Until we know what all the impacts are, we can't start charting the solution," Otter's press secretary Jon Hanian says. "Once we have that, we'll be able to pave a way forward." (DANIEL WALTERS)
WE ARE BELIEVERS
Spokane adults are 2 percent more likely than the average American to believe that CLIMATE CHANGE is occurring, with 65 percent saying they believe. Of those in Spokane County who believe warming is happening, 45 percent blame human activity and 36 percent attribute it to natural changes.
Three quarters of Hawaiians believe climate change is occurring, the highest in the nation. Significantly more Washingtonians (68 percent) believe than Idahoans (58 percent). The study was conducted by Yale University researchers to help government officials better understand their constituent's beliefs. (LAEL HENTERLY)
ROCKING THE VOTE
A coalition of 44 community groups sent a letter earlier this week to Washington lawmakers pushing them to bring the Washington VOTING RIGHTS ACT to a vote before it's too late.
The bill, which passed out of the House at the beginning of March, has been stuck in the Senate Rules Committee for more than two weeks. It would enable district-based elections and give those who feel disenfranchised by the at-large local elections in Washington a way to take legal action against cities, towns, counties, school districts and other local government in a superior court, without the high costs of a lawsuit in district court.
"The [Voting Rights Act] does not mandate proportional representation or district-based elections, but instead will give local communities an equal opportunity to elect officials who represent their needs and interests, helping to make elected bodies truly representative," their letter reads.
Proponents argue that the bill will prevent costly lawsuits like the one filed by the ACLU against the City of Yakima, in which a federal judge ordered the city to conduct future city council elections using its seven geographic districts rather than an at-large system. That decision came down last February and cost the city nearly $1 million in legal fees, and the ACLU has since asked for $2.8 million to cover its own legal costs.
After three years of negotiation and changes, community groups around the state and the ACLU assert that the bill is ready. If brought to a vote on the Senate floor, Doug Honig, a spokesman for the ACLU, believes it would pass. (MITCH RYALS)