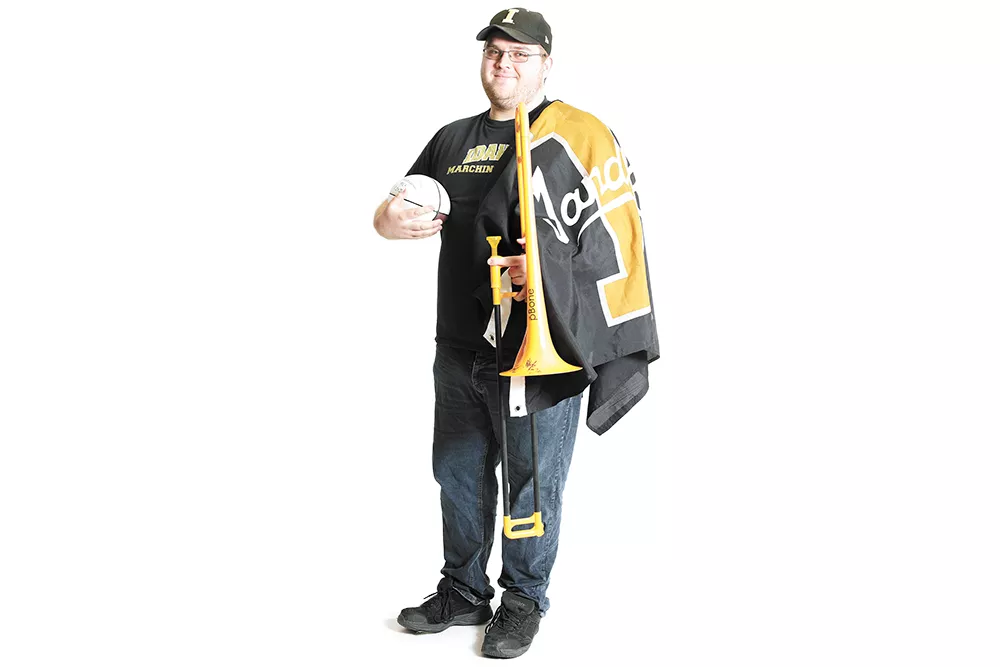 For most musicians, having your instrument literally freeze to the point where you can't play it would be a disaster. But for Marten Hiemstra, a sub-freezing night in Boise and a frozen trombone make for one of his fondest college memories.
It was the 2016 Famous Potato Bowl, and Hiemstra was there as part of the University of Idaho's marching band. A season-ending hot streak propelled the Vandals into a bowl game for the first time in seven years, and while some of Hiemstra's bandmates weren't particularly excited about a December game in Boise instead of Orlando or Tempe, he was pumped.
"I was like, 'Come on, guys! It's a bowl game! You should be happy about this!" Hiemstra says, recalling that when the Dec. 22 kickoff actually rolled around, it was about 10 or 15 degrees. "The trombone slides were freezing, so we couldn't play them anymore. Even though it was that cold, I'd definitely do it again — in a heartbeat."
Joining the marching band as a freshman was a key point in becoming an Idaho fan for the mild-mannered, now-25-year-old Hiemstra. His family has ties to the Moscow school — his mother and grandparents all worked there years ago — but as a high school kid in Newcastle, Washington, Hiemstra didn't really have college on his agenda as graduation approached. His mom, though, had different ideas, and he found himself heading to UI seven years ago.
Even though the team was struggling when he first got to town and joined the band, Hiemstra took it upon himself to become well-versed in the minutiae of Vandal football.
"I kind of forced myself to become the superfan who knew everything about the team, so if somebody in the band had a question, I could answer it," Hiemstra says. "I could answer when they asked 'Hey, why was this flag thrown?' or 'Why would they do this play on this down?'"
Hiemtra's fandom remained even as he graduated in sociology in 2017 and took a job at Safeway in Pullman, and as the Idaho football program made its dramatic return to the Big Sky Conference after years playing in the "higher" Football Bowl Subdivision. Idaho was the first school to ever voluntarily drop from the FBS to the Football Championship Subdivision (what some of us still call Division 1-AA), and Hiemstra was one of many Idaho fans not happy about it when it was announced in 2016.
"I watched the press conference, and I was angry," Hiemstra recalls, adding that he soon came to accept the move and decided to make the best of it. "I got into learning about the other (Big Sky) schools, learning about the old rivalries that I might not have known about."
Playing schools from the same region of the country is better than playing a bunch of schools in Louisiana, he ultimately found, and having friends who are fans of Montana and Eastern Washington means "we can actually trash talk outside of basketball" season.
Hiemstra had high expectations for the team's first year back in the Big Sky, but the 2018 season didn't go as planned for anyone cheering for the Vandals. As Hiemstra puts it, the team "got punched in the mouth" by teams like Idaho State and EWU. It was a humbling experience that has him excited to see how coach Paul Petrino's team reacts this year.
Besides being surprisingly competitive, the Big Sky Conference move also improved the tailgate scene at Vandals games, thanks to both visiting fans and the home team's fans catching up with old rivals. And after four years of "working" on game days in the marching band, Hiemstra gets to truly enjoy some of the tailgating benefits of being a fan.
"It's nice because I don't have to be ready to play four hours before the game," Hiemstra says. "I can roll in an hour or two before the game with a few beers, have food and relax, talk with friends. And watching the band play and not having to be the one playing is nice." ♦
IDAHO VANDALS
The Big Story: Talk about a rocky re-entry. A 4-7 overall record — 3-5 and ninth place in the conference — is not exactly what coach Paul Petrino's team expected when the Vandals rejoined the Big Sky conference last year. If they are going to rebound and compete for the conference title, the Vandals will need quarterbacks Mason Petrino and Colton Richardson to light it up and the Vandals defense to make just enough plays to slow down the opposition a bit; last year Idaho had games when they gave up 44, 46, 62, 63 and 79 points. Dramatic improvement on defense is a must.
The Big Game: EWU represents not only a renewed rivalry now that Idaho is back in the Big Sky, but a Top 5 team visiting Moscow and giving the Vandals the opportunity for a signature win.
2019 Schedule:
Aug. 31 at Penn St.
Sept. 7 vs. Central Washington
Sept. 14 at Wyoming
Sept. 21. vs. EWU
Sept. 28 at Northern Colorado
Oct. 5 vs. Weber St.
Oct. 12 at Portland St.
Oct. 19 vs. Idaho St.
Nov. 2 vs. Cal Poly
Nov. 9 at Montana
Nov. 16 at Sacramento St.
Nov. 23 at Northern Arizona